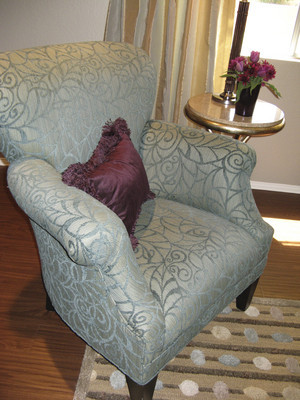 Even in today's economy, where people are reluctant to make major financial commitments, there comes a time when it becomes obvious that your home's decor is in need of a little TLC.
But, according to interior designer Peggy Scinta of Las Vegas, you can give your home's interior a new look without breaking the bank.
The key to remodeling on a budget is to use your money wisely, she said. This can include repurposing or refinshing furnishings you already own, purchasing quality pieces that will last for many years and knowing where to shop to get the best prices.
A key ingredient to accomplishing all of this is to hire the services of an interior designer.
"People think that designers are expensive," she said. "But we can help you avoid making costly mistakes, such as buying a piece that is too trendy and will be out of date in three or four years."
In addition to shaping the look of each project, Scinta said an interior designer's job is to act as a project manager to make sure all the subcontractors complete their tasks and that the finished project matches the original plans.
"It's more of an art or service. It's intangible and it's harder to understand the value (of hiring an interior designer)," Scinta said.
It's also important to have a budget and stick with it.
"A lot of clients are hesitant to give the amount they are willing to spend," she said.
But without that figure, designers don't know the best way to approach the project or help their clients realistically accomplish their goals.
"You need a game plan. That will ultimately save you money, she said.
Carol Morrison of Las Vegas would wholeheartedly agree.
"Decorating is something I cannot do. I tried in the dining room and I made a lot of costly mistakes. There were a lot of redos," she said.
Morrison and her husband, Bill, recently hired Scinta to help them redecorate and remodel their family room, dining room and kitchen.
"It was depressing. Changing the room makes us feel better," she said.
According to Scinta, the look of the Morrisons' home was dated and they wanted a more contemporary look that would make their home stand out when it comes time to sell in about five years.
The Morrisons spent $20,000, not including design fees, a new flat-screen TV and other electronics, a figure that Scinta believes is reasonable considering all the work that was done.
Carol Morrison said they originally planned to spend closer to $10,000, but that after meeting with Scinta they realized that figure was very unrealistic.
Among the changes they made were removing a window on one side of the fireplace and installing built-in mirrored-back cabinets with glass shelves; replacing the entire fireplace façade with a travertine tile surround; installing laminate flooring, custom cornices, drapery and woven wood blinds in the family room; installing recessed lighting in the family room and kitchen; purchasing a new sectional, cocktail table, two occasional chairs, area rug and accessories for the family room; purchasing a new dining table and chairs; staining the kitchen cabinets and installing new hinges and hardware; and replacing the old tile kitchen counters with laminate.
It was the Morrisons' first experience working with an interior designer, and the next time they do any decorating they will definitely seek expert advice, Carol Morrison said.
She said she is so happy with her new rooms and how Scinta was able to help them shop more effectively, including at locations such as RC Willey, Home Goods, Target and consignment stores. Morrison said Scinta paid attention to even the smallest of details, like making sure there were no sharp corners in any of the rooms. "I'm kind of klutzy. I don't do well with sharp corners," Morrison admitted.
In this economy Scinta said it's also important to know which areas of the home to update and redecorate. She said the kitchen and bathrooms are always the best places to start.
By working with existing colors in the home, the updates don't look out of place with the rest of the décor, she said.