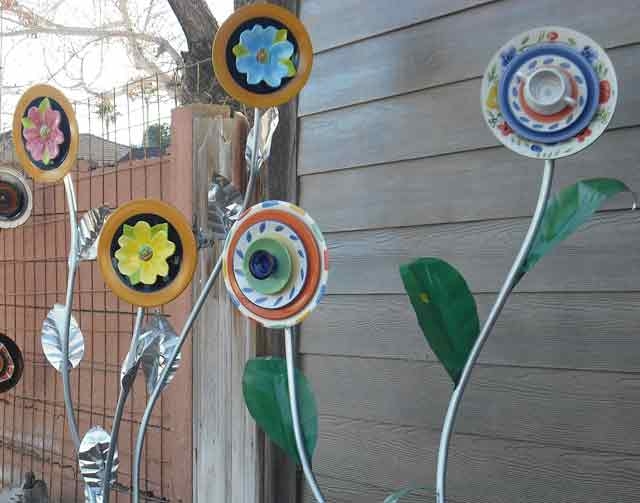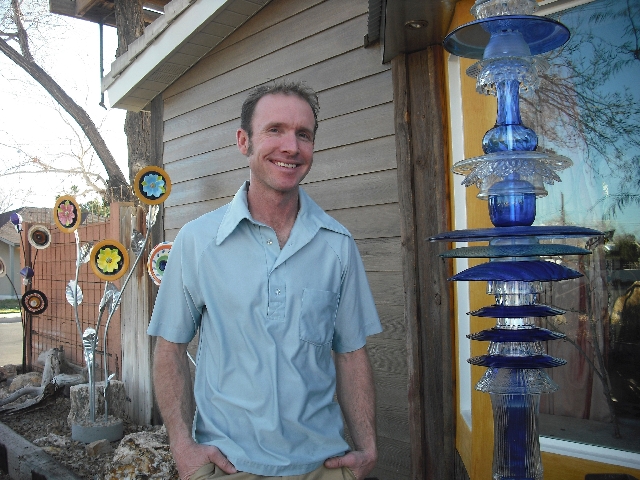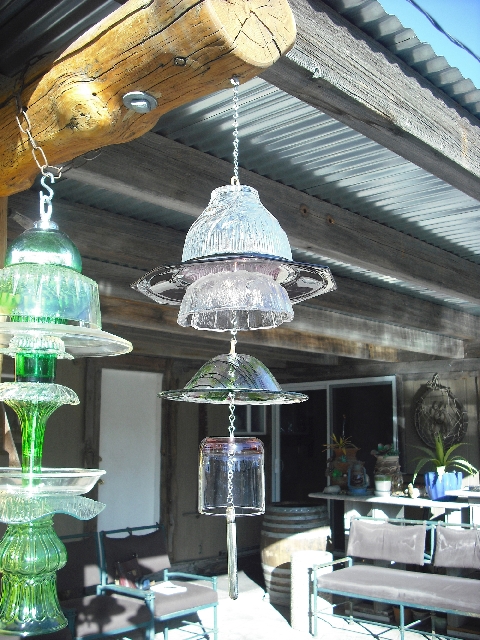 The yards at Matthew Kleindorfer's Las Vegas home are filled with colorful flowers. But they are not ordinary flowers; they are Honeymoon Blooms.
Kleindorfer makes the flowers out of assorted plates, cups and saucers, and then mounts them on stems made of galvanized aluminum with concrete bases.
He said the flowers are called Honeymoon Blooms, also the name of his company, because he and his fiancee, RomNee, plan to use them to decorate the site of their upcoming wedding, where they will be for sale, and then delivered to guests while they are on their honeymoon.
He also will showcase his blooms, along with candy dishes, bird feeders and tree trinkets made from glass objects and pieces of flatware, in downtown Las Vegas during First Friday for the next few months.
The flowers can come as singles, doubles or triples and be accented with plain or colored leaves. They average about 4 to 6 feet in height, but come apart so they can be transported.
Kleindorfer said they are weather-resistant, something he proved when he put them in the snow outside his home in Phillipsburg, Mont., where he lives part of the year.
Since they were intended to be yard ornaments, Kleindorfer said he experimented with his first creations in various types of weather to see how they would react.
"I only make things that will last a lifetime," he said.
Kleindorfer said he got the idea to make the plate flowers after receiving a similar gift from his fiancee shortly after they were engaged.
He looked at the small sculpture and thought it would be nice to have giant versions at their wedding, which is planned for July 2014.
"After 20 years of making things, it was easy to figure out how to put them together," he said.
The 1997 graduate of Durango High School said he has been building things since high school. Professionally, he builds power lines.
"I've been making things since high school but I didn't consider myself an artist until recently," he said.
Kleindorfer said he has a special attachment to each piece he creates. Because of the time and care he devotes to make sure the pieces mesh together well, they develop characteristics and he names them.
"Sometimes, they just put themselves together," he said of how he combines various sized plates, saucers, cups and bowls.
Each completed piece inspires another, Kleindorfer said.
"When I figure something out, it brings the next idea."
That is how he decided to make his tree trinkets. He said he was inspired by wind chimes and wanted to create hanging pieces of art.
Although many friends and clients have asked about lighting the pieces, Kleindorfer said he isn't sure because the wiring complicates the building process.
To create his blooms and glass art, Kleindorfer has to weld, solder and drill. Since he is working with glass, porcelain and ceramic objects, occasionally, something will break while he is drilling holes so the pieces can be bolted together.
At the moment, he has from 2,000 to 3,000 plates and other pieces in his workshop waiting to be transformed into flowers or art objects. Kleindorfer gathers his raw materials at thrift stores and garage sales.
Each piece he creates is unique. He said he also can customize pieces and would welcome any donations of raw materials.
For additional information, visit www.honeymoonblooms.com.