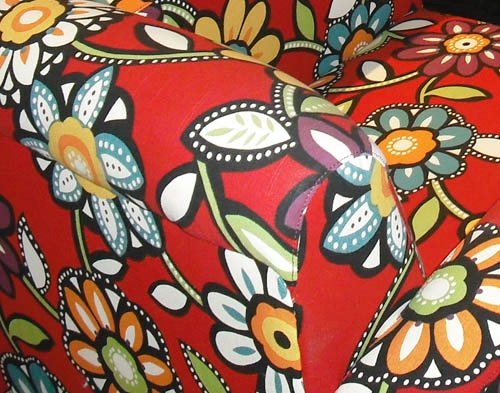 The courtyard at World Market Center Las Vegas may have been filled with mattresses, but the mood at the recently completed winter market was anything but sleepy.
Numerous vendors said that this was the best market in terms of sales that they have seen in about three years.
"This market it's different," said Casey Fisher designer and owner of Haute House. "People applaud with money and they've been throwing money at us."
Patty Price, executive vice president of sales with Arteriors home showroom based in Dallas, Texas, said she introduced the new Lisa Luby Ryan collection on the first day of market and couldn't have been happier with the day's results.
"Business has been very strong, especially for the first day. We've been amazed," she said. "We saw new accounts and met with many international customers ."
Eric Hinshaw, CEO with mattress manufacturer Kingsdown, said that he, too, was impressed by the traffic. He said nearly 75 percent of his traffic has been from new customers, including those from Thailand, Turkey, Mexico, the United Kingdom and Australia. Hinshaw said he could feel the buzz about the new concepts the showroom introduced. "We are seeing a lot of enthusiasm. People don't come to market to talk about lines they have. They want to see things that are new and different. That creates a lot of excitement."
Kingsdown was part of the special Dream Big exhibit in the center courtyard that showcased mattresses and bedding, which has remained the strongest segment of the home-furnishings industry during the recession.
At the close of the first day, market officials reported attendance by retail buyers was up 19 percent from the summer market and 7 percent from last January's event.
"It exceeded all of my expectations," said Robert Maricich, president and chief executive officer of World Market Center Las Vegas. "It was the first time we sold out the parking garage. Typically one-third of our attendees come by taxi, another third by bus and the last third by car. Although it's not a direct corollary – one car doesn't mean one person – all you had to do was stand out there and you could see all the people."
Part of the increase could be due to the greater presence of the gift and home décor segment. Ten floors among the three buildings were devoted to the Gift and Home show-within-a-show.
"The furniture industry, for all practical purposes, has been flat and at the bottom of the economic cycle. The gift industry has a different dynamic and has not suffered as much," Maricich said. "Gifts and home décor is a $300 billion business … Gifts and holiday purchases can't be postponed, despite economic conditions."
There were about 150 vendors showing their wares for the first time at the Las Vegas Market and about 1,200 exhibitors in all.
As for empty showrooms throughout the 5 million square foot space, Maricich said World Market Center's vacancies are no greater than any other market. "It's just a reflection of the economy. As soon as the economy improves, companies will get back in business and grow with us here."
The positive vibe at market came, in part, from retailers who are seeing business improve.
Edward Nader, a buyer and owner of Nader's Gallery in Shreveport, La., said that his store had an impressive year last year and he came to the market to find new and different products to add to his current lines. "We had a great year and we are looking to expand our business. We are here looking for furniture and accessories," he said. "From the moment we got off the elevator we started seeing great new stuff."
The other part of the optimism came from the products themselves. Bright colors and festive patterns were everywhere, from rugs to lighting.
"Buyers are drawn to the showroom, the bright color palettes and the new collections," said John Feizy, owner of Dallas, Texas-based Feizy Rugs.
Although Maricich said he can't measure order writing, his board of advisers, which represents all segments shown at the market, said it was the best market for orders since the recession began.
"If the consumer cooperates just a little bit, it will have a magnified impact on retailers and manufacturers," he said.
That sentiment was echoed by Jeff Hiller, owner of Proaction Marketing Group and president of the Sustainable Furnishings Council, who discussed the economic outlook during a market seminar. He said he expects to see moderate growth among retailers during the first half of 2011.
"The single most important thing to do to improve sales is instill confidence throughout your organization by your actions not just words. It affects the ability of your staff to perform at their best and also influences your customer's decision. People are drawn to optimism; we all want to do business with winners. Attending markets, flooring new products and communicating the news with excitement are all part of it."
Maricich said presenting the biannual event is a bit like putting on the Super Bowl. He said his team continues to improve on the experience it delivers to the buyers, tenants and visitors with each event.