September 8, 2018 - 8:05 am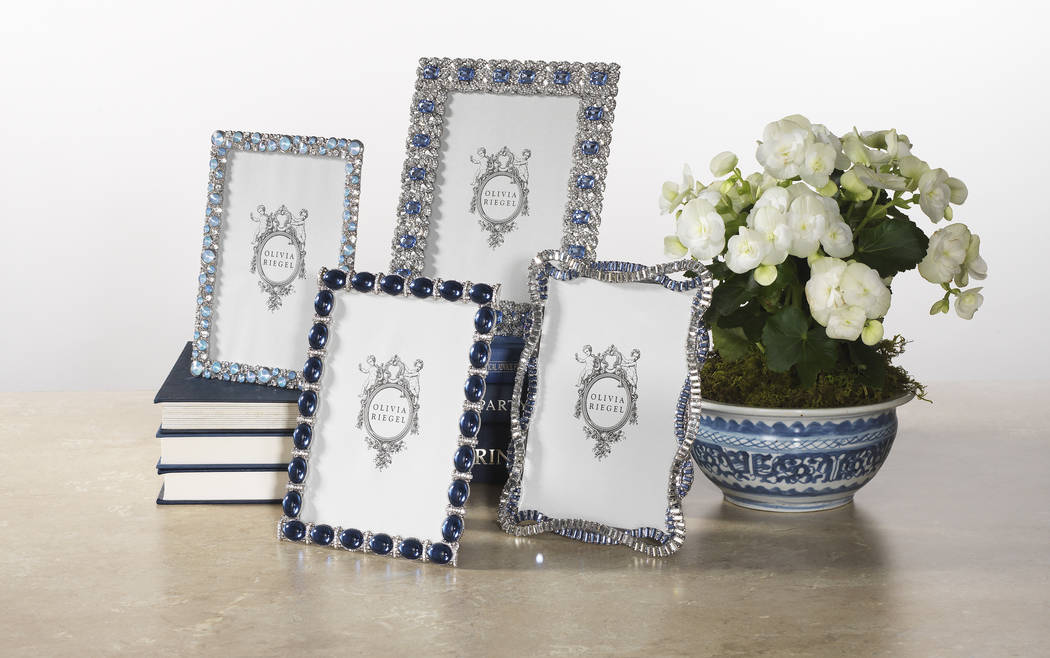 Its splendor can be caught in a frame or pillow or captured in tapestries that hang along a wide expanse of wall. Shiny, sparkling pieces of bling in home decor are gathering fans who attempt to capture something magical and unusual by incorporating this latest trend.
Bling can be a simple addition that adds to the ambiance of a room, or it can be large and dramatic, introducing old-school glamour or modern metallic attraction to a sprawling space. From cut crystal stemware and bejeweled frames to shining tapestries enhanced with diamond dust, bling is back in many forms.
The beauty of bling is that it will never go out of style, said Kimberley Joi McDonald, owner and CEO of Designing JOI. "It's a classic enhancement," the award-winning interior designer said. "It can be either subtle or overt."
And it is everywhere, from furniture to wall hangings.
"I am seeing it on so many things at the markets," she said. "It can be in the legs of a sofa or a chair or the hardware on a buffet or a dresser. It can even be in your doorknobs or hardware to your kitchen or bathroom cabinets."
Introducing bling to your interior spaces brings that magical sparkle of joy. How big or small you go is a matter of preference. It doesn't have to be blaringly bold in order to add simple sophistication and elegance to your home.
"Some people prefer understated elegance, and others want something with much more sparkle," McDonald said. "But the bling can happen in so many different ways, with accessories, pillows, candlesticks, a piece on a stairway landing or a lamp."
Bling in wall art has gone from strips of shiny metallic to swaths of crystals or diamond dust.
"Wall art is a nice organic way to put bling in your home but not have it be so overt," McDonald said.
The trend has evolved from mirrored end tables and picture frames. "With the product and the pieces out now, it has really changed," she said. "It's much more interesting in how it is used to accent a piece or lift a space. It's crossed all lines and really elevates the space. And I see it for men and women. It's a wonderful, classic touch."
The bejeweled category is a continuing trend in home decor, according to Jon Morris, creative director for the Dallas-based company Olivia Riegel, which specializes in bejeweled accessories for the home.
"People are looking for ways to bring bling and instant glamour to the home," Morris said.
Olivia Riegel has a showroom at the World Market Center Las Vegas and offers a wide array of items for differing placements and functions. The longtime gift and frame product line is renowned for its collectability, with items being passed down as heirlooms.
"Our customers' desire for an extensive bejeweled home decor line has brought us into home textiles, including decorative pillows," Morris said. "The response has been very positive. Who doesn't want a blinged-out pillow to upgrade a living space?"
Metallics are an interrelated trend.
"Silver and gold metal tones can be used for specified rooms and spaces," Morris said. "Think of it as elevating your home's wardrobe with jewelry, using different crystal and metallic finish combinations. Silver is perhaps a more perennial favorite, but warmer hues, including gold, have certainly seen an uptake."
He's noticed clients are not afraid to mix metallic finishes, from shiny and matte to golds and silvers, as that evokes a very sophisticated taste.
"We are selling both metallic finishes very well," Morris said. "We have noticed that customers are drawn to modern designs combined with a vintage stately aesthetic."
Metallics are definitely bringing up the bling factor for home decor, said Frankie Daniel, creative director for Leftbank Art, which is based in Southern California.
"I think all the metallics in all the furniture and fabrics have come a long way," said Daniel, who is based in Atlanta and visits Leftbank's Las Vegas location at the World Market Center. "We started doing bling three years ago, and it keeps increasing in every market, as well as the number of pieces we have that feature bling."
He travels to decor trade shows around the country and noticed bling began to show up in New York only recently. He had seen it pop up in Paris six years ago, where it moved from the fashion runway, both in the clothing and makeup, over to home decor.
"It translated over really quick, and I thought, 'How can we not be doing this in our line?'" Daniel said. "It's so current. Fashion crosses over so closely with what is going on with home decor. But you don't want to be too ahead of what the client will want but right on the curve. If you are too ahead, they don't get it."
The decor trend is a throwback to youthful days. "I think people come in and see a bit of flashback to their childhood with the bling," Daniel said. "Some people are just drawn to it, that bit of sparkle, that bit of magic."
Many people start small, with a frame or pillow. "Once they put it in the house and they get so many comments," Daniel said, "it just expands from there."
Leftbank's more popular pieces are touched with a bit of bling. The bespoke pieces have shimmers of silver, gold and champagne. The art house also is adding crystal rock and pieces of metallic or silver foil to give more texture to its tapestries.
"It's not as shiny as glitter, but it still gives that something unusual to the piece," he said. "We've been doing diamond dust lately. People seem to be drawn to that as well."
A small amount of bling makes a huge statement. "Once you start with a pillow, it can lead to a lamp with a little more shimmer than you may be used to," Daniel said. "A lot of people want it because it's a conversation piece. It sort of opens up the mind with its shine and shimmer."