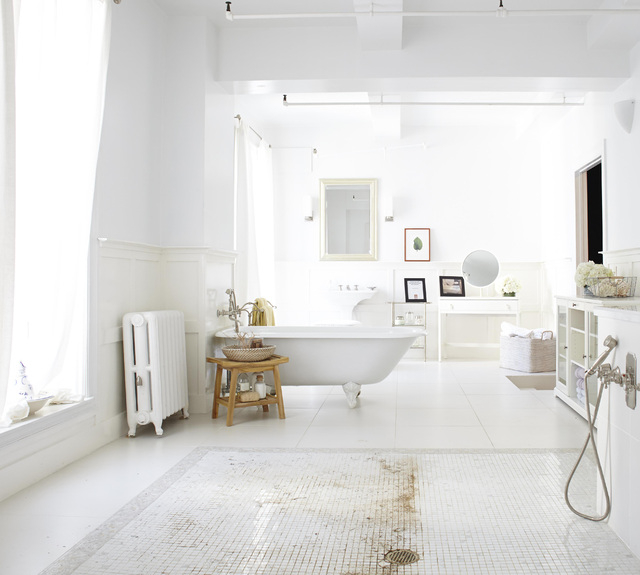 Twins Jonathan and Drew Scott are friendly and fierce competitors in their HGTV series, "Brother vs. Brother." They also have put together some pretty imaginative transformations in their other HGTV series, "Property Brothers."
But the brothers, who call Las Vegas home, are also grounded in the realities of balancing curb appeal and budget constraints. After all, "Brother vs. Brother's" major premise involves investing wisely to get the greatest return on a home's value.
Now that it's the thick of summer real estate-selling season, Jonathan Scott, the licensed contractor of the pair, recently shared some do's and don'ts for those on a budget but looking to prep their home for sale.
Clean machine
When prepping a home for sale, you can't underestimate the importance of cleanliness. Scott calls it "getting rid of the 'ick factor.' " The pro is often shocked by the number of homes he sees on the market where the seller simply hasn't put in a good cleaning effort.
"These are houses on the (Multiple Listing Service), and I just shake my head. If the seller just went through and cleaned, they would get $5,000 more, especially with kitchens and bathrooms. You want to really make it feel sanitary in there," he said.
Giving a home a good scrub-down also applies to furniture and appliances, he added. In a promotion for Tide Oxi, Scott collected more than 200 of the dirtiest items he could find at flea markets. Most looked nearly new after a good scrubbing.
Sure, it was a Tide promotion, he'll admit. But it speaks to the fact that a good cleaner and some elbow grease can go a long way when selling a home.
Furniture updates
Some furniture may need a little more than cleaning. Reupholstering is a great way to update stained or worn-down chairs — and it's really easy to do.
"It's so simple to reupholster a chair. There are videos online that will show you how to do it, in depth," Scott said.
The pro says it's important to keep the old seat cover as the template for the new fabric. "Cut, stretch and staple it in" and an old chair can look almost new, he added. Sometimes, in the case of worn couches, if the budget's not there to replace it, a colorful slip can work too.
Scott said it's not uncommon for his teams to use more than 50 percent of the existing furniture at his projects. Too often he sees homeowners or makeover experts recommend doing away with furniture when it's not necessary.
Spread the love, kitchens
We always hear how kitchens and bathrooms can make or break a showing. But ditch the idea of a bathroom or kitchen overhaul, if the budget is tight.
Just like those who think a pool will add value, but then are frustrated to learn they'll never recoup the costs, kitchens and bathrooms can eat up a budget too. Think floors, paint and gathering as many staging tips as possible.
"Instead of spending all the money on a bathroom or kitchen, you're better off with a mild update to the whole house," Scott said.
If your kitchen does need some serious upgrading, Scott says prefab cabinets are much better quality today than they once were. Often an entire kitchen's cabinets can be bought for less than $4,000.
Also, when changing out cabinets, make sure to educate yourself on the process. Again, the online environment has tons of pros giving tips on how to properly hang them. It's also important to educate yourself on elements of a kitchen renovation that require a permit and those that don't.
"The county is not here to annoy you. They want to make sure you do everything safely and properly," he said of the permitting process.
And if a contractor is needed for part of the job, make sure to check for licensing and bonding. They can't ask for money up front unless they are bonded, Scott added.
Space, being the buyer
Scott recommends putting yourself into the homebuyer's shoes. Start from the curb and walk into the house. Look at the home as a true third party. Getting a free consultation from a Realtor in the area is important too.
"There are a lot of real estate agents who take on everything in an area. But they're not a local area expert. Every community has their own little mini market, and that person knows what the buyers are looking for," he added.
Also, make a spacious look a priority. De-cluttering is crucial, but it's also where some owners get tripped up.
Many don't want to part with large shelves, bulky cases full of nick-nacks or may not want to move large furniture. But there are plenty of people who rent a storage space to store many items in order to sell a home.
"You want to have that minimalist feel so they can really appreciate the house for what it is, and not be tripping all over your (things)," he said.
Expand living area, wind
For those wishing they had more living space, but who are not qualified or have the budget to knock out a wall, look to the backyard. Scott says outdoor living space can be created very inexpensively. Adding some inexpensive patio furniture and creating sitting areas can bring a lot to a home.
In Las Vegas, Scott says sun bleaching and wind can be a problem for patio furniture. That's why he'll often put small weights inside pillows to keep the wind from scattering them around the yard.
And before buying backyard furniture, he recommends visiting an outdoor furniture store. Employees should be able to tell you which materials can stand up to the sun better than others.
Order pizza, donate
Scott acknowledges that the more involved the job, the harder it can be on a family and homeowner. He encourages owners to take their time to do it right, even make it a social event by inviting friends over.
"Make it a fun weekend project. Don't stress about it. Have food with friends and laugh," he said.
And when you're done, old, usable materials can be donated to the Habitat for Humanity ReStore, which re-sells reusable and surplus building supplies and furniture. Scott's television show teams constantly donate to the program.
The stores, whose proceeds go towards actually building Habitat for Humanity homes, are also an opportunity for savings as well. Many new items are priced about 25 percent lower, Scott added.
Scott prides himself in personally replying to contracting questions himself. Questions can be sent to him at: @MrSilverScott on Twitter, as well as his mrsilverscott tag on Instagram or Facebook.