Display of well-chosen heirlooms tells story of life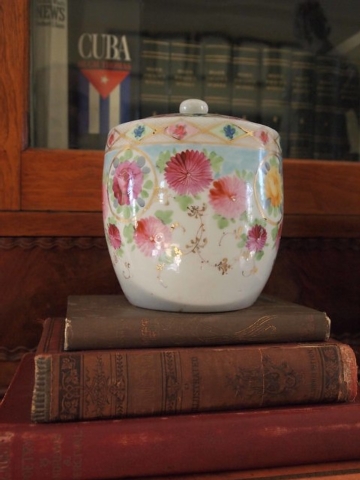 I'm a sucker for sentiment. So for me, a beautifully appointed home is more than a collection of well-chosen furnishings. It's a tribute to who you are and what you hold dear, filled with the objects that help tell the story of your life.
If you wander through my home, you'll see treasures here and there that have been passed down through my family, each a link to the people I love. These heirlooms of old are comingled with wonderful new pieces I have acquired, which will become the heirlooms for future generations of Garritys.
What about your home? Have you dotted your decor with heirlooms that brighten your spaces and pull at your heart strings? Here are four of my favorites to consider:
WELL-CRAFTED FURNITURE
Those of us who love antique furniture can be eternally thankful to the craftsmen of old who fashioned these pieces so well that they have stood up to the rigors of time and still look beautiful. The take-away is: When something is well-made, using high-quality materials, it's a keeper for generations to come.
Chances are, you have some pieces like this in your home, whether it's a chair you inherited from your grandmother, an antique you've discovered in a shop or a darling vintage piece you picked up for a song and refurbished. Put them front and center in your decor.
Sometimes people ask me if it's OK to mix up different styled furniture, like including an antique chest or chair in a room that features more contemporary decor, and the answer is an emphatic "yes!" My favorite interior spaces are an eclectic assortment of different pieces that look as they've evolved over time.
INTRIGUING ARTWORK
Your fireplace mantel, that place of honor in your home, is the perfect spot to hang heirloom artwork. Artwork doesn't have to have sentimental family ties — although it can — to be an heirloom.
Perhaps you've collected a few pieces by local artists or finer works from area galleries. If so, you have a timeless treasure worth passing down.
Similarly, artwork doesn't have to be worth a lot to be an heirloom. Like the art from my parents' home, it can simply be a lovely or intriguing piece that is special to you. In my opinion, that is all that is required to make it a timeless treasure.
SENTIMENTAL PIECES AND COLLECTIONS
My husband, Dan, and I really enjoy collecting items from our childhood. In fact, we have become hogs about it.
For example, we have a lovely porcelain cookie jar that was Dan's great grandmother's. As fine and frail as it is, it was one of the few things to survive her early years as a pioneer, when the family lived in a dugout. I will always treasure this fragile testament to all Dan's ancestors endured, and survived, as they helped tame the West. You'll find it showcased in a prominent, but safe, place in my home decor.
BEAUTIFUL SILVER AND CHINA
Silver, china and crystal are the quintessential heirlooms. And, they are marvelous additions to your everyday decor.
If you don't have pieces of china, silver or crystal that has been in your family for generations, no worries. Acquire your own gorgeous collection and showcase it in your home's displays. A simple silver tea service elevates the look of a side table, making it a visual heaven. Who cares if it's brand new.
What lovely accents can you weave into your home right now, that don't set you back an arm and a leg, that will become the collector's item in the future? What items can you add to your decor to add charm to your everyday life and those who will come after?
Those are the pieces you want to fill your home with.
This column was adapted from Mary Carol Garrity's blog at www.nellhills.com. She can be reached at marycarol@nellhills.com.