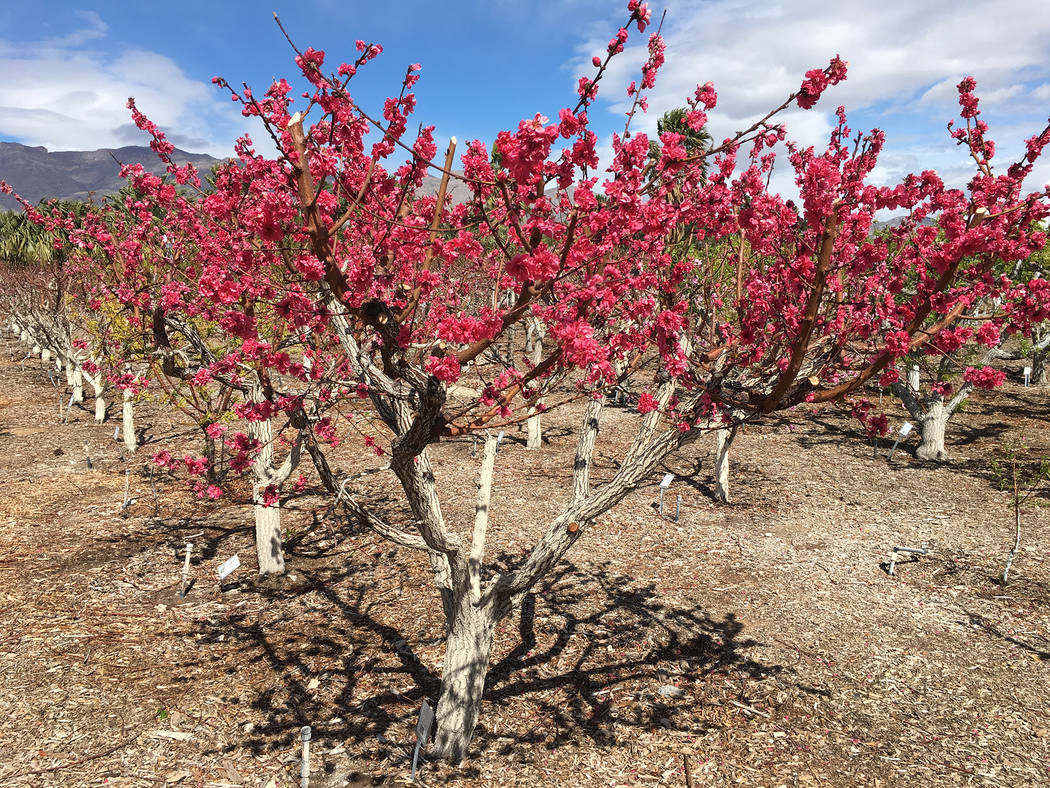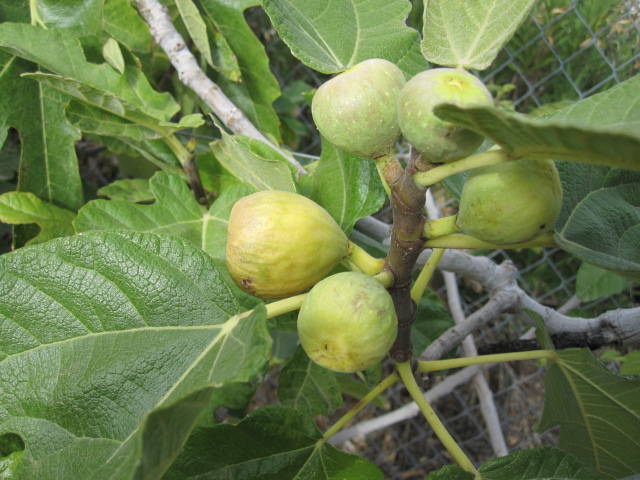 One of the joys of summer is the variety of sweet and juicy fruits, many of which are growing right now in Southern Nevada backyards. Peach, apricot and nectarine trees do best in the desert climate, although proper watering and fertilizing can bring success with apple, fig, pomegranate and plum trees. Even persimmon and pistachio trees do well here as do the prickly pear cactus grown for its leaves and fruit.
M.L. Robinson, an associate professor and specialist at the University of Nevada Cooperative Extension, said Southern Nevada is in a cusp area when it comes to fruit trees.
"This is not a citrus area, but we can grow citrus here," he said. "It's the same with apples depending on the variety being grown.
"In some ways, we're a lot like central Florida where there is less of a chill factor. People grow peaches there but not the beautiful peaches grown just across the border in Georgia. We grow fruit here but not like the fruit that is grown just across the border in California."
Each fruit has its specific harvest time. Apricots are one of the first to ripen (early May), followed by peaches and nectarines.
"Check the color of the fruit or touch it and see if it gives a little," Robinson said. "You're picking at peak ripeness when a fruit has its most sugars. This is fruit you won't find in grocery stores. That fruit usually has a post-harvest spray that keeps it from spoiling while being transported around the country."
Robinson suggests harvesting just a few pieces of fruit at the beginning and then gradually increasing the amount each day. Eat the fruit, make jams, dry or freeze them, or fill a bag or two and share your beautiful harvest with neighbors.
Other neighbors who might enjoy your backyard fruit are birds. To avoid losing too much of the fruit to these flying thieves, wrap the tree with plastic bird netting. It drapes the tree and is loose enough to let sunlight through but uncomfortable for birds to rest on it.
According to Robinson, the local climate is conducive to trees that normally would need chemicals to grow the fruit, such as peaches and apricots. But because the climate is so dry, no fungus forms on the fruit's surface. Therefore, the good fruit of Southern Nevada grown in your backyard is really good because no spray chemicals are needed to get rid of assorted diseases.
Tamara Wynne, a research associate with the University of Nevada Cooperative Extension, studies fruit trees, diseases and fungi. She keeps an eye on the Research Center and Demonstration Orchard at 4600 Horse Drive in North Las Vegas where some 800 fruit trees, grapevines, vegetables and other row crops are maintained and monitored.
"Our goal is to research new varieties of fruit producing trees, vines and other plant materials in sustainable ways," she said. "The main emphasis has always been on water conservation. From the very beginning, deciduous fruit trees, wine and table grapes, and various kinds of vegetables have been grown and tested for their ability to survive and produce under desert conditions.
"The orchard is also a place where hands-on training and teaching opportunities are held for homeowners and commercial clientele. We invite the public to visit us Tuesday, Thursday or Saturday from 8 a.m. to noon and attend educational programs such as pruning of fruit trees and grapevines, selecting the right fruit tree, irrigation and water conservation through organic mulching and compost-making."
Wynne said the orchard has 47 different peach trees, along with such trees as pluot (plum/apricot), aprium (apricot and plum) and persimmon.
"Some of these trees do better than others," she admitted. "We record everything including yield, flavor, texture and the characteristics of the fruit such as shape and color. Much of what we grow is taken home by visitors. Other fruits and vegetables are obtained by commercial chefs or given to charitable organizations to feed the hungry."
In order to enjoy the fruits that can be grown here, trees have to be planted. The first order of business is finding a location that gets good morning sun with shaded or filtered afternoon sun.
The second order is preparing the soil. Dig the hole at least twice as big around as the rootball being placed in the ground. Most nursery-grown fruit trees have been well-fertilized so they do not need to be heavily fertilized in the initial planting. Water generously.
"The hole is really important," Wynne said. "If possible, it should be 4 feet wide and a foot deep because you're mixing 50 percent compost with 50 percent soil. We have found that the most popular fruit tree is peach. Another is Pink Lady apple. Our recommendation is to plant trees when they're dormant so they don't stress out. That means sometime in December, January or February."
Later, after all the fruit has been harvested and there are no leaves on the tree (late fall or early winter), do some pruning, especially on limbs that are crossing or rubbing against each other.