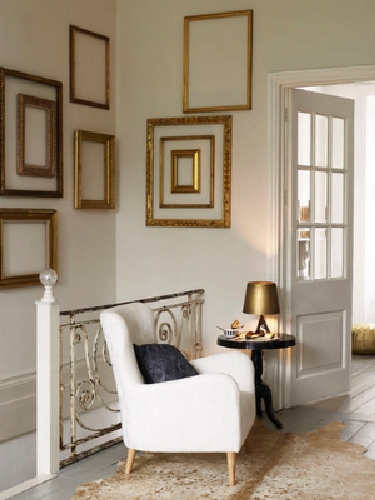 Now that you have all of your furniture in place, let's finish up your rooms with more creative ideas.
The five-minute floral arrangement
Here are four down and dirty steps to create a floral arrangement on the fly.
Step 1: Take out a clear vase, you know the one under your kitchen sink that you kept from when you got flowers last. If, by any chance, you haven't received flowers in a while, first go out and buy yourself some because you're worth it, or grab a water pitcher or wine decanter.
Step 2: Go outside and fill your container with sand and rocks or buy a $5 bag of silica sand from a home-improvement store.
Step 3: While you're out there, grab the clippers and trim up those overgrown bushes, scrubs or trees, just a little bit.
Step 4: With your natural and earthly supplies in hand, start by placing one in the center; this should be the tallest piece. Now work around that piece placing similar branches or twigs in a triangular pattern. Continue doing this, each time stepping down in size and turning the triangle 45 degrees. When your container is almost full, place any trailing pieces so that they come down on one side of the vase, but not all around.
You don't need to be a floral designer to create an arrangement on the fly. Plus, along with being creative you're also getting some of your yard work done.
A fly on the wall
Are blank walls staring you in the face? Are you not ready to buy any artwork or just don't know what to buy? Well, first know that artwork doesn't have to be a framed image. There are all kinds of things that you can use in place of something that you might buy at an art gallery or have framed, and here are just a few to get your creativity going.
Create a wall gallery with floating shelves and smaller pieces of art or picture frames. Accessorize the shelves just like you would a coffee or side table with colorful accessories and greenery.
Go into the china cabinet and bring out your mothers and grandmother plates. Buy nice plate hangers and make a collection of memories.
Are your family pictures taking over every horizontal surface? Well, get them up on the wall for everyone to see. So that they don't continue to grow up, down and along the wall, place a simple wood chair rail molding on the wall in the shape of a large frame and hang your pictures inside. Or look for a couple of large frames at a thrift or yard sale. Hang them side by side to frame your frames. A collection of empty frames also creates a very fun and interesting wall gallery.
Do you have lots of vacation mementos stuffed in a draw or hall closet? Get them out and put together shadow boxes from each year. You can buy nice inexpensive ready-made shadow boxes from any of the larger art chains or craft stores.
A bowl full of fun
Do you have a bowl but don't know what to fill it with? Here are seven ideas of what you can use.
n Buttons: Old, new and interesting and we all have drawers and sewing boxes full of them. Like we really ever thought, when the button fell off, we were actually going to find it and sew it back on.
n Candy: You might not want to fill the bowl with your favorite if you're trying to diet, but your guests will enjoy it.
n Stones/rocks: Start by just getting some from the yard, then, as you travel, pick one up from each place you go. My mother-in-law has filled her front planter with rocks from her travels as well as ones we've brought back from ours. I was in Russia a couple of years ago in December and trying to even find the ground under the snow, let alone dig up a rock, must mean I love her.
n Spools of thread: I don't sew but I love the look of a bowl full of colorful thread and old bobbins.
n Vacation and special photographs: OK, now this means that you're going to have to actually print some out from your computer. But wouldn't it be nice to grab in and pull out a picture to reminisce every now and then.
n Game pieces: How many of us have stacks and stacks of games in our closets that we haven't played in years? Or go to the dollar store fill the bowl with marbles, domino pieces and pick-up-sticks.
n Fortune cookies: I know we don't have these just sitting in our pantry, but wouldn't it be fun to have a bowl of fortune cookies. Most Chinese restaurants that make them themselves will put your own saying in them for a small charge.
And just in case you need a couple other ways to help your creativity fly
n Have a decorate-in-a-night party with your girlfriends. Have stacks of decorating magazines there that everyone goes through and pulls out different ideas for the area you're trying to decorate. As always, two heads are better then one, especially with a glass of wine.
n Offer a room to a design school or local interior redesign instructor to complete for a class project. New students and redesigners are eager, excited and come up with creative ideas.
n Next time you're at a hotel or restaurant, spend some time looking around. Any idea no matter how large in scale can be downsized to work in any room. Recently I was at a restaurant that used a garage door as a room divider; it was very cool. This would be a creative closet door in a boy's room with a car theme.
n Visit model homes. Interior designers, when we decorate a model home, are really doing interior merchandising and many times are on a very tight budget, therefore we have to be very creative.
Well, I hope my creativity on the fly articles have inspired you to think a bit more out-of-the-box and fly free. Remember, "time does fly when you're having fun."
Gail Mayhugh, owner of GMJ Interiors, is a professional interior designer and author of a book on the subject. Questions may be sent by e-mail to: gail@gmjinteriors.com. Or, mail to: 7380 S. Eastern Ave., No. 124-272, Las Vegas, NV 89123. Her Web address is: www.GMJinteriors.com.