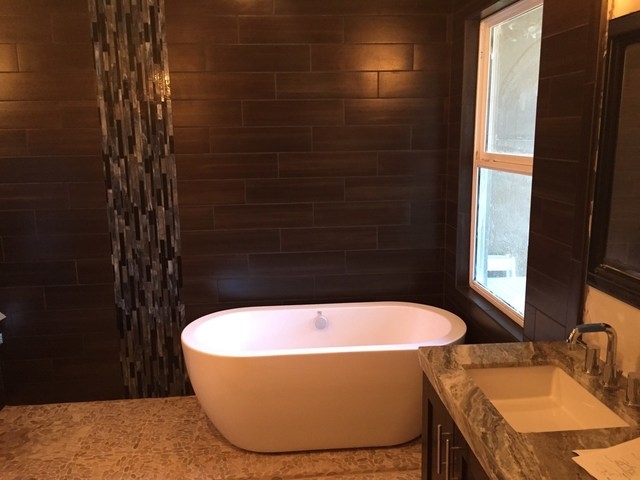 Want to feel like the master of your domain? Soak your (claw) feet in a bathtub that will make any master feel like royalty.
"We have been seeing a trend toward stand-alone tubs — such as freestanding tubs, clawfoot tubs — for the past 18 months," Brett Primack, owner of Las Vegas Remodel and Construction, said. "I believe this is due to the fact that consumers are not using their builder-supplied tubs because it is not a 'spa- like experience.' "
However, designer Mark Perry reminds that stand-alone tubs echo the design styles of older homes — think Victorian or Craftsman — and few of those are found in Las Vegas. That doesn't mean you can't add your own; it simply means it might be more unique.
And don't get those claws out just yet — there are other options.
"Originally clawfoot tubs were the only freestanding tubs available," Primack said. "With the style of bathrooms leaning more contemporary, we see manufacturers creating more pedestal or large acrylic tubs with a base that sit flush on the ground." The stand-alone tubs are standout pieces and typically reserved for the privacy and space that a master bathroom can provide.
"I have yet to use a stand-alone tub in a shared bathroom mostly because tubs are more showers and usually thought of as belonging specifically to one person or a couple rather than an entire family's use," said Brian Patrick Flynn, a member of the trend-forecasting panel for the National Kitchen and Bath Association.
For a contemporary-style tub, the cost can range from $1,200 to $5,000, but that's just for the tub itself. Consider installation, drains, tub filler and overflow, and factor in at least another $1,000.
"Modern clawfoot tubs are usually a big commitment financially," Flynn said. "I would say most of the ones I end up liking for clients are in the $5,000 range; however, I'm also a sucker for simply adding a fresh finish to classic clawfoot tub feet or legs to give them a more up-to-date look."
And to keep costs down, consider putting that massive beast on the main floor where the foundation — hopefully, a concrete slab — can support it.
"To install a freestanding tub, one needs to plan to move the water supply lines, drain lines and flooring for the tub to sit on," Primack said. "If it's on the first floor, plan on cutting concrete to move the plumbing as necessary. If the tub is on a second floor, the weight of the tub combined with full of water must be considered to confirm the subfloor can hold the tub."
The experts agree: Get a professional involved if considering a heavy stand-alone tub on the second floor.
And don't forget one of the most important issues in a bathroom.
"Privacy is an issue that should be addressed in all bathroom spaces as, unlike some of the places you see in magazines and on TV that have a view of woods or mountains or lakes, the reality here is that you most likely have a view of your neighbor who by the same token has a view of you," Perry said.