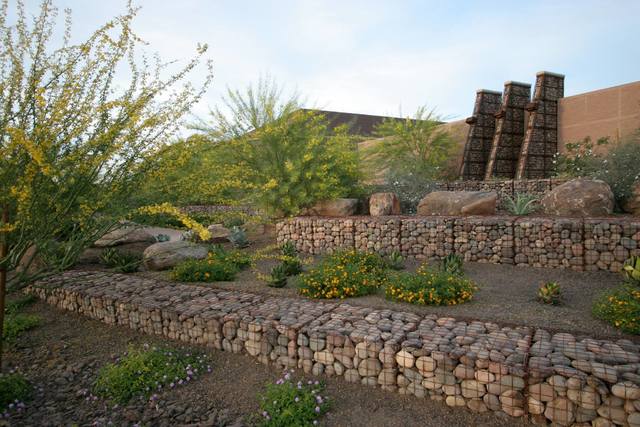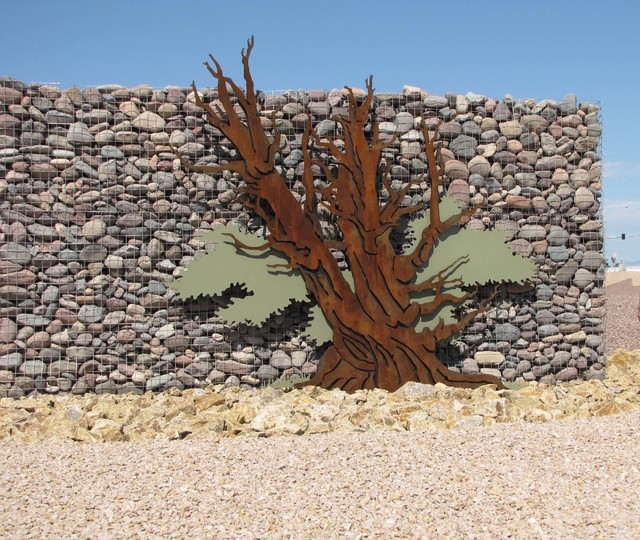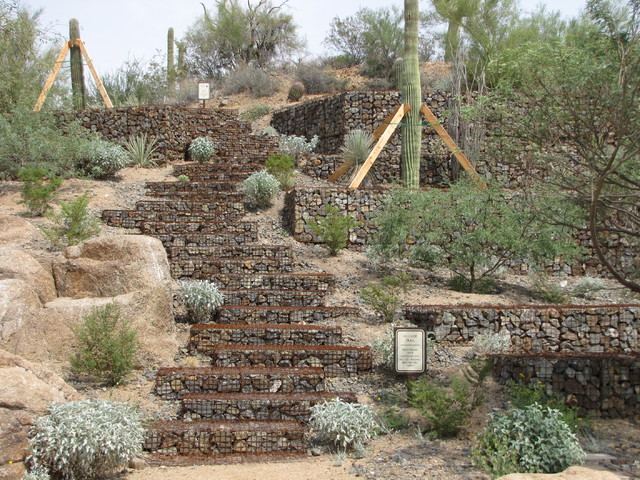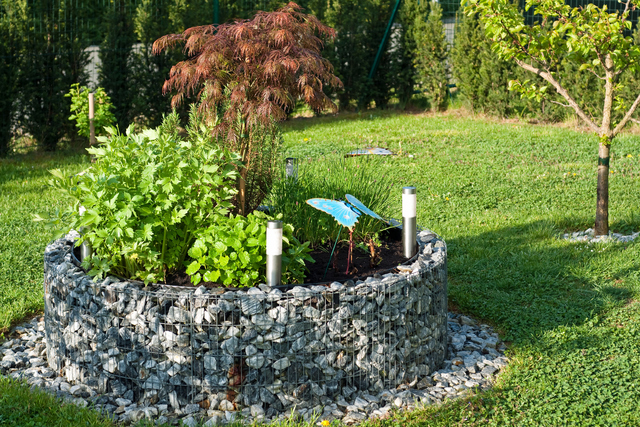 Spring is just around the corner, and thoughts of new landscaping are on everyone's mind. But something very old is one of the newest and most modern trends occupying people's minds: gabions — wire cages filled with natural stones that blend harmoniously into the landscape. They are the latest idea being suggested by many landscape contractors and architects for new homes and homes being renovated.
Gabions have been around for about 7,000 years. The early gabion-type structures protected the banks of the Nile and were military fortifications in the medieval era. Later they were used for structural purposes in architecture. In recent history, civil engineers have used gabions to stabilize shorelines, riverbanks and highways against erosion.
Now gabions have come to many backyards. Some consider it a piece of art. Others describe it as an attractive, effective and inexpensive retaining-wall system.
Bill Hilfiker owns Hilfiker Retaining Walls in Eureka, California. He is seeing more gabions in residential areas as architects are designing them into the total look of the home.
"It's a different look, more modern," he said. "There are so many shapes and sizes that can be incorporated into the design. We've been making them since 1984, but they started to become vogue in the late '90s. I have seen an entire wall that is a gabion, and I have seen them as the centerpiece of a backyard."
Gabion is derived from an Italian word that means "big cage." It is an enclosure that can be filled with any sort of inorganic material: rock, brick or concrete debris. The cages were originally wicker but now are usually a welded mesh made of coated, sturdy galvanized or stainless steel wire that won't bend when filled with rocks.
In landscaping, gabion walls can support an earth wall, stabilize the soil or prevent erosion. They look natural and can tie a house to the landscape by using filler materials excavated from the site or the local terrain.
Hilfiker provides the wire cages with the standard wire being 9-gauge galvanized or nongalvanized.
"The nongalvanized wire will weather and create a lovely patina with the rust," he said. "It's a darker wire, and when it does rust, you can look in and see the rock easier, and it looks like rocks and not the wire. That's become very popular.
"There are heavier wires or even stainless steel. It depends on what the builder, homeowner or landscape architect wants."
Gabions can be built around outdoor barbecues, be a fence foundation, surround small ponds, be a planter or built as a bench. For many, it's a contemporary piece of art in a variety of dimensions or spacing. They are found throughout Europe and are more common in arid climates such as Nevada, Arizona, New Mexico and Texas.
"Rock is the most typical filler for its durability, longevity and stability," Hilfiker said. "Often the filler is chosen for its aesthetic attributes or by what can be recycled from a site. Some considerations depend on a wall's purpose.
"For a retaining wall, the rock must be dense enough to support the load. A hard rock such as basalt is typical. Any way you look at it, it's a structurally sound way to prevent soil erosion and build a retaining wall. No excavation or foundation is required, and they're long-lasting and environmentally friendly."
Not interested in a 7,000-year-old gabion? There are other ways to decorate the backyard including planter walls, decorative rock and pavers.
Dakota Jamieson at Jeff's Lawn and Landscaping in Las Vegas said backyard and front-yard landscaping matters not only to homeowners but influences those buying homes.
"People are feeling a sense of responsibility to do their part to save water and not be wasteful," he said. "Homeowners are tired of seeing water run down the sidewalk into the street, and homeowners don't want to buy a home and maintain a lush, green yard. Rock is smart, and there is so much you can do with it."
Jamieson said artificial turf with chunky or crushed rock, a few boulders, pavers and red lantana is handsome and easy to maintain.
"Our clients know what they want in terms of rock gardens, block walls and other nongrass materials," he said. "Several weeks ago, I returned to a home to take some photos of a job that we had just finished that had lots of colored rock with desert plants and lighting. I walked in, and every window was open to showcase the backyard and all the work we had done. It was beautiful, and you knew the homeowner was quite proud of his water-smart backyard."