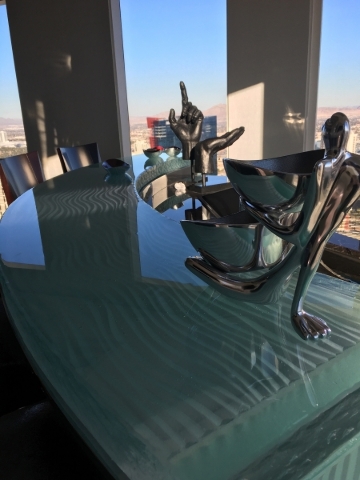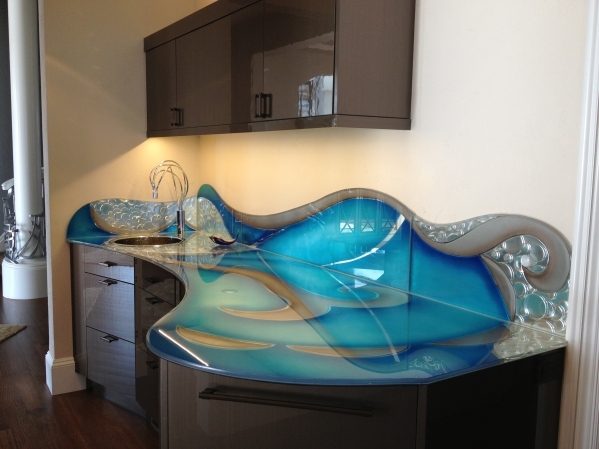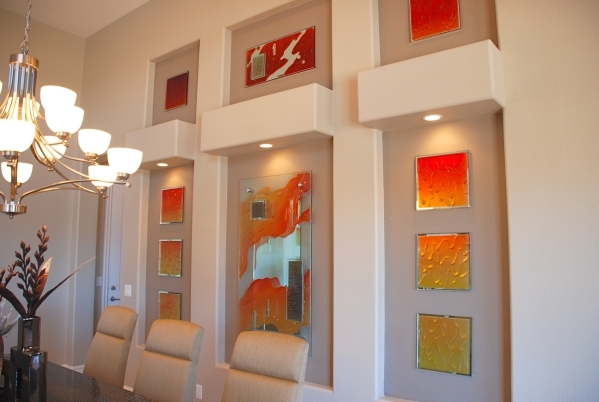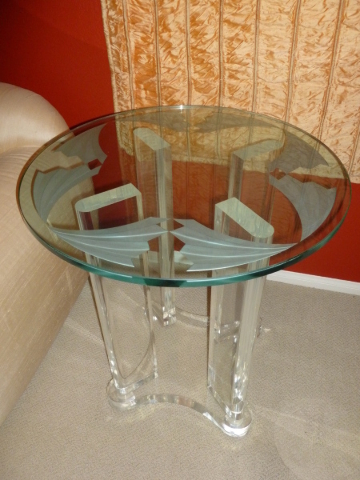 The plight of the liberal arts major is one the recessionary years highlighted well. But Leslie Rankin has known about it for nearly three decades. When she graduated from college in the early '80s with a fine arts degree, she was eager to find a career that actually used her artistic skills.
In school, she specialized in creating artistic pieces out of metal and iron but felt those fields offered limited opportunity. So, Rankin ended up working for a glass company, cutting glass, installing shower glass, placing and replacing windows and mirrors all around the Las Vegas Valley.
It was trade work, and she felt comfortable in that world. She grew up around the trades and had installed her share of carpet and tile, she says.
But this foray into the glass world opened the door to a new business, Glassic Art. It all started with a few "what if" moments while on the job at the glass company.
"I kept looking at this stuff and thinking, 'This could be so much prettier,'" she recalled.
So, Rankin set out to educate herself about glass. She took one stained-glass class and then researched types of glass to better understand their strengths and weaknesses when working with them. She taught herself to acid etch, too.
Then, her work took a unique turn when she began tinkering with color. Glass isn't porous, and it expands and contracts with temperature changes, making it hard for paint to adhere to it. After eight years of tinkering, Rankin, however, discovered a formula that worked.
"I developed a formula that survived all my tests in the desert, behind my house. It doesn't chip or peel," Rankin said. "Once I had that, I could do anything and pretty much design anything. I could match any color to a client's home. I could do shower enclosures, design counters. … I've been doing it for about 30 years now."
Rankin's award-winning work keeps impressing clients, and many local designers and builders seek her out for unique uses for glass in their spaces. But Rankin, and some local design pros, also say we're only scratching the surface on how glass can be incorporated into home design.
"I had always had to justify my business by making sure what I was doing was functional," Rankin said. "During the recession, I actually saw a boost in business. So many homes were bare, boring and neutral. I would get these calls for a piece on the fireplace or something else to add a color pop."
Tables, small spaces
Stephen Leon, founder of local design studio, Soleil Design, uses glass in table designs, particularly when he's trying to show off a unique sculptural base.
"A solid top doesn't cut it for that," he said. "If you want to display a fabulous base, glass is always the way to go."
Rankin, who has worked with Leon on projects, says tables are some of her favorite projects. Keeping the base as the focal point allows her to not steal the show with an overly elaborate glass design, she says.
Leon also suggests using a piece of glass at least ¾-inch thick for a table.
"If you use a thin piece of glass, it's just not going to look good. It lacks richness," he added.
The lone exception, he adds, is if the glass is framed with wood or steel that hides the thickness of the glass, then a ½-inch piece could work.
Leon also suggests clients use round glass tables in small rooms. They allow for more seating and don't overwhelm the space when it's empty.
"If you want to make that room look bigger, that glass will really help," he added.
Counters, bars
Rankin also sees plenty of requests for wet bars and countertops. Many glass countertops are thick like many granite tops, but don't look as heavy and bulky, according to Mark Bell, founder of Mark Bell Studio, an architectural design studio.
"It has as solid feel, but it can look kind of invisible too, compared to that heavy granite," he added. "There's a visual sense with how it works with light in the counter that you don't get with granite."
Rankin says glass counters are just as durable as granite. She uses annealed glass, which is slow-cooled, unlike tempered glass found on windows and sliding doors. With the help of slow cooling, the glass is less likely to shatter. The material cost is the same as granite, Rankin adds, but installation is cheaper.
"It's so strong it takes a diamond to scratch it," she noted.
Other uses
For Bell, glass can be used for much more than counters, shower enclosures and windows. He is working on a headboard for a client with a glass shelf near the top of it.
"I've had a love affair with glass for a long time, and I'm fortunate to have many clients who like it too. I think people overlook glass. The applications are pretty endless. … I'll use it as walls, as partitions."
Bell also has done glass flooring. "You can also do tiles with see-through glass in them," he added. "Glass is incredibly strong, and it plays with the light so much. It captures it more than other materials do."
Rankin has been called upon to use colored glass for wall embellishments in a spot where a homeowner wants something lighter than a heavy piece of hanging art. And she has added glass to lighting and other fixtures as well.
But she also says being artistic on a budget brings a whole new level of discipline. She insists her designs are not just for the wealthy. She likes to treat each job the same: A detailed rendering is done beforehand, and several practical factors are discussed. In some cases, with wall designs, or even tables, the glass piece may be too heavy or other factors could arise that may make moving it nearly impossible.
"My drawing process is very extensive," she said. "For some, they also need to know that we are creating something that may need to be sold with the house. That can be a challenge for some. I have to take a lot of things into consideration and think, 'How can this investment go further than what they're thinking right now?'"