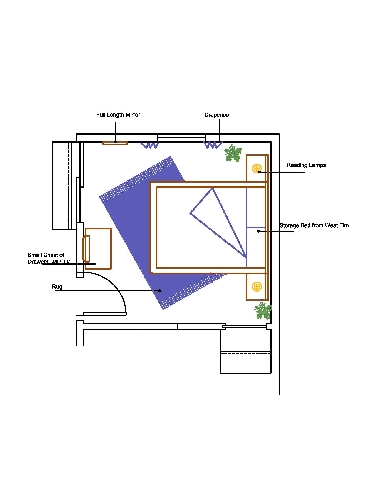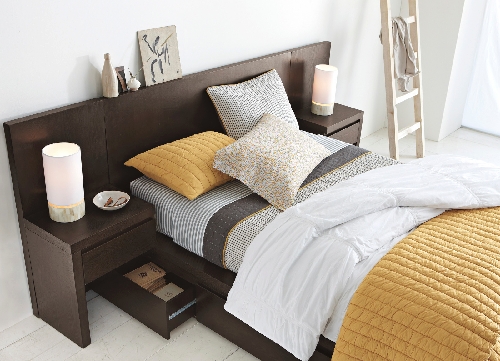 DEAR DESIGNER: I want to redecorate my master bedroom but I have a couple of obstacles to overcome. The room is small and I need storage. I want it to be more of a retreat. I just want to be able to relax in that room. Right now it's so chaotic!
I would like to have a nine-drawer dresser and maybe a nightstand with no other furniture. But with the walls being "choppy," I am not sure if one will even fit in there. And our bed will only go on one wall. It might be nice to have some kind of built-in around the window, but not something overpowering, maybe a bench seat with some book shelves on either side. I don't really know. I can picture things, but it's hard to figure out how or if it will even work.
Oh, and I should tell you that I like things that are somewhat simple and contemporary. Thank you. — Renee
DEAR RENEE: When decorating a small room, it's important to be organized. While it's easy to think that a small space would make an easy design project, the reality is quite the opposite for the very obstacles you mention.
Begin with a wish list. Include everything you want in your room, even the obvious things. Title your list with a statement that describes how you want your room to function or feel. This serves as a reminder when you are forced to make decisions about bedding, draperies and pictures.
If you are drawn toward a wild and colorful print but you truly want your room to be a relaxing retreat, referring to your list will keep you focused on your overall goal.
As an example, use this list for a bedroom retreat: bed, nightstand with reading lamp, drawer storage for his and her clothes, bedspread, draperies, landing station to set your purse or keys when you enter the room, jewelry storage, bookshelf/window seat, mirror and plant.
Next, measure the room and draft a suitable plan. The plan will allow you to see how many things on your wish list will fit. You will be able to tell if there is room to put a bookcase and window seat without the costly expense of trying it. It is easy to make spatial mistakes when trying to visualize. A floor plan that is drafted to scale (e.g., ¼ inch = 1 foot) will take the guess work out.
I used the measurements you sent me to draft a simple floor plan. I eliminated the option of a window seat and bookcases as that made the room crowded and off balance. I would choose a sheer set of draperies to soften your window and give the room an open and breezy feel.
If you are doing a floor plan yourself, do a rough drawing before you go shopping for furniture. Use the measurements of furniture you want in the room and place them where you think they will go. This will allow you to know if your wishes fit the reality of your room.
When I first drafted a queen-size bed into this floor plan, I had not seen the bed that I eventually selected for this space (west elm storage bed). On my rough layout, I could see that a queen-size bed would work and a king-size bed would be overwhelming for the space.
When I did my research, I found this wonderful storage bed from west elm. It's simple yet provides a great asset for a small room; drawer space under the bed on both sides. The bed is contemporary and the nightstands are small. The nightstands are sold separately so if you really don't want two, you can purchase only one. Because the areas around the bed are too small to add a dresser, I selected a second nightstand to provide more storage. As an added bonus, the second nightstand adds formal balance to the room.
In this particular room, there is only one choice for the bed wall. But in some cases there are two options. When this happens, choose the wall across from the entry door so you can see the headboard when you walk into the room.
There wasn't any mention of a television in your request, but I added a small chest of drawers that will serve as a landing station. I also added a small television attached to the wall above it. Another option for the same space would be a small armoire.
I always try to add a full length mirror in a small master bedroom. Not only is the mirror handy for checking out your entire look before leaving the room, it adds depth to a wall and helps to make your room look larger.
An organized closet is vital in a small bedroom. You will need this area for jewelry storage, shoes, drawers and hanging clothes. Your closet space can double in size when designed efficiently. Closet companies are experts in their products and do a fast and impressive job. Or, if you are handy, you can pick out and design your own closet interior from any home-improvement store.
Plants, whether real or fake, will soften the edges and add warmth to a room. You don't need many. It's amazing how much a room changes with one added plant placed appropriately.
I drafted the area rug into your room on an angle to add an element of interest. Diagonal lines create energy. A relaxing retreat need not be boring. The focal point in your room will be your bed, along with a terrific picture you will hang above it, and then all eyes will move down to your interesting, complementary rug.
Small rooms can be challenging but when we focus on the ultimate goal, the reward is greater than the challenge.
Cindy Payne is a certified interior designer with more than 25 years of experience, a member of the American Society of Interior Designers, as well as a licensed contractor. Email questions to her at deardesigner@
projectdesigninteriors.com or send them to her at Project Design Interiors, 2620 S. Maryland Parkway, Suite 189, Las Vegas, NV 89109. She can be reached online at www.projectdesigninteriors.com.