Great without grass: 16th annual awards recognize water-efficient landscapes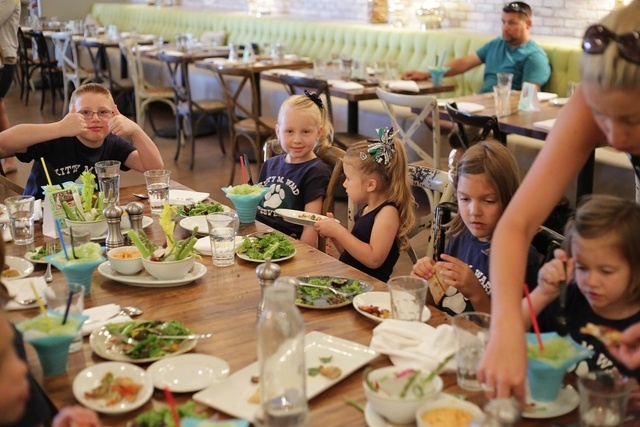 Who says you can't grow things in the desert?
Plenty of Las Vegas homeowners have front and backyard landscapes that do not rely on grass or water-gulping plants. Some of those yards were entered into the 16th Annual Southern Nevada Landscape Awards competition, which recognizes those with aesthetically pleasing desert landscaping. The Springs Preserve Botanical Gardens and the Southern Nevada Water Authority sent judges to each finalist's location and announced the winners June 5.
Randy Mendre won for his front yard, a 2,000-square-foot space landscaped with various types of cactuses and his version of a terrace. Most of his plants were not purchased but rather were cuttings taken from existing plants.
Mendre prides himself on recycling and repurposing items, and, while he is not an artist, he enjoys working with metal and making the sculptures that dot his yard. He said he lets the plants and sculptures tell him where they should be placed.
"I'm constantly having people — strangers — stopping to take pictures," he said. "My kids will say, 'Dad, there's somebody in the front yard again taking pictures.' … I even had a production company for movies and TV commercials come by and talk to me. They said they'd like to use it in something one day."
Sahara West Apartments, 2301 Redwood St., took second place for its outdoor common area.
Lauren Wright, the property's community director, said the site previously featured tennis courts that had fallen into disrepair and were seldom used. Instead of spending money to restore them, the apartment complex decided to provide a relaxing retreat for residents with an entertainment plaza, a fireplace, a fountain feature and a "kitchen" with a granite countertop.
"It was really exciting, winning an award like this," Wright said. "It was a major project, took months to do. We were thrilled with the outcome, and to all of a sudden win an award for it was just fantastic."
The project was finished in October 2013.
"(Residents) love it; they use it all the time," Wright said. "In the winter, they come up and sit around the fireplace. It's a double-sided fireplace with chairs on both sides of it. And the outdoor kitchen has a barbecue, so, of course, that gets used a lot."
Winners in the competition were treated to a breakfast ceremony June 5 at the Springs Preserve Botanical Gardens, 333 S. Valley View Blvd. The Gardens presented the awards along with Star Nursery, the Water Authority, the Nevada Chapter of the American Society of Landscape Architects and the Southern Nevada Landscape Association.
At the awards ceremony, a vegetable garden was dedicated to the memory of Linn Mills, a local horticulturalist who worked with the University of Nevada Cooperative Extension, the Springs Preserve and the Las Vegas Valley Water District. Mills' column appeared regularly in the Las Vegas Review-Journal. He died Feb. 28.
The judges based their decisions on the landscapes by scoring for: overall beauty, water efficiency, plant selection and overall layout design.
Properly irrigated, water-savvy landscapes can use up to 75 percent less water than turf. Since 1999, thousands of residents and businesses have upgraded to water-smart designs. As a result, they've converted more than 163 million square feet of lawns to water-efficient landscaping, collectively saving roughly 8.8 billion gallons of water a year.
Contact Summerlin Area View reporter Jan Hogan at jhogan@viewnews.com or 702-387-2949.