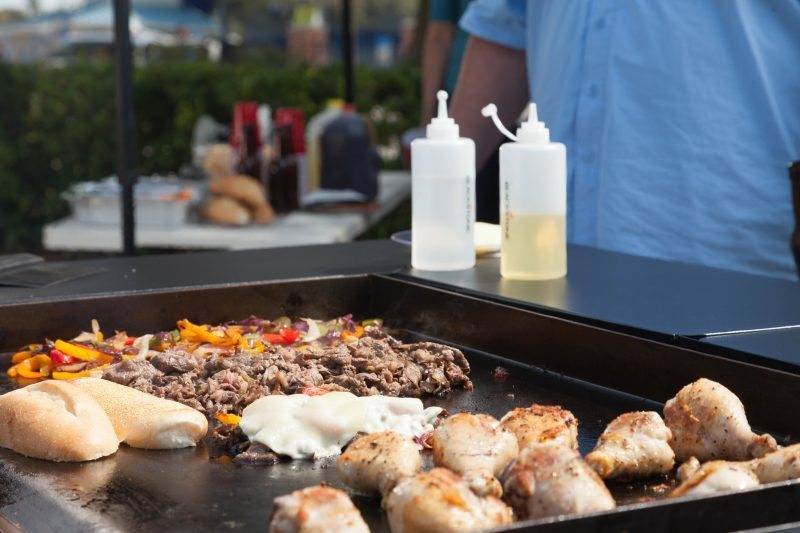 The newest mantra for outdoor chefs is "griddling." The outdoor griddle's innovative technology allows chefs to go from breakfast to lunch to dinner with desserts and snacks in between. Foods that could never be cooked on a traditional grill are now cooked outdoors including eggs, grilled cheese, stir fry, cheese steaks, quesadillas and delicate fish — or even try teppanyaki-style cooking.
Griddling is easy to learn. A griddle also is easy to clean, has independently controlled heating zones, is easy to transport for tailgating and camping and is convenient for those with limited outdoor space.
"Anything that can be cooked on a typical grill can be cooked on a griddle, and more," said Nathan Lippy, a recognized chef and television personality who has developed a number of recipes for the Blackstone griddle.
"There isn't a lot you can't do when cooking on a griddle," he said. "I love it when my family comes over on a weekend and everyone is hungry for breakfast. Usually, I'm limited to making about six pancakes at a time on my conventional kitchen stove. But on (Blackstone's) 36-inch griddle, I can make up to 40 pancakes in less than five minutes. And next to the pancakes are hash browns and bacon."
Griddle tops are cold-rolled steel with stainless steel burners. They use propane and have electric push-button igniters. There is a range of sizes from a 17 inches for tailgating and picnicking to a 36-inch four-burner griddle. Even the larger units have stands with industrial-strength caster wheels and folding legs for easy transportation.
Preparing a griddle before using for the first time begins with "seasoning."
"The first thing you need to do is clean the surface with soapy water and then completely dry it," Lippy said. "This is to remove any travel, storage or delivery debris or dust. Turn all four burners on high heat and rub a thin, smooth layer of oil over the entire surface of the griddle including the side walls. I use flaxseed oil because it has a hardening characteristic that makes it great for the first layers of this seasoning process. However, most oils will do well.
"Once the oil reaches a smoking point in about 10 minutes, let it smoke until the smoke stops. This is the oil bonding with the steel. Repeat the process three more times. Now you're ready to cook."
When it is time to clean up, keep the griddle hot and cover with water. Let the water boil and push leftover food debris from the griddle to the grease trough. Wipe the top dry and coat with a thin layer of oil to protect it from rust.
Lippy said the more a person cooks on a griddle, the more it reflects that person's style of cooking and flavoring. And because there is never an open fire, there is never any smoke which makes it convenient for guests to hang around the chef for idle chatter.
"The (Blackstone) griddle has an H-style burner which provides even heat distribution for optimal cooking across the entire griddle," Lippy said. "So you don't have to worry about dead spots or hot spots. Its flat surface offers up so many new ways to cook and prepare foods in ways different than a grill.
"One of my guilty pleasures is going to a small diner for a hamburger where they are smashed flat and cooked until there is a crispy edge. You can do that on a griddle."
When it first came on the market, the griddle was primarily used for pancakes and breakfast. But it is now used throughout the day because of its versatility and portability.