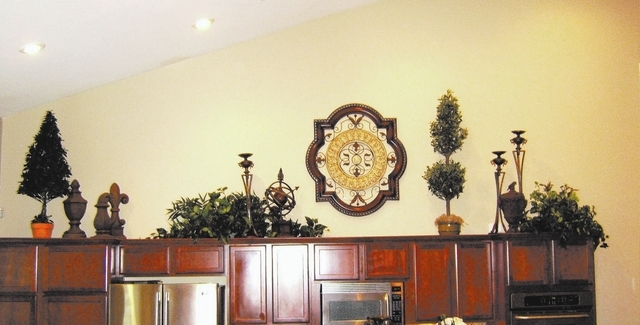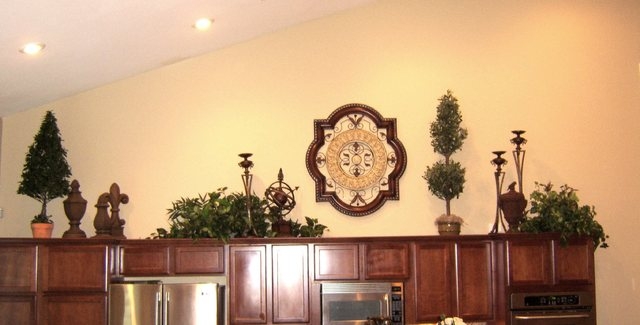 Dear Gail: Our home has great vaulted ceilings, but with them we also have a very high pot shelf ledge about 10 feet up in our living room. It is 8 feet high and 11 feet long with a 16 inch deep ledge. We are stumped on what to place up there. Can you help? — Jordon
Dear Jordon: The openness that your vaulted ceiling brings to your living room is wonderful but can sometimes create a decorating challenge. Instead, though, let's look at it as a decorating opportunity.
It's easier if you look at it as if you are decorating a large wall in your home instead of just a ledge. Along with adding things to the wall itself, we're going to add decorative elements, where bigger is better. Anything too small will not be seen from the ground and actually appear even smaller than it is.
The first thing you can consider doing is paint it an accent color. Color acts as a backdrop and fills visual space. Don't be afraid to go darker as it will visually bring the space down into the room. If you're going to paint, I'd suggest that you incorporate the same color somewhere else in the room or adjuring area. You don't want just one painted wall being it will be so prominent in the room.
If you don't have another area to paint, select a bold color from an area rug or piece of upholstery. This will help balance the colors in the room.
Being that the items need to be large, use a folding screen. It will give you the height that you need, as well as cover a nice portion of the wall. A screen also works well since you can adjust it to fit the ledge. This can be an inexpensive item since it will be high off the floor. The one in the photo only cost $100. It was very lightweight and a great backdrop to the other items used.
Next, add a piece of artwork. What I've found that works best is a tapestry, canvas or metal piece. You can get a large piece that is light in weight. You have to watch the weight of anything you are placing that high up since you'd be lifting it up there from a ladder. A framed piece of artwork will be heavy and the image will be hard to see from the glare on the glass.
To lighten the look and fill space, add greenery. Start with trees and floor plants. Make sure you bring a tape measure when shopping to make sure they won't be too wide. They need to be tall and narrow to properly fit on the ledge.
You can also have three-sided trees made. They are flat on the back so they can be placed against the wall. It's important that the greenery is stable on the ledge as well as in its container.
In the photo above right, in addition to the spiral tree on the left side, we placed a very interesting branch wall. It was very light in weight and added texture, height and grounded the metal artwork.
Use large, but lightweight pots, urns and jars. Look for metal or faux stone made out of fiberglass. Group together different sizes and add twigs, reeds or curly willow to give you extra height.
Other things to consider are trunks, large plates, sculptures, interesting baskets and even a long narrow bench. On the bench you can place some accessories and greenery.
You can also transform the wall with a mural. Pick your favorite scenic route, landscape or picture and have it painted on the wall. Wall decals are also a great inexpensive option. The rub-on ones will be too tricky to put up, so look for ones made out of vinyl. Make sure, though, that they will stick to our textured walls; not all do.
To help with placement, set it up on the floor underneath the pot shelf. It will help give you a perspective. Be careful not to overdecorate the space with too many things. The eye always needs a place to rest.
Have fun, Jordon, but also be very careful when you're placing the items. If you're uncomfortable doing it, spend a little extra money and hire someone.
Gail Mayhugh, owner of GMJ Interiors, is a professional interior designer and author of a book on the subject. Questions may be sent by email to: gail@gmjinteriors.com. Or, mail to: 7380 S. Eastern Ave., No. 124-272, Las Vegas, NV 89123. Her Web address is: www.GMJinteriors.com.