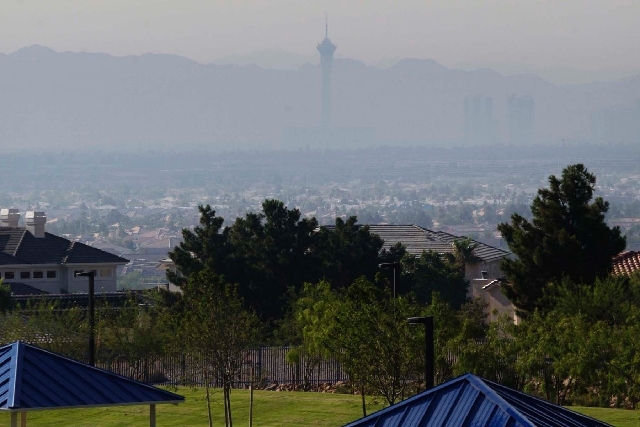 As fire crews worked round the clock to battle the Carpenter 1 Fire, area residents could look to the skies to see its devastating effect.
Dark clouds loomed overhead and, in some places — particularly the northwest valley — ash rained down, covering homes, cars and landscapes.
Today, with the fire 80 percent contained, those who were evacuated are returning to their homes, and life is beginning to resume its normal pace.
However, experts recommend a bit of extra care in cleaning up the remains of the fire that charred nearly 28,000 acres.
"Typically, a homeowner or small-business owner can take care of some of the cleaning himself. Just wipe everything down with degreaser," said Randy Roberts, co-owner of ServiceMaster Dry Las Vegas. "It all depends on how close you were to the fire."
For those who were evacuated, Roberts said to be careful when re-entering their homes.
"When you go in, don't touch a lot of stuff so you're not tracking soot from place to place," he said. "Depending on how bad it is, you may need a professional. Cleaning up after fires is nasty business."
Roberts also cautioned those whose homes may have been hit with fire retardant dropped by airplanes.
"It does get on homes and vehicles. It's pretty corrosive stuff," he said.
For that, he recommends pressure washing the exteriors of houses and other buildings in the area.
For all valley residents, one area that will need special consideration is the home's ventilation system.
"The problem with any fire is the ventilation system," Roberts said. "The air conditioner is on, especially this time of the year when it's so hot, and smoke gets pulled up through the ventilation system."
Additionally, it can take in dust and soot.
Clark County's Air Quality Department, recommends running your HVAC system for an extended period of time, usually from two to four hours.
"If you smell smoke or see dust coming out of the vent, change your filters. If that doesn't work, residents may want to consider having their duct work cleaned," said Russell Roberts, principal air quality specialist with the department .
Randy Roberts said you may not even see or smell the smoke and soot. He said you might take out a pair of white pants from your closet and then suddenly notice they are black.
He recommends changing the system's air filters. If the smoke smell still lingers, both said the next step would be to have the home's ducts professionally cleaned.
The county's emergency management office also recommends:
n Consider wearing proper clothing, such as boots, long pants and gloves. Ash and dust may be present and could pose health problems for people with respiratory issues.
n Watch out for charred trees and power poles that may be unstable.
n Be aware of smoldering debris.
n Items around your house may have been moved by firefighters (chairs, tables, etc.)
n Ash pits (holes created by burning trees filled with hot ash) may be present in the surrounding area. Warn family and neighbors to keep clear of the pits.
n If you smell gas, leave immediately and contact the fire department and the gas company.
n Animals and insects may have entered your house, ao be aware as you open closets, storage areas, garage and outbuildings. If a deceased animal, wild or otherwise, that does not belong to you is located on your property, contact Clark County Animal Control.
n Be prepared to photograph your property for documentation such as insurance claims.
n Before cleaning you may want to contact your insurance company.
n Be prepared to discard food, as the power may have been off during the course of fighting the fire.
n Be prepared to discard water that is stored, as it may potentially be contaminated from ash.
For those who live in the immediate area of the fire, their risk from danger may not be over once the blaze is extinguished.
According to the county's emergency management office, the area may be prone to flooding. Wildfires dramatically alter the terrain and ground conditions, eliminating vegetation that would normal absorb the rainfall and reduce the amount of runoff. The risk of a flood remains higher until the vegetation grows back, possible as long as five years after the fire.
Additionally, the flooding after a fire is often more severe. The remaining debris and ash can form mudflows, which can cause significant damage when moved by rainwater.