Home décor runs hot and cold
September 15, 2010 - 11:00 pm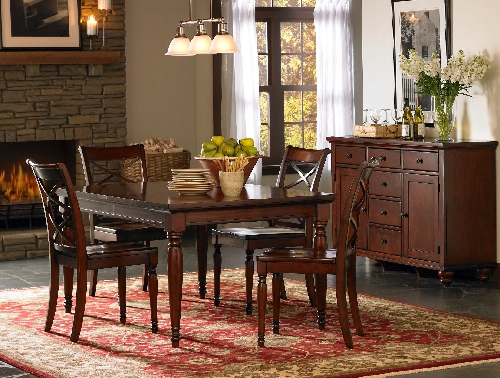 "A song of seasons! Something bright in fall! Flowers in the summer, fires in the fall." Robert Louis Stevenson (1850-1894), Scottish novelist and poet, "Autumn Fires" (1885)
Ah, the change of seasons is in the air here in Las Vegas. Temps are supposed to fall below 100 degrees, and those of us here in the Desert Southwest will no doubt think about heating and cooling our spaces in a different way. Ambient heat won't invade our houses, and hopefully in another month or so we can back off on the air conditioning. So let's talk about two of my favorite things in a house.
When the air conditioning goes off, open doors and windows, and ceiling fans take over. Hopefully, you've been using your ceiling fans this summer, also. They are an excellent method of circulating that cool air you're paying a fortune for.
I'm a huge fan of ceiling fans. On a lot of levels, they are an actual asset to your home and environment. Even the utility companies say ceiling fans are great for air circulation in your home and actually reduce your utility costs. In the summer they make your space cooler, and in the winter you can reverse the blades and drive the warm air down to keep you warmer.
There are so many creative and stylish ceiling fan designs, there is sure to be one to fit every décor. There are retailers who sell nothing but ceiling fans, but your local home-improvement stores carry full lines also, and the costs run the gamut. You can actually get a fan for less than $50 or pay up to many hundreds of dollars.
One company offering new ideas is Regency Fans. It has introduced a new level of customizable design for the home with its new Décor-Match carved wood blades. These unique, hand-crafted blades take ceiling fans from functional to focal point .
Regency says, "These fans showcase the natural beauty of real wood. Since each is hand-carved from a unique piece of wood, each blade carries its own signature features. You can mix and match the blades with a variety of fan options to create a casual, classic, retro or traditional look." To view more of its product line or find a retailer near you, visit its website at www.regencyfan.com.
If you purchase a plain ceiling fan and would like a new look, I recently discovered a new product sold by a company called Trudy's Palm Fan (trudyspalmfan.com). The company makes "sleeves" for existing fans. Its product line consists of several different blade covers, each with a palm motif. The product is attached to existing fan blades with two small screws and will attach to any length blade. They are made of resin, are completely washable and install in 10 minutes. A set of five blade covers sells for around $100.
Existing fan blades also can be painted or stained to change their appearance. There are many, many options .
OK, so now it's a little cooler and we want that tiny bit of extra heat, not to mention, ambience. And where do we turn? Fireplaces. Yes, we do use fireplaces in the desert.
Once again, there are huge options when it comes to fireplaces.
To me, the absolute best is the original wood-burning fireplace. There is a real art to building the perfect fire and there's nothing quite like it on a cold snowy night. Granted, we don't really have snowy nights here in Las Vegas, but the vision is still heartwarming.
I have had fireplaces that I couldn't use, however, because of excessive smoking, and you will hear all kinds of reasons for that. But it definitely takes the joy out of having a fire.
If you don't have a fireplace, you should definitely consider adding one. Unfortunately you can't get that wonderful wood-burning one because of environmental issues and enormous construction costs, but there are plenty of options. And most are cost effective. The National Association of Realtors says a fireplace addition will raise the value of a home 6 to 12 percent. Adding a fireplace is also the third most popular renovation right behind kitchens and bathrooms.
Gas fireplaces can be either vented or vent-free. The vent-free would be the easiest to add. The vented type requires a place for the air to exit to the outside through a chimney or pipe in an outside wall. This fireplace is also probably the most expensive to install in a makeover.
Electric fireplaces are a worthwhile consideration because you can just plug them in and, voilà, you have a fire. They require no venting and you can literally move them from room to room. I have a friend who routinely moves her electric fireplace into the bedroom in the winter and it is just decoration in the living room in the summer. And it does provide heat!
Gel fuel fireplaces are also mobile and require no vents. The fuel comes in steel containers that are placed behind real looking logs. They last four or five hours and the flame is somewhat realistic.
If you are planning a major renovation, you can put a fireplace anywhere you wish. But if you're not planning anything major, opt for the electric one. It offers the look and feel of a "real" fire without the hassle or expense.
So you see, we can have the same things in our homes that people in other parts of the country do. Ours are just hotter and flashier.
Carolyn Muse Grant is a design consultant, expert home stager and creator of beautiful spaces. Questions can be sent to her at creativemuse@cox.net.