Home's smallest room often packs biggest punch
August 14, 2013 - 2:32 pm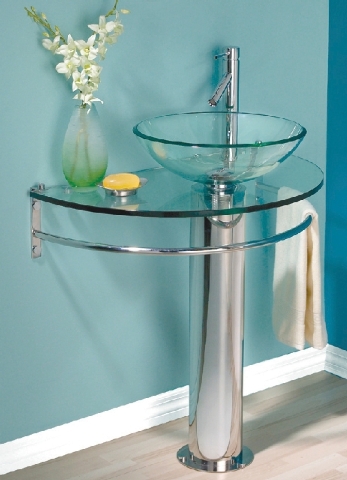 "It's a small world after all. It's a small, small world." Lines from song written by Richard M. Sherman and Robert B. Sherman
The smallest room in the house is usually the one seen by the most people — and that's the powder room. In today's lifestyle and modern homes, the powder room is considered an essential. Most of us prefer not to have our guests using our personal bathrooms, hence the popularity of a powder room.
According to www.wisegeek.com, "the term powder room dates back to the early 18th century, when it was used to refer to a closet-sized room where people went to have their wigs repowdered. The expression carried through to Victorian times, when any reference to personal bodily functions was considered indelicate. Ladies of the era were embarrassed to speak of such things and would excuse themselves from mixed company to go to 'powder their noses.' In fact, many women still refer to a public ladies' room as a powder room."
Thank goodness for the Web. How else would we know these useful facts? (I'm joking!) And thank goodness we're not ladies of "that era."
Well anyway — past use aside, powder rooms are favorites of designers today. Several reasons account for this. The room is small, usually no more than 4 by 5 feet. The small size allows for more expensive materials to be used in the room, and also gives designers the freedom to use a particularly loud or bold design.
A small space limits homeowners in some ways, but the tiny powder room opens up a lot of opportunities with color, pattern and accessories.
The small size also dictates content in the powder room, and most include only a toilet and sink, and is referred to as a two-piece bathroom. And this is where you can really have some fun. There are some awfully cool sinks that are just perfect for a small room. Because of their size, they are much more appropriate for a powder room than a personal bathroom.
One of my favorite sink manufacturers, Stone Forest, creates some of the most amazing bath sinks. Its website, www.stoneforest.com, describes its materials and has some awesome pictures for you to see. "Stone Forest takes its lead from nature's blueprint. Contemporary designs for the bath are sculpted from natural materials including stone, bronze, bamboo, copper, iron and hardwoods. Collaborating with the design community to create custom designs is our specialty."
Each piece is truly a work of art, skillfully crafted by hand, using a hammer and chisel. Unfortunately you can't order direct from them but you can through a retailer or designer. There are, however, plenty of other options for you to shop from.
If you have a tiny powder room, you might consider using some luscious paint or paper. I have seen inspirational ones where bold wallpaper covers the walls and ceiling, creating a little cocoon. You can certainly find all of these things in every price point, and for not very much money, you can make your little room a jewel box.
There also are wonderful options for beautiful mirrors and one-of-a-kind lighting. A good splurge in the powder room will most likely include pretty towels and soaps; and, by all means, make sure the room smells good!
With a little imagination and creativity, the tiny powder room will become the biggest star in your home. Even if you pick the most expensive products such as flooring, tile or fancy wallpaper, the powder room's small size will make them more affordable. And whether you and your guests powder noses or wigs, the powder room will rock.
Carolyn Muse Grant is a founder and past president of the Architectural & Decorative Arts Society, as well as an interior design consultant/stylist specializing in home staging. Send questions to creativemuse@cox.net.