January 7, 2017 - 8:05 am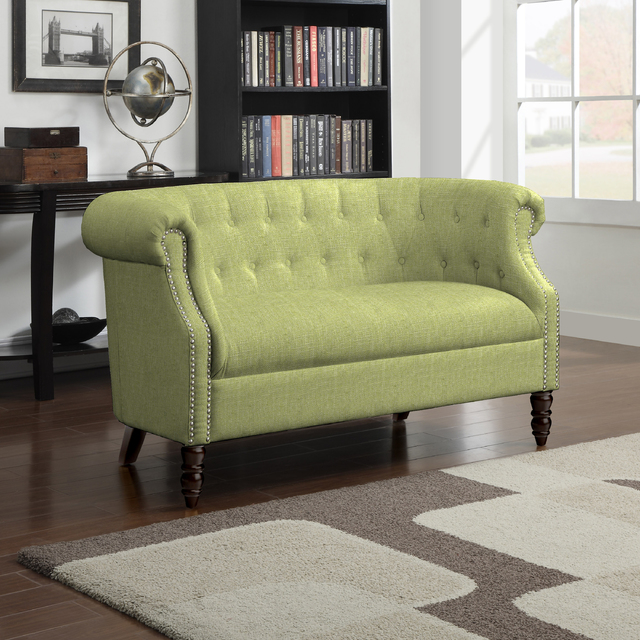 It's not easy being green.
However, that didn't stop the experts at Pantone — recognized as the international authority on color trends — from designating a bold hue called Greenery as its 2017 Color of the Year. In company literature, the color is described as "a fresh and zesty yellow-green shade that evokes the first days of spring when nature's greens revive, restore and renew."
Leatrice Eiseman, executive director of the Pantone Color Institute, said Greenery "bursts forth … to provide us with the hope we collectively yearn for amid a complex social and political landscape" and "symbolizes the reconnection we seek with nature, one another and a larger purpose."
Now the big question facing interior design experts is how best to incorporate the neon-esque color into home decor this year.
Las Vegas interior decorator Lisa Escobar isn't sure. Escobar, who is currently decorating a penthouse at the Mandarin Oriental, is typically a fan of green hues, but she called Greenery "intense."
"Is it something I'm going to paint the walls with?Definitely not. Is it something I'm going to accent with in pillows? Most likely not," she said. "It's a great way to bring the outside in and to give a nod to nature, but as far as incorporating it in my design elements … I don't see me (using) it in fabrics or really anything other than plants."
While Pantone's Greenery announcement garnered the bulk of the attention, several of the nation's largest paint manufacturers have selected their own hues to serve as 2017's Color of the Year.
Valspar also chose a green, called Crushed Oregano, as one of its 12 Colors of the Year, while Behr went with a "robust teal" dubbed Wanderlust.
For the first time in its history, PPG, which manufactures its namesake brand as well as Olympic and Glidden brand paints, chose a trio of purple shades as its top colors.
PPG Paints' Violet Verbena is described as "a grayed-off, moody purple with a chameleon-like presence." It's a slightly different shade than Olympic's "soft violet" Cloudberry color. And, despite its name, Glidden's Byzantine Blue is actually described as "a playful-yet-peaceful purple."
Purple reigned supreme for PPG's 26-member color selection team this year because it represents "the blending in society today" of the indoors with the outdoors, as well as genders and age demographics, according to Dee Schlotter, the company's senior color marketing manager.
"These grayed-off, blued-off versions of violet are trending what we see in kids' rooms as well as in adult rooms," she said, adding that the colors pair nicely with beiges, grays and greens.
Look for them to turn up in accent pillows, shower curtains and such, Schlotter said. "Because it's a neutral, because it's so grayed-off, it's going to be much more useful."
While Escobar likes Cloudberry ("I think it's very calming"), she said Violet Verbena and Byzantine Blue remind her of colors that were popular during the 1980s, and she called them "a little sad."
Members of Benjamin Moore brand's Color Design and Innovation Team also proved partial to purple and designated a "rich, royal amethyst" called Shadow as its Color of the Year.
Priscilla Ghaznavi, director of color innovation and design for Benjamin Moore, said team members conducted global research over the past year and "noticed the use of darker hues was especially prevalent in the expression and experience of art in galleries and museums, and in people's natural curiosity to want to replicate a darker hue in their work or home."
Purple, she said, "connotes a sense of unity, which is in line with what is happening in our world today. We are living in a world where the shared economy is growing … and creating unity in these environments was and is a sub-cultural influence we continue to monitor."
Jill Thomson is a longtime Las Vegas interior designer who has decorated homes and office spaces throughout the nation. She also is the daughter of Milton Homer, whose furniture showroom was for years a fixture at Summerlin's Boca Park shopping center.
Thomson thinks Benjamin Moore's Shadow is "a little dark for a wall color," but she said it likely will work well in decor accent pieces.
Escobar agrees. "I think it's not for everyone, but I can see using it in a large format and also in accent pieces. … It's got a lot of depth."
Also a bit dark for Thomson's taste is Poised Taupe, which Sherwin-Williams named its Color of the Year.
However, because it's a neutral tone that "goes with everything," she considers it "a safe choice for someone that wants a darker wall color … and wants it to be transitional to work with browns or grays."
Versatility is Poised Taupe's best quality, according to Sue Wadden, director of color marketing for Sherwin-Williams. "You can use it anywhere. In a kitchen, if you have white cabinets, it's stunning. You can use it in a bathroom. You can use it in a bedroom."
The hue also complements popular Scandinavian design styles, she said. "It's a great color for the aesthetic, which is bringing the outside indoors, kind of living a natural existence, and so taupe is just a great extension of that."
Wadden said the company's color team began looking at home decor marketplace trends nearly a year ago and recognized a resurgence in neutrals following several years of gray-dominated designs.
Gray is "kind of at its pinnacle," she said. "From a color perspective, now you're going to start seeing a shift" to finishes and materials in colors such as camel, tan and brown.
Thomson disagrees. "I don't think gray is going anywhere, but I do think color is back," she said.
Color expert Sara McLean spent the better part of last year researching food, fashion, travel and pop culture trendsfor paint manufacturer Dunn-Edwards before selecting Honey Glow, a golden-yellow shade, as Color of the Year.
"I noticed this theme … that's really just this idea of starting over and new adventures, and with that yellow kept coming to fruition in all its various" shades, she explained.
From the yellow diamond on Brazil's flag, which was seen frequently during the 2016 Summer Olympics telecasts, to the flowy frock Beyonce donned in the "Hold Up" video from her hit album "Lemonade," McLean said she realized "there is just something going on with this color."
Honey Glow is "a perfect blend of curiosity and cheerfulness. It's not too sweet, and it's not too youthful. It has some age quality but still re-energizes and provides a boldness to a room, from traditional to contemporary spaces," she said.
"I love it," said Escobar, who has employed similar shades in several of her recent decorating projects. "It's an amazing way to ground a space" and pairs well with darker colors. "It's another way to incorporate gold. … I'm definitely drawn to it in a supporting role."
Conversely, Thomson said, "I'm not a fan. I don't like it."
She recalled using a similar color several years ago in a design for a client. "It was pretty, but it wasn't my personal favorite."
These days, she said, "The only way I would use that yellow is maybe in fresh flowers and (cabinetry) hardware, but not as yellow — as gold. It would be my loose interpretation of the color."
For all the research and marketing that paint manufacturers put into their various Color of the Year selections, Escobar said the results rarely impact her design choices.
"It's interesting to see, but I really design around my clients' requests," she explained. "My clientele doesn't say, 'What's the color of the year? I want my house to be that.' "