January 5, 2012 - 2:04 am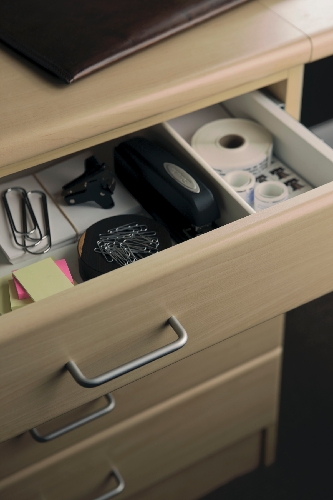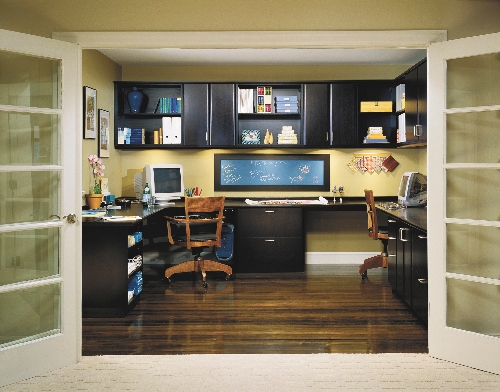 Admit it. Who among us hasn't worked at home? Whether we brought something home from the office, have a home-based business or just needed to do some everyday bill paying and record keeping, everyone needs space to work.
It could be a little space carved out of a den or bedroom or an entire room transformed into an office. In either case, having a dedicated space that is organized is key to being efficient and effective, said April Myers of Designs by April in Las Vegas.
"So many people have limited space in their home it's not always possible to have a whole room for an office. But having a dedicated space is a good idea," agreed Ginny Snook Scott, chief organization officer for California Closets. "For example, if you don't have a place for your car keys all the time, you tend to lose them."
She said the same principle holds true for work tasks. "Whether it's to pay bills, set up a laptop or plug in your iPod, it can impact productivity." Having a dedicated space prevents you from "running around trying to find a pen or stapler."
Snook Scott said she often compares a modern home office to a refrigerator. "In a refrigerator there's a place for milk, a place for vegetables and a place for cheese. You know where to look for those things because it's designated. That's why clutter is so overwhelming. Those things don't have a place to go.
"Think about compartmentalizing things. If you get a lot of mail but don't get to it until Saturday, make a place for it to live until you get to it. If you just put it on the counter, then it gets mixed in with the kids' homework and your keys and you can't find anything."
The same concept should be applied to drawers. Little compartments or containers keep things like extra rubber bands and stray pencils from taking over, she said.
It's also important to prioritize. Keep things that are used on a regular basis readily accessible.
"I like someone to feel like they're in a cockpit where everything is easily within reach and you can still maintain your altitude while reaching for tools or information," said Brenda Prinzavalli, principal of Balance Organized Solutions in Henderson.
Needs for today's home office have changed along with technology. Because so much is done through the computer, whether laptop or desktop, people don't require large filing cabinets for their records. In some cases, a single file drawer will suffice, Snook Scott said.
"Many of us are moving to digital storage for so many things, but every home still has files with things like insurance information and house mortgage information," she said.
When creating a home office, both Myers and Snook Scott said the first thing to do is think about your needs and working habits.
"When we go out and work with people, it starts with an in-depth interview," Snook Scott said. "That's one of the nice things about our company. All of California Closets' work is customized. We ask about the functionality of the space. We ask them to describe a typical day, whether they are on the phone all day, use a hand set or a head set, a laptop or a desktop, a mouse. Then we ask if they are right-handed or left-handed. More people are frustrated because their office was designed incorrectly. Because a right-handed person always goes to the right, when things are on the left, they become frustrated."
Snook Scott said it's also important for people to think about how they access their files, i.e., whether they are sitting or standing. The position often determines whether the files should be installed from front to back or sideways.
"Little things like that make it so much more functional," she said.
As a decorator and designer, Myers said she truly gets to know her clients' needs, likes and dislikes before coming up with a concept.
"Most of my clients are professional, savvy people. They want to be dollarwise as well as spacewise," she said. "It's made me a better designer and I've become more creative."
Myers said she likes a minimum of a 3-foot space for a desk and chair.
"You can always go up with stackables, hutches and bins," she said, noting sometimes storage space can be hidden inside walls.
Prinzavalli said you also need to consider how long you will be in that space. When living in a rental, she said it's best to purchase a desk set or furniture that is modular or has small individual pieces.
"This will allow furniture to fit into a multitude of office sizes and layouts. While one big desk and one big credenza might fit OK in your current home, it might not fit into another house."
In the case of Myers' client Andrea Behrens of Las Vegas, she needed a space where she could work from home, but it also had to accommodate her young children and double as a guest room for those rare occasions when she had visitors.
Together they decided to transform a small bedroom into a workable space. Their solution included building in an "L" shaped desk with storage cabinets and a wall bed. Also included were a drawer specifically for the kids' things and a matching bookcase filled with books and movies.
Behrens said she also asked to have some closet space and a nightstand built into the unit. There's even a pull-out tray at the top of the nightstand.
Because the space was going to be shared with children, Myers said she made sure to create the cabinetry and surface tops out of material that was durable, wipeable and long lasting.
She also was able to infuse the space with some style by using a Zebrano laminate. The laminate has a two-tone woodlike appearance, making it modern. But through the use of crown moldings and wide trim, it has a classic and traditional look as well.
Behrens, who works with homeowners associations and is executive producer of an Internet talk show, said having a designer help her create the office made it a more functional space and provided her with solutions to problems she wasn't even aware of.
"If you can't afford a designer, most reputable and good companies will show you designs and work with you," Behrens said.
One important thing that shouldn't be forgotten is to personalize and warm the space with color, accents and accessories.
"By bringing in choices, it helps clients feel like it's their own space," Myers said.
She also likes to incorporate display areas, whenever possible, for family pictures or items that have special meaning.
Snook Scott said an easy way to add some personality to a home office is to use a splash of color in the back of a shelf or inside a drawer, and Prinzavalli said adding plants or greenery always helps.