It's not just antiques at auction galleries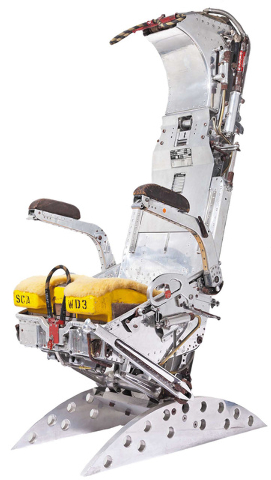 Antiques auction galleries sell more than antiques. Folk art, design, modernism, fashion, fossils and dinosaurs, rocks and minerals, comics, movie memorabilia, political and space all are words that have been used to advertise recent sales.
No longer do the sales feature only furniture, glass, silver, ceramics, toys, dolls and paper ephemera. A unique item was an ejection seat from a Vulcan jet bomber made in England. It was offered in a Hermann Historica auction in Munich on May 9.
The chrome ejection seat, dated July 15, 1974, is 56 inches high by 21 inches wide. The Vulcan, first made in 1952, was used by the Royal Air Force during the Cold War. It could fly at 52,000 feet and carried nuclear arms.
The newest look in decorating is "tech," and this seat with its perforated base, movable arms and high curved back looks like a chair from the future. But it would seem destined for a space exploration museum, not a living room.
Q: I inherited an old doll from a friend in 1999. She said the doll was about 160 years old. The doll's underskirt was made of handspun wool made by her grandmother. The doll originally had a wax head, but it was damaged in a house fire and couldn't be repaired, so it was replaced in 2001. The doll's body is made of leather and sawdust. How much is it worth?
A: Most dolls made before the early 1900s had bisque or china heads. Wax-head dolls were made in the late 18th and the 19th centuries.
Wax was not as breakable as bisque or porcelain and could be easily molded. Later, most dolls were made with composition, vinyl or plastic heads. Wax can be damaged by light, heat and temperature changes. It is difficult and expensive to repair.
With the original head and body, it would sell for a high price. Unfortunately, your doll is not worth much because of the replaced head.
Q: I have a Royal Crown Cola cigarette lighter that was made by Kem Inc. of Detroit. It's 2½ inches high. Is it worth anything?
A: Kem made a Royal Crown Cola cigarette lighter shaped like a bottle in the 1940s or '50s. It's chrome-plated and has a replica of the Royal Crown label on it. If in good condition, with the label intact, it usually sells for $20 to $75.
Q: We bought a reed organ at a yard sale several years ago. Above the stops and on the pedals are the words "Palace Organ." Above the keyboard, it reads "Loring &Blake Organ Co." and "Worcester, Mass., USA." The organ is in good shape and plays beautifully. Can you give us any information about the organ?
A: J.W. Loring and Rufus W. Blake started Loring, Blake &Co. in 1868. The name of the company became Loring &Blake Organ Co. before 1870. The company had locations in Worcester, Mass., and Toledo, Ohio, and was one of the country's largest producers of reed organs.
In 1880 the company exhibited several parlor organs at the Worcester Fair, with prices listed from $40 to $1,200. Old reed organs are hard to sell today.
Q: I have an old RCA Victor Model 6-RF-9 radio that friends of mine were about to throw out because they didn't have room for it at their new place. It was his father's and it still works. It has a propeller-shaped dial and glass bulbs on the inside that light up when I plug it in. Can you tell me anything about this radio?
A: RCA called your table model radio the "Livingston." It was pictured in a December 1951 magazine ad that mentioned its "modern" plastic case, phone-jack for a record-changer attachment and "Golden Throat" tone. It retailed for $79.50. Value today is $100 to $150.
Q: When my father was in the U.S. Army, we were stationed in Germany from 1949 to 1952. My mother bought a pottery wine pitcher in Munich at a shop that sold used items. It's white with relief decorations that include a man holding a musical instrument and a four-line poem in German below that. It has a lid with a pewter thumb-press and is 13½ inches tall.
The mark on the bottom looks like a large bird above the words "Villeroy &Boch." The numbers 1821, 90 and 20 are etched next to the crest. My father is 99 years old now and would like to sell the pitcher. Can you tell me more about it and its value?
A: Villeroy &Boch was founded in Mettlach, Germany, in 1836. The "bird" mark on the bottom of your pitcher, or master stein, is called the "Mercury mark." It is the head of Mercury with a winged cap.
The number 1821 on the bottom is the mold or form number, 90 indicates it was made in 1890, and 20 is called the "mystery mark" because no one is sure what it means. Pitchers like yours sold at auction last year for $240 to $280.
Tip: A tennis ball can be used to rub out scuff marks on vintage linoleum tiles often used in homes before the 1960s.
Terry Kovel's column is syndicated by King Features. Write to: Kovels, (Las Vegas Review-Journal), King Features Syndicate, 300 W. 57th St., New York, NY 10019.