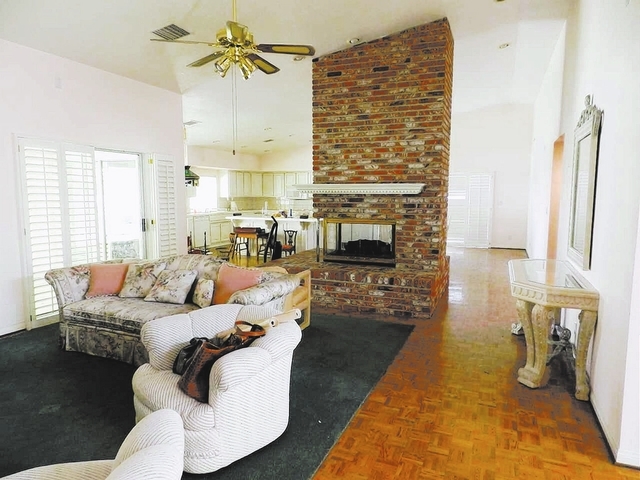 Las Vegas Design Center recently announced the 2013 Design of the Year at its annual holiday gala Dec. 5. Top honors went to Peggy Scinta of P. Scinta Designs for her total remodel of an outdated home turned bachelor pad for a successful young man who has extensively traveled the world.
Aptly named "The Well-Traveled Man," the project incorporated signature European and African pieces and accents throughout the home as a nod to the places visited by the home's owner. According to Scinta, the house had tremendous potential, although it was very outdated.
"An outdoor sunroom attached to the back of the living room, once opened up, provided valuable floor space for the new contemporary great room," she said. "The kitchen, a modern masterpiece of custom wood work, is done in special exotic finishes, and accents of bronze mixed with brushed copper and nickel, are present throughout the home. In contrast to the masculine and bold colors of the living spaces was the guest bedroom, which we designed with a distinctly feminine touch for the owner's visiting mother.
"From start to finish, it was a fun and fulfilling project to make our client's vision come to life."
Competition judges, which included Las Vegas Design Center showroom owners, managers and management, along with past Design of the Year winners, scored the project high for its great use of textures, patterns and bold colors; its harmonious flow and clean lines; its well-edited style and livable yet timeless appeal.
"We are so blessed with the progress that our company has made during our eight-year tenure here in Las Vegas," Scinta said. "We attribute our success in the Vegas and surrounding markets to creating beautiful spaces that our clients can actually live in."
According to Cain Brodie, Las Vegas Design Center brand manager, the Design of the Year competition was created to inspire and recognize outstanding local designers.
"It's always exciting and gratifying to see the beautiful works of so many good designers here in Las Vegas," Brodie said. "The competition is a fun way to salute excellence in design, and it's equally inspiring for the judges and others involved in the competition to see the depth of talent in our local design community."
Second-place winner Michelle Montgomery Interiors was recognized for another remodel project: Mid-Century Modern, a classic mid-century home built in 1959 in the charming and historic Scotch 80s neighborhood. While the home's original footprint was maintained, new windows and doors were strategically added and positioned for light and art, and ceilings were raised to create a feeling of spaciousness.
Third place was awarded to Cary Vogel Interiors for his remodel of an 850-square-foot pied-a-terre apartment in Manhattan. Embracing a glamorous "Gotham" vibe, the apartment's design features an abundance of Art Deco influences and elements throughout.