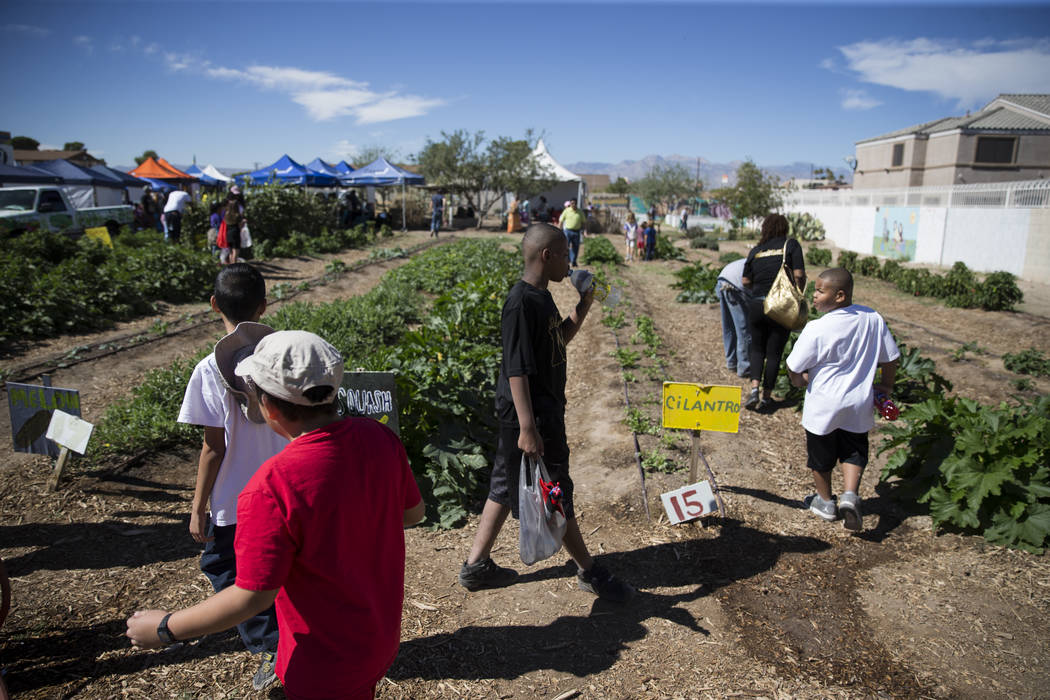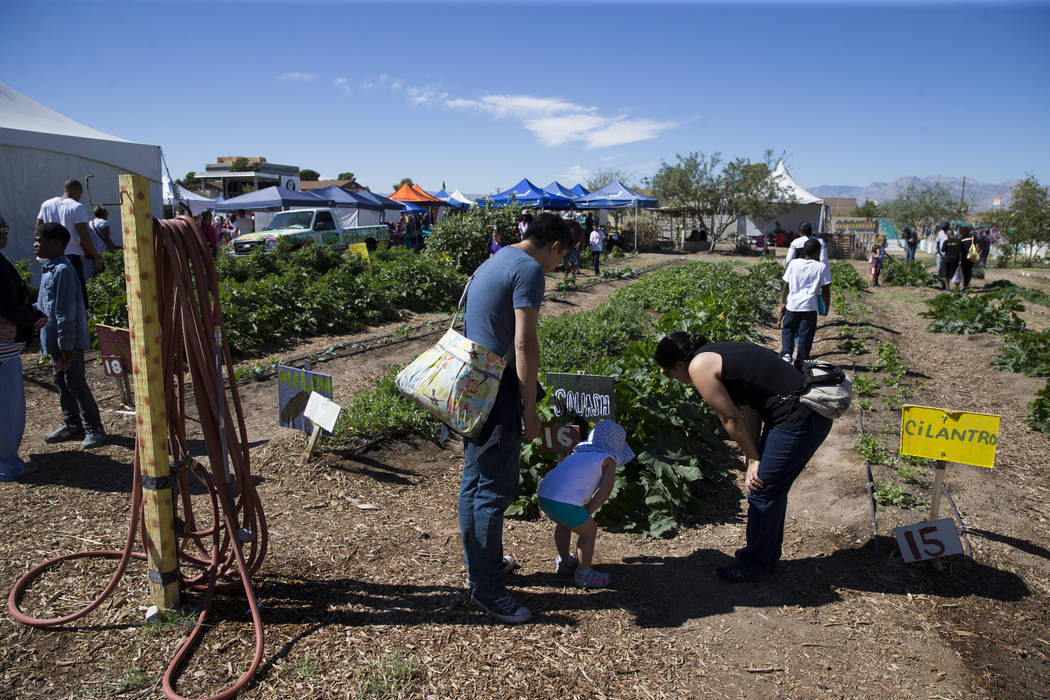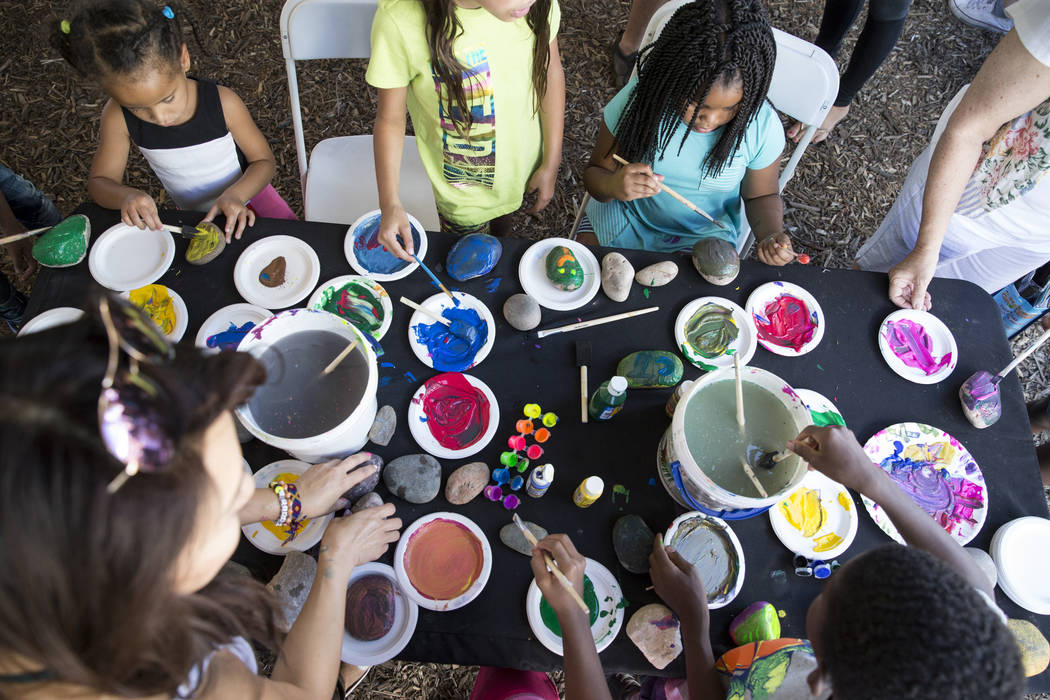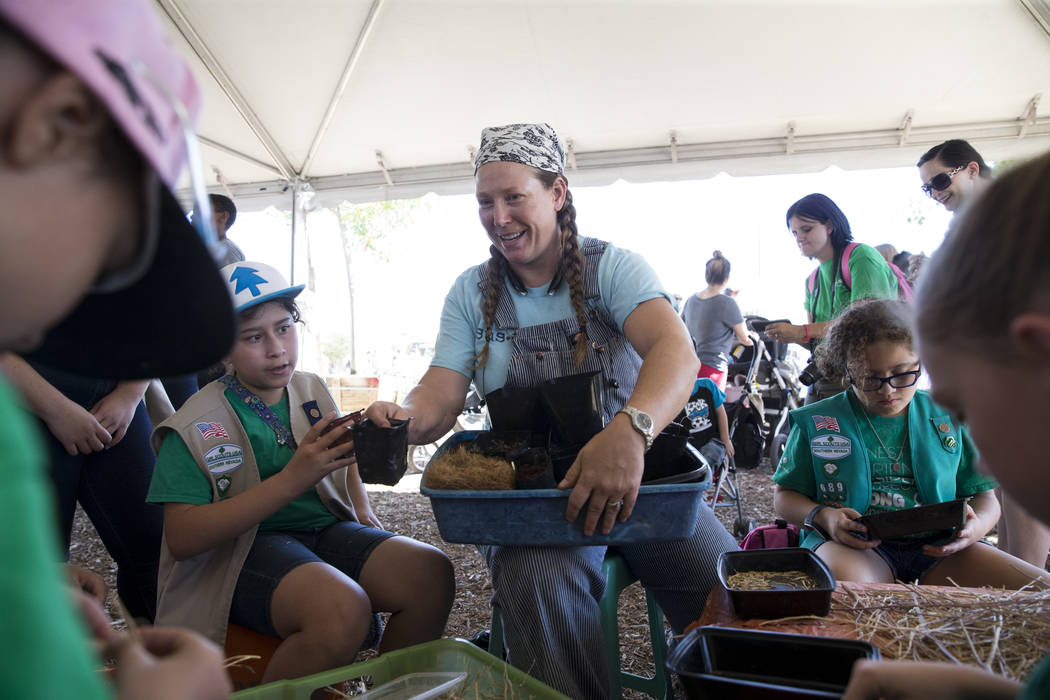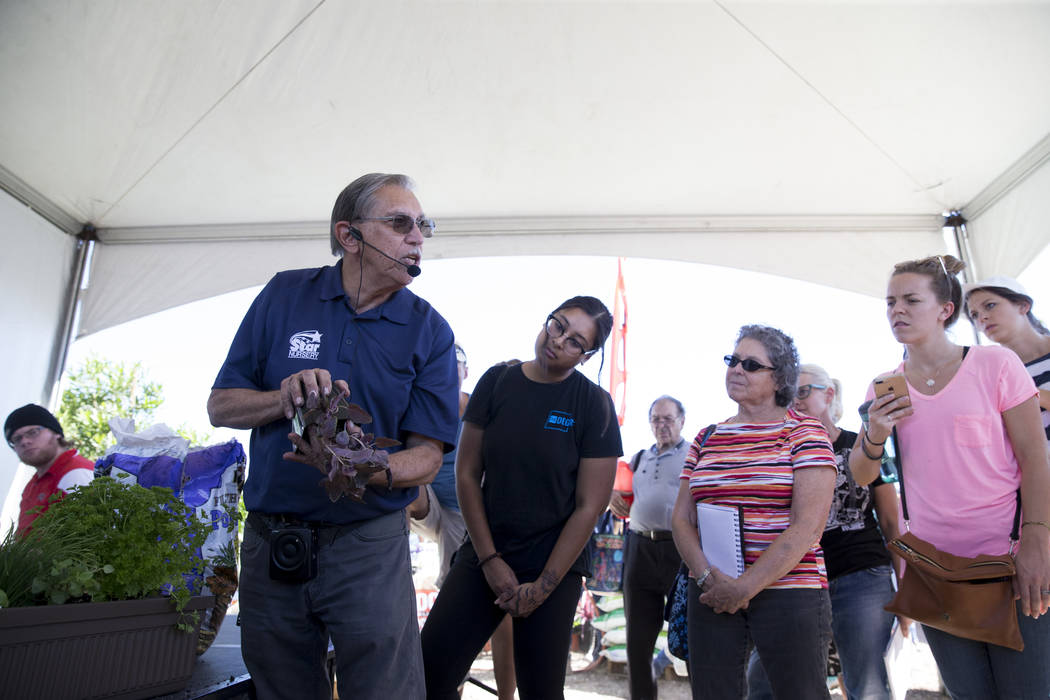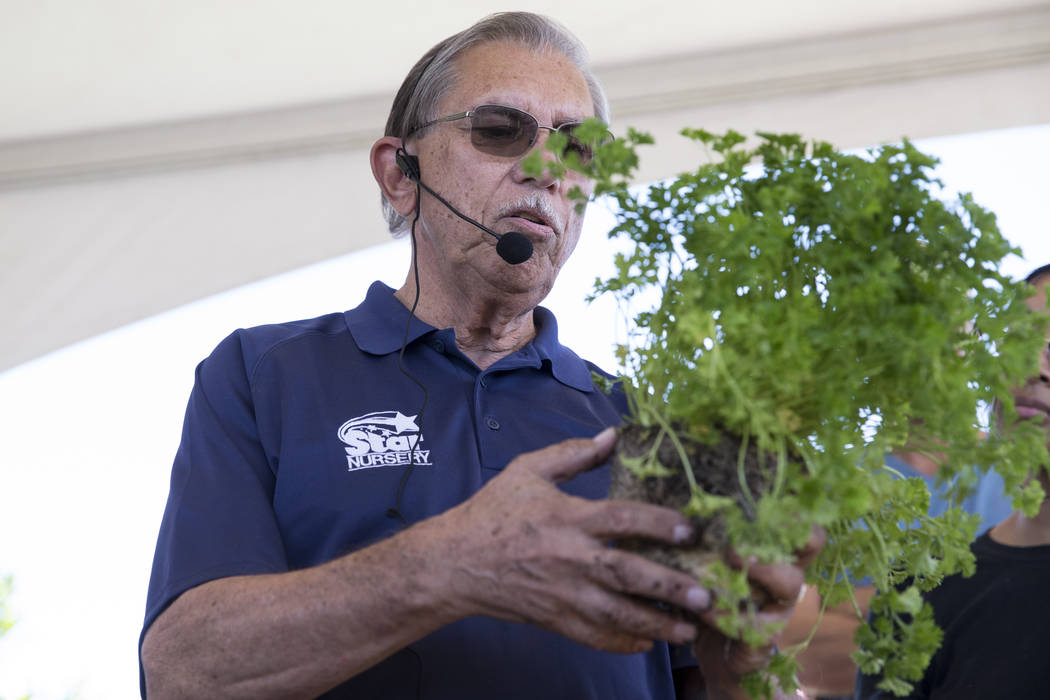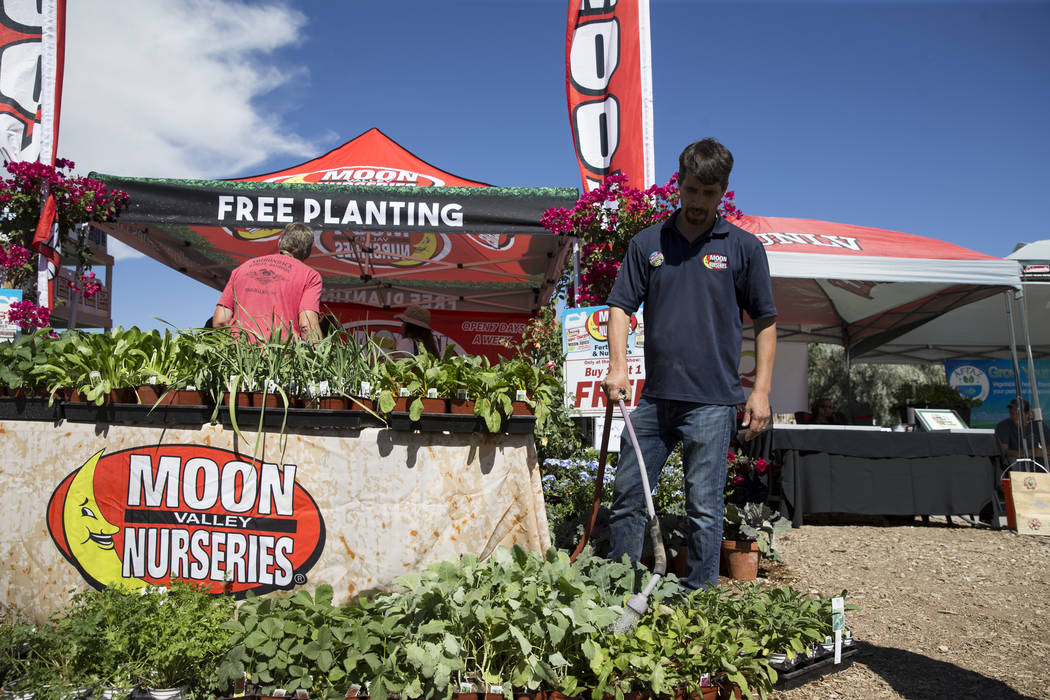 "This is my happy place," Cheyenne Kelly said smiling, looking around the Vegas Roots Community Garden, which hosted the second annual Grow Your Own Festival on Saturday. "And I love seeing it flush with so many people."
Las Vegans needed as many happy places as they could find by Saturday. The week had certainly offered beautiful moments of joy, inspiration and gratitude. But the backdrop against which they were set had rendered far too many of them agonizingly bittersweet. What Vegas Roots offered, just a few minutes from the heart of downtown, was a pastoral happiness as far removed from the week's events as it was from the glitz and glamour normally associated with Las Vegas.
Happiness at the festival came in many forms. It was in the innocence of children painting rocks, and the gratitude of parents who knew the most difficult questions they'd have to answer after this trip had to do with the usefulness of bats and bugs.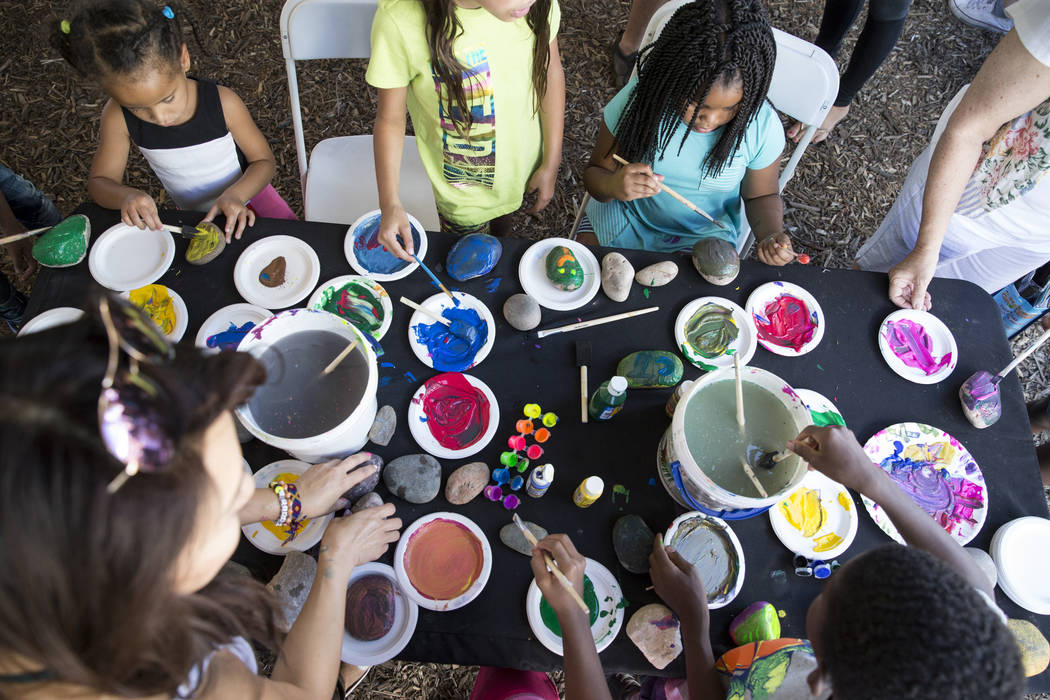 Some found it in the quiet solace of slowly walking through garden rows, where the brightest colors emanated from fresh squash blossoms, not neon. And it was certainly present in front of the small concert stage, where artists performed for small crowds who appeared safe and secure in their enjoyment of live music at a time when many were questioning whether that would ever be possible again.
Many things took on new meaning last week. But this festival, ostensibly dedicated to growing fresh, organic produce in Las Vegas, would have been a fun and happy event no matter when it had taken place. With a total of five stages and 70 vendor booths, the event hosted six hours of gardening workshops, food and cooking demos by local chefs, live music and an entire lineup of children's entertainment.
The best display of the day, however, was probably the garden itself.
"I've lived here my whole life, and we did not know this community garden was here," exclaimed Chris Benzio, who was there with his three daughters and Girl Scout Troop 44. He wasn't the only local resident who wasn't aware of Vegas Roots' 5 acres that are dedicated to teaching urban dwellers how to grow organic produce less than 3 miles from City Hall.
For many, just walking onto the property was a learning experience, and it was just the beginning.
Local resident Sarena Bills, for example, said she was curious about the garden, but she specifically came to "try to get some tips on how to grow our own food." And she wasn't disappointed.
"I learned how to compost," she said, "and that right now is a good time to plant fruit trees, this time of year."
The day also included numerous vegan and vegetarian cooking demos. A bug expert used hand puppets to demonstrate to kids how bees pollinate flowers. And local businesses introduced potential customers to everything from organic teas and coffees to locally harvested honey and bee pollen.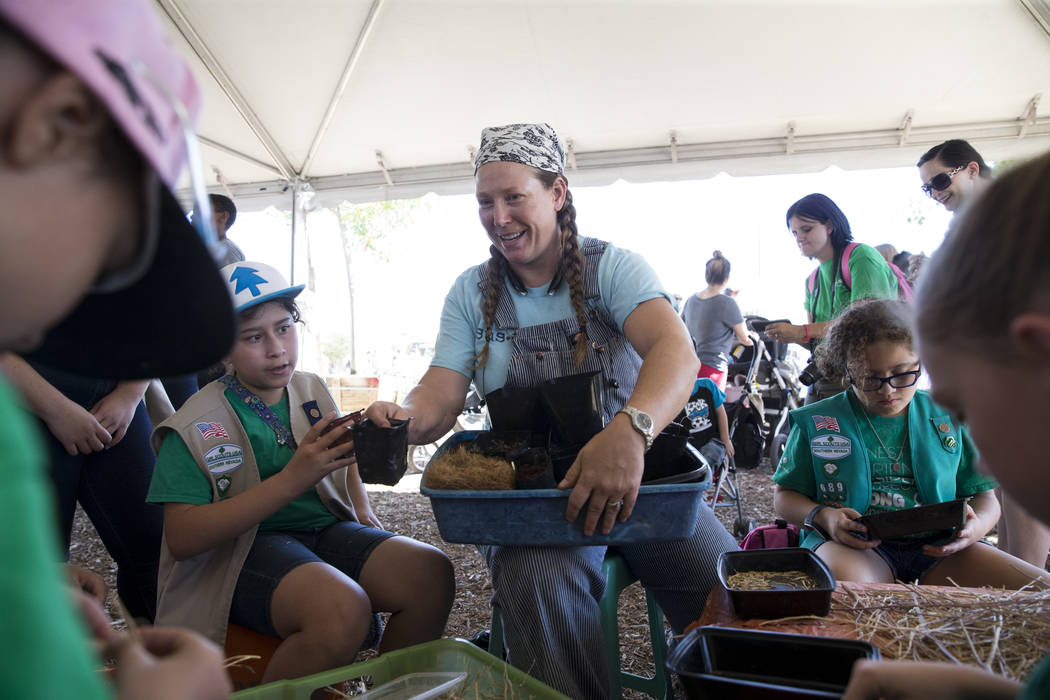 Rhonda Killough hands out pots during the Grow Your Own Festival at the Vegas Roots Community Garden. Erik Verduzco Las Vegas Review-Journal
The music included a drum circle and the soulful vocals of local artist Kaylie Foster. Visitors got the chance to visit livestock like pigs and chickens. Dining options included freshly made pizzas to organic Mexican cuisine from the event's co-sponsor, El Dorado Cantina.
While the sharing of this happy place with the world couldn't have come at a better time, those who missed it may get another chance soon.
"We're actually trying to do this every month," Vegas Roots volunteer Tazman Gunderson said. "Our main focus is to bring everybody as a community together in unity."
Sounds like a plan.
Contact Al Mancini at amancini @reviewjournal.com. Follow @AlManciniVegas on Twitter.