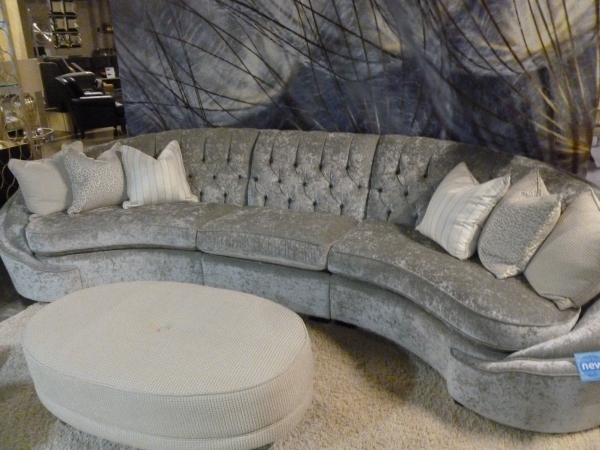 Many of us first encountered glamour in design on late-night television while watching movie stars such as Ginger Rogers and Rita Hayworth dance their way across celluloid dreamscapes created by the brilliant Hollywood set designers of the 1930s and '40s.
Times have certainly changed and we're living in an age of brilliant scientific and technological advances set against a background of political and social turmoil while we deal with the vicissitudes of our daily lives. Those of us in the design trade (and clients, too) often lament the passing of glamour in this new reality of rappers, senseless violence and crudeness.
Well, the good news is that glamour is still very much with us today and my association during the recent Las Vegas Market with a Canadian company specializing in fine upholstered furniture left little doubt that retail buyers and designers are seeking out all things glamorous when it comes to home design.
This well-established company had the good sense to place a group of furniture actually called "Glamour" in a premium spot directly in the front window. And what a sensation it created!
Truly, there was hardly a person that passed through the front doors that didn't make a beeline for "Glamour" and felt they just had to have it. Something so beautiful and elegant (not to mention comfortable) just couldn't be denied. Proof positive that glamour is still in demand and likely to remain so.
You may well ask, how do we define glamour? Just what does glamour entail? And how do we go about making it a part of our home design?
Simply put, something is glamorous when it looks special. Whether it sparkles or shines or when the fabrics look rich and luxurious and draws you in while giving you a special feeling and a longing to own it — that's glamorous.
The "wow" factor often incorporates the exotic and the unusual. This can mean exaggerated contrasts and unusual juxtapositions such as mixing beautiful antiques and modern pieces in the same space. Or, maybe contrasting low furniture in a room with soaring ceilings. And certainly exotic woods, precious metals, custom furnishings and lush fabrics can be added to this glorious mix called glamour.
Surfaces (and fabrics, too) that reflect light and sparkle at the same time actually define glamour. Objects of silver, gold, brass, bronze, stainless steel and copper used for lamps, side tables, vases and collectibles have been called the jewelry of glamorous rooms along with enamel finishes on floors, walls and ceilings.
A word of caution, though, in a room that's glamorous, be careful not to do too much of a good thing because a successful outcome has everything to do with the right mix and proper balance. Keep in mind that sparkle and bling are not the same thing.
Sparkle means shiny but bling can often get tacky and a bit over the top, which is definitely not glamorous. Real glamour requires a certain restraint. Over the top is not at all glamorous.
Fabrics and color are great components of any type of design, and that certainly holds true for a glamorous one. Try to use sensual fabrics with a high silk or metallic content, which will often be velvets (as shown in "Glamour" at the Las Vegas Market), satins and silks.
The actual color of a glamorous room doesn't really matter. Any color will do the trick. In fact, softly hued rooms can often turn out to be the most elegant and glamorous.
Scale also figures predominately when going after a glamorous result, just as it always does in design. Exaggerations in scale and subtle manipulations of proportion or the relationship between the size of things can often produce the drama we associate with glamour — such as spectacular chandeliers and larger-than-life fireplaces.
It really is much better to create a room with fewer larger pieces than to fill it up with bits and pieces. In fact, it's been my experience that glamorous modern rooms tend not to be crowded and are often at their best in the luxury of negative space. That means don't go filling a room just because there's space in which to do it. Think quality and not quantity when it comes to glamour.
Increasing the scale of the objects will result in rooms that feel grander than their actual size. And playing oversize objects against normal or even undersized pieces can actually make spaces seem taller or wide as well as more or less open.
In a word, big pieces command attention, and imposing and impressive objects can help to create focal points, organize a room and draw focus. But always, for a glamorous look, the fundamental key is that there must be an aesthetically satisfying sense of proportion.
The basics to keep in mind then, when striving for a glamorous outcome, include scale, color, use of Asian artifacts as well as other antiquities (especially in a modern setting), mixing different periods and countries of origin, fireplaces, drapery and chandeliers, as well as mirrors and daybeds. And staircases, too, should always be grand, if possible.
Today's glamour is now more accessible and less intimidating than ever before and has re-emerged as a leading trend in home design because glamour isn't only about money, but more about timeless and classic design, a certain degree of elegance, subtlety and sophistication. It's a look that stands out, pulls you in, and is desirable and not unattainable.
There's really no need to feel intimidated about trying your own hand at creating a "wow" space because glamorous rooms can belong to all of us and really do come in many shapes and forms, being simple and elegant at the same time.
— Stephen Leon is a licensed interior designer and president of Soleil Design; he has been designing and manufacturing custom furniture and cabinetry for more than 25 years. Questions can be sent to soleildesign@cox.net.