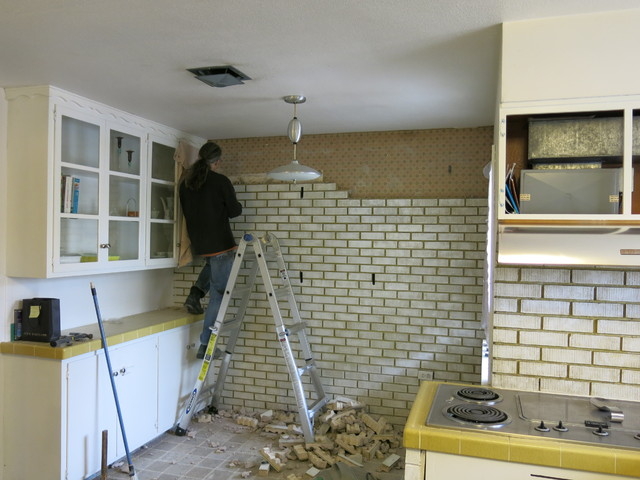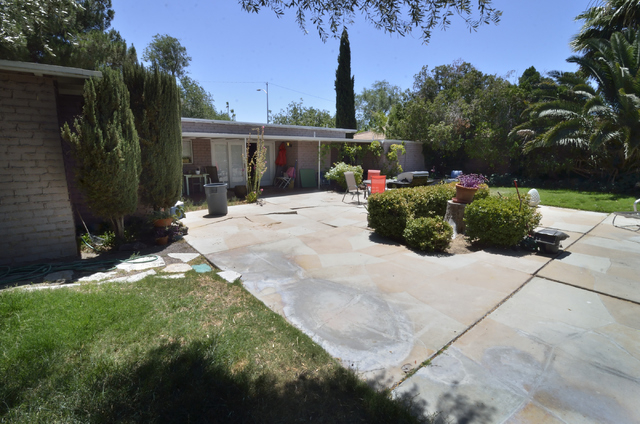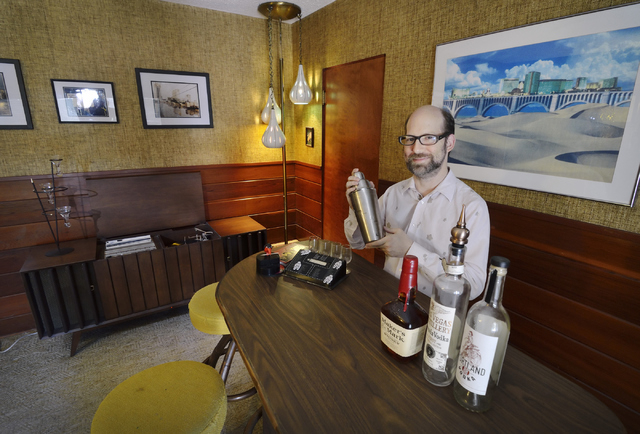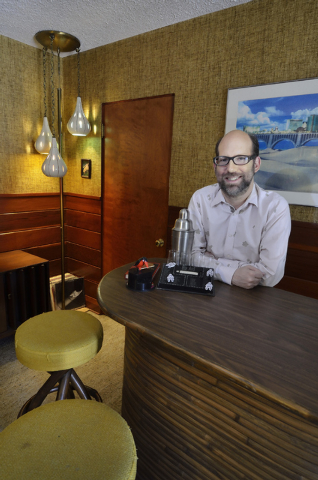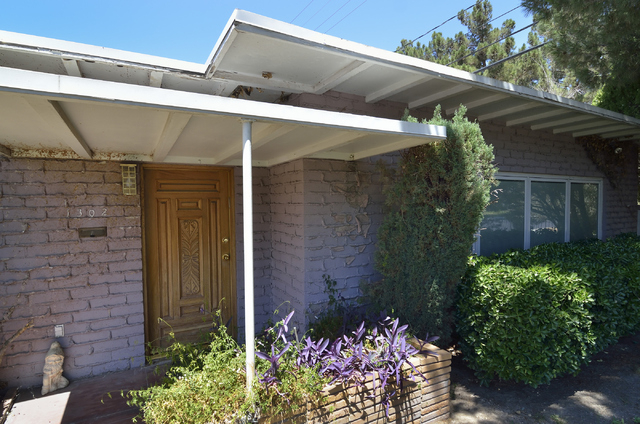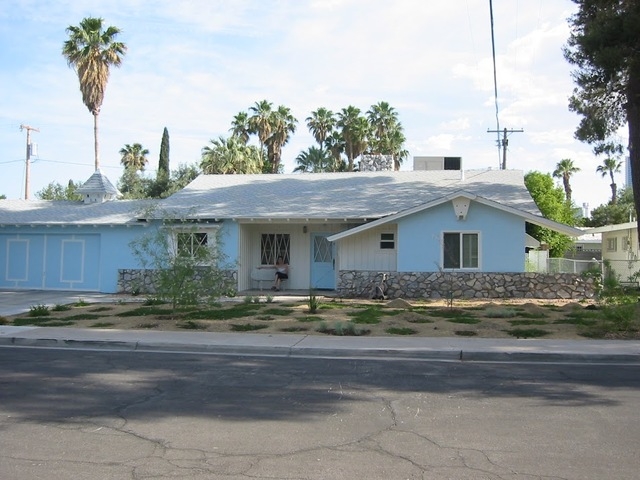 Every year, house by house and bit by bit, the wealth of midcentury homes in Las Vegas may be losing the little things that make them so distinctive.
As owners update these homes built in the 1950s and early to mid-1960s, they do so at the detriment to the home's value as well as the city's rather short history.
These homeowners, often new to the area, do it for many reasons. To install more energy-efficient windows, update chipping or sagging cabinetry or fully renovate a squat ranch-style home to make it look more modern, from the stucco facades to the granite countertops and terrene floor tiling.
Appalling, local lovers of midcentury homes say.
Local attorney Dayvid Jann Figler and his girlfriend, Rae Lathrop, have been renovating a home downtown that was built in 1951.
The history of the home drew Figler into originally purchasing the home, mere hours after the owner erected a "for sale" sign in the front yard.
The original owners were Leslie and Gladys Kingsbury. The couple deeded the house upon Leslie Kingsbury's death in 1987 to their neighbors, Dr. Robert Grzywacz and his wife, Dawn Sims, who was the daughter of Chester Sims, who took over the Flamingo following Benjamin Siegel's death.
"Dawn and Robert spent a decade restoring the house (in) bits and pieces to make it a possible guest house with an ultimate plan to join the two neighboring properties," Figler said. "Dawn was an avid cook and wanted to expand her ability to cook. As a result, they refurbished the original Youngstown kitchen, put in some wonderful bookshelves for hundreds of cookbooks, a mantle over the wood burning fireplace, lot of little touches."
Unfortunately Dawn was diagnosed with cancer in 1999 before finishing the home.
"I was visiting friends and saw Dr. G putting the sign into the lawn," Figler said. "Hours later, the house was mine. I had been searching for almost three years for the perfect house."
Initially, he was enamored with the home's original '50s architecture, but the backyard made him want to fully commit to the residence.
"I didn't want a pool, but I didn't want a postage stamp size square of grass or dirt, either," he said. "During the open house walk-through, I fell in love with the simple lines and elegant style of the home. The house was obviously kept up well and felt both bigger and more intimate than the 2,000 square feet it is. That was all fine, but I turned to my real estate agent and said 'Well, if the backyard is half as nice as the inside, I'll buy it today.' "
After walking through the French doors to the backyard, he was speechless.
"Over a third of an acre with tall trees, grapevines, fruit trees, garden beds," he said. "It was like a Zen park. We were in escrow a couple of hours later."
He made a few minor adjustments until last year when Lathrop moved in.
"The old house had taken a bit of what I call the bachelor beating," Figler said. "I had let certain things go and an old house needs certain tending."
Cracks in the masonry had matured into worrisome chinks, the roof leaked a little, but overall the home stood firm.
"Rae loved the house from the beginning, but recognized these things right away," Figler said. "Gentle suggestions were replaced by courses of action once she moved in and the house has really benefited and is on the fast track to its original splendor."
These starter homes of World War II and Korean veterans that were built in the 1950s and '60s reflected the mood of that era, optimistic and modern with large picture windows and sliding glass doors that blended the inside of the home with the sprawling outdoor backyards and patios. The custom work inside was hand done by skilled carpenters and masonry workers who built bookshelves and stone and brick fireplaces, adding details and using materials that would be cost prohibitive to duplicate now, and often too expensive to repair to their original glory.
Finding good, professional help locally by those who were familiar with the type of work needed to preserve these older homes in the valley was frustrating at times.
"And when you do find the right people, dealing with their eccentricities," can be tricky, Figler said. "Some things take longer than other things."
The past year has seen some major changes for Figler's home, such as a new roof and new bathroom tile in an old style that was difficult to track down.
"To actually see it piece by piece come together is a genuine feeling of accomplishment," he said. "Of course, not having water leak into the house is its own reward."
The work is ongoing, with new flooring in question, both financially and fashionably, and painting to be completed, however the labor is part of the joy of preserving these older homes and continuing to make them a home.
Many of these older homes don't make it to the 50-year mark, said Heidi Swank, executive director of the Nevada Preservation Foundation.
As an owner of an older home, she cringes at how much has been lost to stucco and energy-efficient windows and trends as homeowners and landlords make quick fixes to these sometimes unrealized gems.
"People who buy midcentury homes value them for what they are, what they stand for," Swank said. "It would be great if people would realize why they are so great before they change them. When you change them, that is when you turn out with not so good outcomes and the neighborhood starts to look bad."
The Nevada Preservation Foundation, a nonprofit organization, provides historical designation and grant support to neighborhoods, homeowners and business owners who reside in a historical area or own a historical building.
"Our main mission is to get historic designation, and that criterion comes from the national trust. It is all about the street view," said Swank, an owner of a '50s-era home in the Beverly Green neighborhood off Las Vegas and Oakey boulevards. "In Las Vegas, one of the really important things about getting historic designation for homeowners is if you own a home in an historic district your value will increase quicker than if the neighborhood is changed."
Her 1,800-square-foot home has exposed beams and a stone wall typical of that time and was built for the parents of mob accountant Meyer Lansky, she said.
"It has those spectacular features you only find in larger homes now," Swank said. "We have a sunken living room and these great 6-by-9 windows that wrap around the living room and merges the outside with the inside."
A historical neighborhood can only be deemed such if a certain percentage of the homes have their original exteriors to keep the look of the neighborhood as close to its roots as possible.
That can be difficult, considering many of the original owners began to gut their vintage-modern homes by the 1970s, particularly the kitchens and bathrooms. Often wood cabinets were ripped out for oak veneer versions and the thick-mortar tiled kitchens and bathrooms in green and pink were chipped out to make way for laminates. The pink tile that so often is seen in these old homes was actually made popular in the '50s because of first lady Mamie Eisenhower's penchant for the hue.
"We're hoping we can get people educated about the importance of the original features of their home and head off any more significant changes as much as possible," Swank said.
The foundation supplies much needed support to homeowners to navigate the extensive process of obtaining local, state or federal historical designations. Older neighborhoods tend to be tighter knit than the suburbs, with neighbors pitching in to help when someone is renovating, which you can bet is a constant weekend activity.
"We are trying to educate the new people who buy (older homes)," said Swank, who prefers the word restoration over renovation. "There are a good number of midcentury houses in Las Vegas. With the growth of homes with stucco and a red tile roof, we know that we have something special, different. People take pride in that. We say we live in Mayberry."