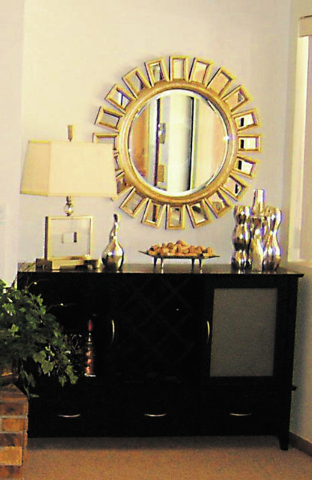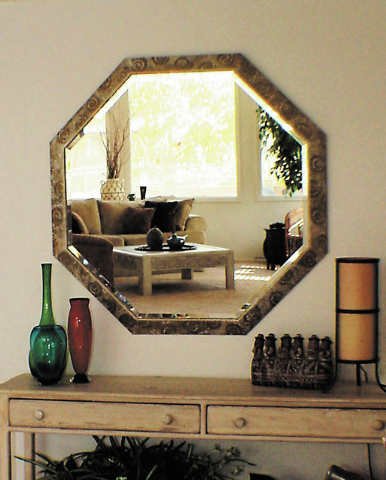 Dear Gail: I love mirrors and have recently purchased a couple of new ones. I'd love some ideas on different ways to use them. — Gina A.
Dear Gina: Mirrors are great decorative, as well as functional artwork. Properly placed, a mirror enhances a room's natural light, views and expands a space. But you do need to take other things into consideration when hanging a mirror versus a piece of artwork.
The unique characteristic about mirrors are their reflective quality. The first thing to consider when hanging any mirror is to look at what it will be reflecting. You never want to be reflecting the view of a bathroom, kitchen or laundry room. Is the image in the mirror something you would want to look at? Is it reflecting a wonderful view, a lovely floral arrangement or a beautiful room? Or is it reflecting the staircase, a blank wall, hallway doors, dirty dishes in the kitchen sink or the toilet?
One place that I find most people hang mirrors is over a fireplace. What is it reflecting? Most of the time it's just reflecting a high blank wall. So all you are seeing, especially at night, is a large black hole. Unless it is across from a window and only if you need the additional light, find a more useful location and attractive image to reflect.
As with any rule, there are exceptions. Since mirrors are great for reflecting light, don't be afraid to use them to bring light into a room even if they are not reflecting a beautiful view. You may have a gloomy corner or hallway where a mirror placed across from a window will grab some light and reflect it to make the area bright and cheery.
Along with reflecting light, mirrors will double the visual space in a room. If you have a small bedroom, consider hanging mirrors over your night stands. Besides the extra light you'll be getting from your lamps, it will add depth to the room when you enter.
Not done too often any more, but years ago we used a lot of mirrors in model homes, especially in the bedrooms. I'm sure you can remember at least one house where the whole headboard wall was mirrored. Don't be afraid to do this in your home if you need to, but be ready for a little extra cleaning.
You can also add large-scale mirrors to expand a room; flank a fireplace or entertainment wall with floor-to-ceiling mirrors. If you're building in bookcases, have mirrors installed on the backs. It will make the room appear larger, plus you'll have the added decorative value of reflecting your accessories. If you do this and are adding lights to the unit, remember to use glass shelves instead of wood, otherwise the light will only shine on the top shelf.
If you have two or three floor-length mirrors, connect them together with piano hinges and use as a floor screen to light a corner of a room. In front, place a grouping of plants with an uplight for a dramatic effect at night. Lean a large mirror against a wall, but make sure to secure it as accidents can happen.
You can give a small space a larger appearance by mirroring a full wall and then place a chest in front of it — a subtle effect but attractive. You can also use three framed floor-length mirrors instead of mirroring a wall.
Don't be afraid to go larger with your mirrors, just make sure that they are grounded. Any piece of artwork, but especially mirrors because of their visual weight, needs to have something placed under them to keep them from looking like they are floating on the wall.
You can ground a mirror with a piece of furniture or simply a tree or floor plant. If you're using a floor plant to ground a mirror, make sure that it is tall enough to at least touch the bottom of the mirror.
If you have lots of mirrors, do the unexpected. Hang a smaller piece of art on top of a mirror. The mirror will function as a backdrop or frame for your art. You can also hang one lower to a side table where you'll reflect your accessories.
A wall gallery of mirrors is unexpected and a conversation piece. I had a student do this going up her stairway. Each mirror was a different size, space and color; it was stunning.
Lastly, make sure you properly hang your mirror; never just hang it on a nail. Always spend the few extra cents to purchase heavy-weight art hangers. Use two hangers instead of one and heavier hangers for extra strength if you are unsure. Also, most manufacturers suggest that you do not wire D-rings as the weight from the mirror can pull them out of the frame.
Don't be afraid to use mirrors throughout your home, just remember to step back and look at what it's reflecting.
Gail Mayhugh, owner of GMJ Interiors, is a professional interior designer and author of a book on the subject. Questions may be sent by email to: gail@gmjinteriors.com. Or, mail to: 7380 S. Eastern Ave., No. 124-272, Las Vegas, NV 89123. Her Web address is: www.GMJinteriors.com.