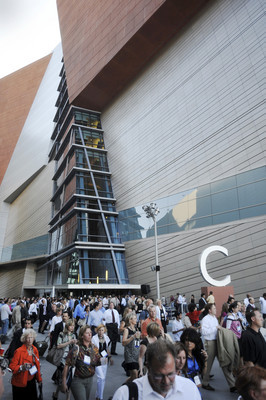 f you build it, they will come. And come they did.
Just like the legends who came to play on a baseball diamond in the middle of a corn field in the movie "Field of Dreams," furniture manufacturers and retailers came to Las Vegas to see all that was new, including a 2.1 million-square-foot building on the downtown campus.
Robert Maricich, president and chief executive officer of World Market Center Las Vegas, said attendance the first day of last week's trade show for the home-furnishings industry was more than 35 percent higher than opening day of January's event. World Market Center does not release exact attendance figures.
Despite the current economic slump, enthusiasm for the future of the home-furnishings industry prevailed as more than 300 new companies opened their showrooms in the 5.1 million-square-foot complex. Maricich said about half of the new exhibitors represented high-end manufacturers, a segment of the market that was not well represented.
Additionally, 120 companies expanded their showrooms.
"This is a time of incredible opportunities," Maricich said.
Tough economic periods provide both manufacturers and retailers with the chance to make great strides and make changes to adapt to the market's needs, he added.
"We are addressing the needs and wants of the industry in a new way," said Shawn Samson, who co-founded World Market Center Las Vegas. "We bring all aspects of the home-furnishings and hospitality contract industries together in one location."
Samson said they have accomplished in three years what took other trade shows decades to achieve. Currently, the Las Vegas facility is the top mattress and bedding showcase in the United States and is increasing its global presence. This year alone, 10 percent of the new exhibitors represented international manufacturers, coming from nearly 20 countries, including Italy, Canada, Mexico, Brazil, New Zealand, Spain, United Kingdom, Australia, Fiji, Germany, Sweden, Spain, Portugal, Vietnam, China and Indonesia.
"This project is the manifest destiny of the home-furnishings industry," Samson said.
"No one could have imagined that in three years we would be at this point. At a time when people are looking at the glass being half empty we are playing to win," Maricich said. "All of the necessary ingredients for doing big things are in place. Our owners have enormous resources, they have enormous passion for what we are doing and they are really smart people. That is the recipe for changing everything," he said.
In addition to the festivities and excitement of the new building, World Market Center and Serta joined forces to host a special opening-night concert featuring Grammy Award winner and Rock and Roll Hall of Famer Rod Stewart.
"We wanted to pull out all the stops," Maricich said. "We know the concert brought our attendees much joy."
The grand opening celebration also included a formal ribbon cutting ceremony hosted by actress Susan Anton and attended by Las Vegas Mayor Oscar Goodman, as well as market founders and officials.
Goodman extolled the project and its contribution to the renaissance of downtown Las Vegas. "This is an amazing project," Goodman said, commending management and everyone in attendance for contributing to its success.
Ron Wackrow of The Related Cos., a partner with World Market Center Las Vegas, spoke about the completion of Building C and said, "I get goose bumps looking at this building. The fact that we have reached 5 million square feet in just three years underscores and reinforces the commitment we have made to this project."
Although market officials have delayed the start of construction of the fourth building until after the first of the year, they said they remain committed to having all eight buildings, totaling 12 million square feet, on the 57-acre campus.