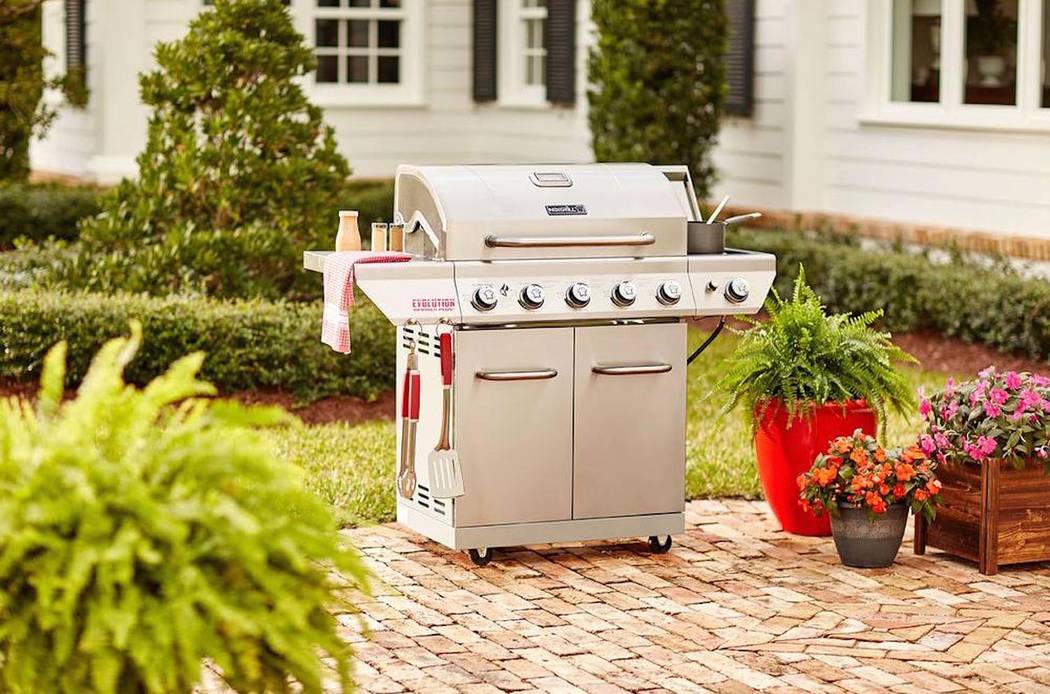 Barbecuing season is officially underway. It began Memorial Day weekend in most parts of the country. In Southern Nevada, there is no official beginning or end as locals barbecue every day of the year.
The joy of cooking outdoors has exploded and has become even more popular thanks to social media. Dan Parrilli, senior merchant for grills at Home Depot, said people have moved their home kitchen outside to cook and grill and are sharing family recipes with the world.
Besides, a dinner prepared on the grill is more than just an outdoor meal. It is relaxing, there is fresh air, and the simple joy of barbecuing hot dogs and hamburgers becomes a festive meal.
"People are posting photographs of their food on the internet and writing blogs about newly discovered grilling techniques," he said. "People love being outdoors and while it's true that those in the Southwest can barbecue year-round, we're finding that barbecue enthusiasts in other parts of the country are now outside February through April instead of the traditional May to September. Barbecuing is just a special way of cooking."
It's been that way for a long time. The cooking of meat over fire is the most ancient cooking technique on earth. Barbecue pits have been found at sites dating back to 25,000 B.C. with the first record of open-pit barbecuing occurring in ancient Greece around 1600 B.C. Slow-cooking over wood is documented from the 1800s.
According to Parrilli, companies such as Weber, Traeger and Nexgrill have introduced new grills that go beyond just gas or briquettes. These versatile grills allow the backyard chef to smoke, grill, bake, roast or braise. And then there are the accessories that add even more options to the grill.
"Home Depot carries over 200 grilling accessories that allow you make pizza or make a true grilled cheese on a grill," he said. "I make grilled cheeses all the time and they are delicious. People are surprised when they come in and see all the gadgets now available for the grill."
One of the newest grills is the Weber GS4. It has an electronic ignition system with high-performance burners, porcelain-enameled bars, patented electronic lighting system that starts with the push of a button, grease management system and three independent heat dials plus an integrated thermometer.
Pure hardwood is the fuel for a Traeger wood pellet grill. The Traeger 6-in-1 allows hot and fast or low and slow cooking. Ignite the power to grill, smoke, bake, roast and barbecue baby back ribs; wood-fired pizza; smoky macaroni and cheese; and even homemade apple pie. Its digitally controlled convection heating system simplifies wood-fired cooking, allowing for oven-like temperature settings.
The Nexgrill Evolution gives the flexibility of cooking with various combinations of direct heat and infrared heat. Removable stainless steel heat plates and firebox dividers provide heat control. The five stainless steel main burners can be used to bake, broil, sear or smoke.
At the same time, warming, simmering or sauteing can be done on the side burner. A battery operated electronic ignition instantly fires up burners, and the built-in thermometer enables precise temperature regulation. This model is convertible to natural gas.
Another type of grill that has remained popular is the Big Green Egg, an updated version of the kamado or Japanese rice cooker. Its modern ceramic design provides more of a convection-style grill.
What makes a kamado different from other metal charcoal grills is its heavy, airtight seal that holds in moisture with small vents at the top and bottom to control air flow. The natural lump charcoal burns hotter and more efficiently than briquettes and produces little ash.
And for the still loyal charcoal briquette enthusiasts, don't be dismayed. Those round kettles are as popular as ever and have evolved to where new models come with an off-set side firebox that holds the charcoal where it can be heated to produce a longer cooking technique. It can also work as a smoker.
"Outdoor cooking now belongs to the entire family and we're seeing both men and women involved in the decision making when purchasing a grill," Parrilli said. "They're easy to operate and our sales staff can explain and demonstrate all features. It basically comes down to plugging it in or turning a knob and setting the temperature."
Barbecue is defined as low temperature and slow cooking. Grilling is high heat and fast cooking. Each style has its own following. It's the flavors that sets one apart from the other.
Just about every region of the country has its own distinctive barbecue recipe — from Kansas City (sweet with honey or molasses basted on the meat as it cooks) to Texas with its Mesquite-wood smoke flavor. In the Carolinas, there are three regional vinegar-based sauces: one with spices, one with ketchup and one with mustard.
Tennessee has its own style of barbecue, and Laura and Michael Harris, who are cooking daily at Tennesseasonings on West Warm Springs Road, said the key to good barbecue is to use good meat and cook on a low temperature.
"My advice is not to turn the meat or chicken too often because it quickly loses moisture," Michael Harris said. "It's alright to move the meat from a hot spot to a cooler spot, but constantly turning the meat dries it out."
Tennesseasonings offers an East Tennessee-style barbecue that is a hand rub with sauce served on the plate. Michael Harris likes to add baked beans, coleslaw, greens and macaroni and cheese as his sides with key lime pie or banana pudding being his favorite desserts.