On the move: The future of transportation in Southern Nevada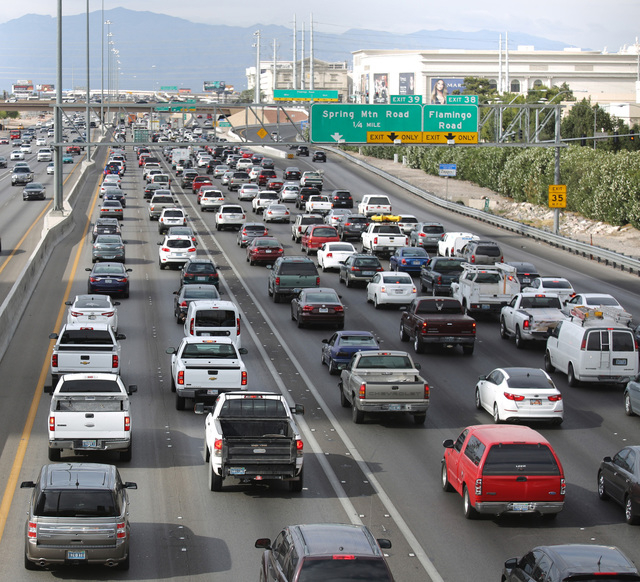 I admit, I am a mass-transit junky. After many years in Tokyo, I have had a taste of a car-free life. While Southern Nevadans could hardly have a functioning life without a car, I imagine many of us who have lived in a metropolitan city with an efficient mass transit system can attest to the convenience and low stress that it offers.
Yet, is a reliable mass transit overhaul the only hope for Las Vegas to drastically cut our transportation carbon emissions?
It is definitely a more comprehensive way. However, until we reach that much-needed utopian future of transportation in Las Vegas, there are still many other adjustments we can make.
Transportation accounts for 27 percent of greenhouse gas emissions in the United States, second only to electricity consumption. Commercial aircraft, freight trucks, ships and trains are huge emitters; however, according to the EPA, "The largest sources of transportation-related greenhouse gas emissions include passenger cars and light-duty trucks, including sport utility vehicles, pickup trucks and minivans."
Moving toward the light
Light rail, along with other supportive transit lines, have been in the works in Las Vegas, for a while. If RTC's Transportation Investment Plan, outlying the broad mass transit plans for Las Vegas, is to move forward, progress will need to be made this summer in Carson City to get ready for our next biennial legislative session. This is a perfect time to ask your legislative candidates what their plans are for this important issue.
Vinny Spotleson, a state assembly candidate running for District 21, says, "It's a win-win-win-win, as it creates jobs, it helps the economy function, getting everyone where they need to go, it benefits our health by reducing pollution and it helps the environment by taking cars off the road and reducing emissions."
(It should be noted that Spotleson is the son-in-law of this columnist.)
Since an entire mass transit makeover can take a decade or so to complete, what can we do in the mean time?
Gas mileage still top priority
Studies show that even with low gas prices, consumers still put gas mileage as their top priority when purchasing a new car. It was definitely our priority when we moved back from Japan to Las Vegas.
We held off getting a car as long as possible and engaged in major bartering for a while. Car-sharing with our daughters and friends in exchange for my husband's cooking (hard to turn down, as he is a professional chef) or my organic banana bread (the one recipe I can do well).
In the end, we could not both have jobs without at least one car between us. I had originally hoped for an electric car. However, we live in a condo and knew we wouldn't be able to run an electric cord from our home to our car. I looked at the gas mileage on every vehicle and while many were boasting mid- to high 30s miles per gallon, we couldn't resist the 50 to 60 mpg we enjoy on a regular basis (except climbing the Cajon Pass) in our new Prius.
Plan ahead and partner up
Another ideal way to save gas and greenhouse gas emissions is to plan ahead. Organizing your errands to travel less frequently can greatly decrease emissions.
A few years back, in Seoul Korea, the government began a volunteer weekly no-driving day to help reduce pollution and greenhouse gas emissions. The citizens would arrange their days around mass transit, walking, biking or even just staying home. We don't really need the government to come up with a program to arrange a stay-home day or a walk or bike day.
Carpooling is not just for soccer moms anymore. Many of my friends are avid carpoolers and we often have several group texts organizing the next gathering via carpools. With just a little bit of communication you can show up to your next event with a few less cars.
Leave sooner, drive slower, live longer. — Author Unknown
The way we drive is key. "Pedal to the metal" means maximum gas usage and carbon emissions. Easing into your speed limit and coasting on the momentum once you've reached the speed limit is safe and helps reduce gas consumption.
This is a constant sore spot for my leadfoot husband. He is constantly giving me the "go, go" sign, even though I see the red light ahead and am allowing the momentum to bring me to a stop.
Yes, I am one of "those" drivers. I can't help it. It's now like a competition with myself to see what mileage I get at the end of each trip. All within reason, of course.
The civilized man has built a coach, but has lost the use of his feet. — Ralph Waldo Emerson
Lastly, with a little planning and weather permitting, the simplest adjustment is to bike or ride to those multiple short trips we all take every week. Think about it, if everyone substituted one errand or visit to a friend by walking or biking, imagine what an impact that could make, not to mention the health benefits.
An American friend of mine who spent a couple of decades as well living in Japan has recently returned to the U.S. to retire. His biggest realization upon his return was how very much he missed and now appreciated the all-encompassing mass transit system, especially the finely tuned Japanese rail system.
I couldn't agree more. I look forward to our community getting behind forward-thinking leaders to move Southern Nevada toward a sustainable future. In the meantime, let's put gas mileage at the top of our list of priorities when choosing a vehicle, car-share more and remember how to move our bodies and use our feet.
Mary Beth Horiai has split her adult life between Japan and Southern Nevada. In Las Vegas, Horiai works for the nonprofit, Green Our Planet. A graduate of UNLV, she was trained as a speaker for The Climate Reality Project and also teaches part time at College of Southern Nevada. For more information and links to additional resources relating to this column, visit www.driverofchange.net.