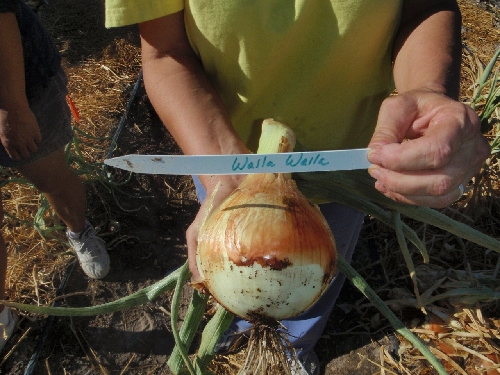 Onions do remarkably well in our climate. They like to have soil that is well drained, free from large rocks and relatively sandy. Transplants are normally planted around March 15. If you decide to start onions from seed and grow your own transplants, you would do this about the same time you plant garlic, in late September and October.
Onions are heavy feeders of fertilizer, particularly nitrogen. They do well if you put phosphorus in the soil prior to planting. I like to lightly feed onions monthly with nitrogen during their active growing time. It is not so important when the temperatures are cold and they are not growing as fast.
Wait for onion tops to fall over before you harvest them. I do not recommend that you step on the tops to break the necks. They will do this all on their own, and you do run the chance of developing rots if you store them for any period of time.
So, at this time of year begin to watch for onion tops that fall over. Once they fall over, you can harvest the bulbs and trim the tops. You also can leave them in the soil for a week or two and harvest them fresh if you want to. Once the tops have died completely, I would get them out of the ground.
Q: With five tomato plants all I really get is a beautiful, huge green vine. Why don't I get tomatoes? Being from East Coast, I sure miss good tomatoes.
A: Tomatoes are difficult to grow here. The reasons are mostly because of our poor soil conditions and our unpredictable weather. Most homeowners fail to get a good crop of tomatoes because they plant them too late, they don't give them enough sunlight and they overfertilize them.
The best years for tomato production are when we have a long cool spring. Some of the worst times we have for tomato production are when the spring temperatures fluctuate wildly from cool to hot.
The best tomato transplants are about 6 inches tall, dark green and stocky. I don't need to tell you that they should look healthy and free from what appears to be disease or insect problems. Look at the plant. It should be healthy or don't plant it. Planting should occur in early March, unless you have a very warm spot that can protect the plants from freezing temperatures and strong winds.
Good soil preparation is important for tomato production. All that is necessary is good quality compost added to the soil; then give the soil the chance to age and mature with this compost. Tomatoes should be fertilized with a high-phosphorus fertilizer at the time of planting and not fertilized again until you see fruit. Fertilizing the plants regularly can cause them to produce lots of vine and little fruit.
It is important that the plants have enough room to grow and produce. When they are placed in cages or staked, they can be planted closer together. When they are allowed to sprawl on the ground, they must have more room, and we usually see higher losses of the fruit.
If tomato plants are placed too close together, they tend to shade themselves and produce very few fruit. They also tend to get more disease problems because of a lack of air movement.
Like most vegetables that produce something we eat from a flower, they need a minimum of 6 to 8 hours of full sunlight for good production. With sunlight less than this they tend to get leggy and not flower very much. The best sunlight for them is in the morning and early afternoon. The worst time for them to get sunlight is in the mid- to late afternoon.
It is usually best to cage them or stake them. Don't let them grow into each other, or they will shade each other and reduce air movement through the vines. This will lead to disease problems. Don't be afraid to thin out the canopy if it gets too dense.
If you have prepared your soil well and have enough sunlight, there is no reason cherry or grape tomatoes should not produce for you. These are the easiest to grow here and are usually nearly always successful.
If you have problems with cherry or grape tomatoes, I would suggest that you pay particular attention to soil improvement, the amount of sunlight they are receiving and your planting time. I hope this helps.
Q: The home I have rented has gone at least a year or two unoccupied. The owners simply shut off all the water and allowed everything to die. I need your advice for getting the lawn back. I need to get this lawn redone, but at as little a cost as possible. I'm not resodding it, of course.
A: Sight unseen, rough up the soil a bit and reseed directly into the old lawn area. Start about Sept. 1 and make sure the sprinklers have good coverage.
The water from the heads should throw far enough to reach neighboring sprinkler heads. This would be head-to-head coverage, and you will need this for a decent lawn.
Replace broken heads, straighten any sprinkler heads that are crooked or leaking. If the system was designed well, change out all the nozzles so they are the same type. If you know the distance between heads and system pressure, you can go into any sprinkler shop and get the right nozzles.
Next, run the sprinklers a few times and get any weeds that grow. Then spot spray any existing Bermuda grass with Roundup and kill it or at least set it back well. In about seven days, rent a power rake and power rake the dirt just to loosen it up and get it ready for seeding. I am assuming it was in lawn before so the soil should not be in real bad shape.
Buy a decent tall fescue seed mix, not K31 or Kentucky 31 seed unless you plan to run cattle on it. It will be expensive but this is one of the best places to spend money. K31 is coarse textured, and you will probably not like it unless you like pastures.
In about mid-September to Oct. 1, seed the lawn area using about 10 to 12 pounds of seed for every 1,000 square feet. This is a little high, but birds may steal some seed. You can go higher than this if you want. Put a starter fertilizer down with the seed that is high in phosphorus; 16-20-0 is fine.
Apply about 6 pounds of fertilizer for every 1,000 square feet. Lightly cover the seed and fertilizer with topdressing. The topdressing should just cover the seed and no more.
Run the sprinklers three times a day until the topdressing is thoroughly wet, but stop before any water starts to puddle or run off to low spots.
If birds are a problem, get one of those motion sensors attached to a sprinkler and put a hose on it to scare the birds.
The seed should be up in seven to 10 days.
Mow when it is tall enough to mow, and use a recycling mower or a mower with a recycling blade on it.
Lightly fertilize every two months. That should be it.
The major places where you can mess up will be not getting your sprinklers working well, thus not applying water evenly, covering the seed with too much topdressing and buying cheap seed.
n Another University of Nevada, Las Vegas Research Center barbecue, plant sale and garden talk will get under way today at 6:30 p.m., with the barbecue and plant sale. Garden talks featured will be "Tarantulas in Nevada" and "Perspectives on Climate Change." Talks begin at 7:30 p.m. For directions or more information, call UNLV biology department at 702-895-3853.
Bob Morris is a horticulture expert living in Las Vegas; he is on special assignment in the Balkh Province, Afghanistan, for the University of California, Davis. Visit his blog at xtremehorticulture.blogspot.com.