Opposites attract in home design, too
March 31, 2010 - 11:00 pm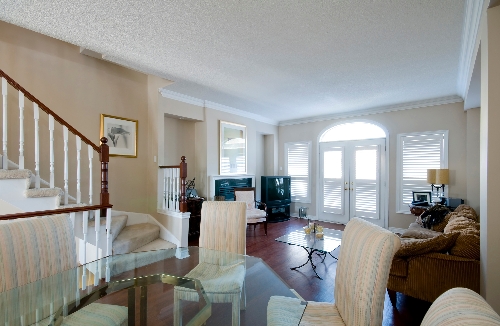 Ken and Sue are living proof that opposites attract. Ken, an old hippie at heart, is content to curl up with a good book, while social Sue thinks life is one big dinner party. And when it comes to their design tastes, things are just as polarized: Ken likes traditional lines, antiques and lots of color, while Sue thrives on a neutral, urban vibe. They work in separate spaces in their town house, which Sue bought before meeting Ken, but at the end of each day, they want to hang out together in a room that suits them both.
They asked me to redesign their open-concept living/dining room to help Ken feel more at home in his new digs, and to make it a functional space they could enjoy together and with friends. I knew I had a big challenge ahead of me: I had to do some major "design mediation" with the couple and combine two completely different styles into one space — seamlessly and beautifully.
So I set out to create the perfect marriage of traditional styling and contemporary details, starting in the dining room, which had existing columns and bulkheads that I used to my benefit. I created a stunning floor-to-ceiling, column-to-column banquette, upholstered in antique raspberry velvet. The striking tone and scale of the banquette creates a bold presence and provides lots of comfortable seating. I knew Sue would love its downtown feel, while Ken would adore the rich color and traditional button tufting.
My next task was to find a great dining room table to host Sue's legendary dinner parties. I put in a gorgeous ebony table with creamy upholstered chairs that is well suited for a group of six, but can comfortably expand to seat 10 guests. I also added a matching sideboard with a metal top that is perfect for hot dishes or chilly cocktails.
For an added "wow" factor, I put up a gorgeous black crystal chandelier above the dining room table, which looks spectacular against the theatrical backdrop of the banquette. I also put up some sleek Lucite and polished chrome sconces on either side of the banquette, which work as nice contrasts to the chandelier.
I then got to work on the living room, which flows directly into the dining room. Because I made the dining room so dramatic, I decided to quiet things down in the living room.
On one side of the room, I highlighted the existing architecture by installing dark wood display shelving and bookcases for Ken. On the other side of the room, I spiced up the existing fireplace by adding a new surround in black granite, flanking each side with mirrored-back shelving units.
I then added two comfortable raspberry-colored chairs, a chocolate-velvet sofa, a gorgeous area rug and a fantastic coffee table that blends a traditional look with a modern, bronze finish.
To lighten the space, I put in cabinetry lighting and some puck lights. I also removed the shutters on the living room windows so Ken and Sue could enjoy their garden view, and replaced them with a modern light-control system with privacy sheers and dummy panels in light, soft linen.
After adding a few final accents and accessories, this open-concept space was complete. Using the couple's differences to my advantage, I used a little bit of everything in this space — comfort and color for Ken, clean lines and funky finishes for Sue — and turned a space that suited no one into a room that is tailored (and hopefully harmonious) for all. Now that's divine!
Interior decorator Candice Olson is host of HGTV's "Divine Design." For more ideas or information visit www.divinedesign.tv. Her column is syndicated by Scripps Howard News Service.