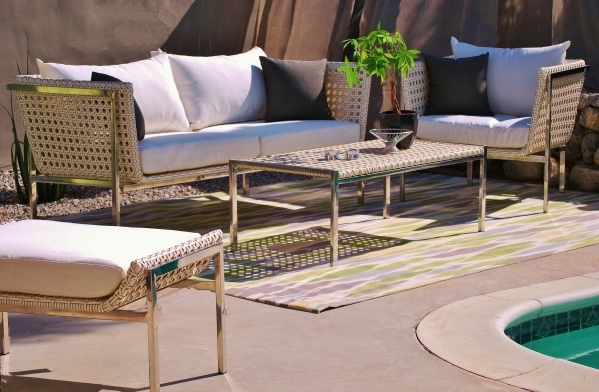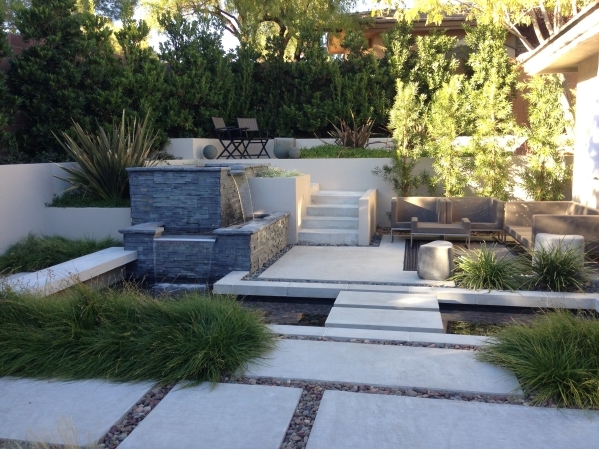 Somewhere between where the hardwood ends and the cement edging begins lies the transterior. It's a space where the threshold between the interior and exterior melts away and a new space is created, one that is comfortable and functional year-round and adds depth and dimension to the average home.
But this is not just any room addition. Homeowners are vying for the latest in green products, fashion-forward fabrics and demanding designs, say design professionals.
According to the American Institute of Architects 2015 Home Design Trends Survey, outdoor living rooms are on the rise, with 62 percent of homeowners surveyed putting that on their 2016 wish list.
The transterior trend has been gaining traction as more people prefer to spend their spare time in the greenery just outside their patio doors, but surrounded by the comfort and color of their indoor lifestyles, said Jamie Simmons, co-founder of outside/in, modern outdoor furniture in Palm Springs, Calif.
"We love all the wonderful design choices we have for inside our home and started wanting furnishings that are (as) beautiful and functional for our patios, porches, verandas, pool sides and other outdoor areas," Simmons said.
The usual outdoor amenities picked up as afterthoughts at superstores transformed into something more sophisticated. The lowly mud mat has morphed into a hand-hewn chevron rug. The patio chair has been converted to a rustic lounger made of PVC materials. And that's just for the amateur transterior enthusiasts.
"Designers are now creating furnishings beautiful enough for indoors but built to live outdoors," she said. "We've also given ourselves permission to move outdoor furniture inside to create an outdoorsy feel inside."
Aside from the obvious benefits for those who love to remodel or DIY, a transterior space also is rather practical.
"It extends the square footage of living space as we expand beyond the walls of our home to create living, dining and recreational spaces outside," Simmons said. "But it also invites a sense of wonder back into our lives. It's magical to look up from a lovely dinner conversation to notice wind blowing through the trees or the moon rising on the horizon. It reminds us that we are part of nature and the larger world."
Hoping to easily turn an outdoor space into something you can use year-round in our mostly amiable climate? Start with outdoor living and dining spaces.
"If you already have (outdoor) furniture, upgrade your accessories," Simmons suggested. "There are outdoor pillows and rugs on the market today so beautiful it really is hard to believe they are made for outdoors — but they are."
You can easily create flow to a clunky, even outdated outdoor set with design elements that connect the inside with the outside.
"It may be the rugs and pillows, plants or furniture that is complementary designwise," she said.
If you are starting from the bare concrete foundation, you don't have to choose outdoor furniture that has the look and feel of typical outdoor furniture.
"Dream a little," Simmons said. "Decide on the dream style for your outside living area the same as you would for your inside and do your research online. Whether it's modern or Victorian, it's now easy to find outdoor furniture that matches your dream style."
In the last few years, more and more home buyers have been eyeing indoor furniture and contemplating its outdoor possibilities.
Outside/in's new Racquet Club collection is often used indoors by unsuspecting buyers who don't realize the set is built to withstand the hardy outdoors.
"Our Racquet Club collection most often elicits the question, 'Is this really made for outdoors?' " Simmons said. "The cushions feel like real leather and the collection is inspired by modern indoor furniture design. The Twin Palms Collection and Deepwell Dining sets are also equally popular. All of our lines are inspired by the Palm Springs modern indoor-outdoor lifestyle and built to be beautiful enough for inside and tough enough for outside."
A popular line for her company is the Twin Palms, which offers a sturdy resin weave design that also offers a light and airy feel to a small space. Add pops of rich browns and creams or Mediterranean blues with bright yellows with these textured pieces for a sophisticated look. The collection's heavy, strong table adds weight and depth to the space.
If you want your transterior space to blur the lines that separate indoor from alfresco activity, make sure you carry some elements of your interior style to the outdoors, said licensed landscape architect Jonathan Spears of Sage Design Studios in Las Vegaas.
"The success of an outdoor space as an extension of the house is achieved by a comprehensive repetition of the interior elements across the interior/exterior threshold and out into the garden," the longtime local designer said. "One of the most important approaches is to continue the flooring from the interior through to the outside to create a seamless transition."
This gives the illusion of expansion, even when glass doors are shuttered or the backdoor bolted. Although accordion or pocket doors cost more than the average homeowner tends to spend on remodeling, they do aid in easily transitioning a room.
"(They) help to remove the wall completely from view when opened, allowing the mind's eye and body to flow out into the space freely," he said.
If you are moving from a wood laminate inside to a concrete outside, Spears suggests using an accent band of contrasting material at the threshold.
"(It is) similar to the Japanese art of kintsugi repair of pottery, highlighting the area rather than disguising," he said. "Or matching color and/or texture of the flooring are two successful approaches."
Although winter has fully enveloped the valley, the harsh summer heat isn't far behind, and should be respected. Spears stresses that any outdoor space should have an overhead structure for some type of shade, either manmade or natural, to keep furniture and accents from quickly eroding. A porch overhang or tree grouping can also help in making a smooth transition from indoor to outdoor.
"Keeping the variety of colors and materials to a minimum creates a sense of calm," Spears said, allowing focal points, plants and other amenities to stand out and capture the eye more efficiently.
Many designers are stepping up to the trend, offering indoor and outdoor furniture in the same collections.
"This approach tends to say more with less," said Spears, who has had more clients asking for green products and outdoor spaces that carry a minimalist element. "There are also wonderful exterior area carpets that can define an intimate conversation/lounge area within a wide expanse of patio area. These are made from PVC and other synthetics that will withstand sun and weather."
The transterior trend is also part of a larger movement in design and society.
"The recent trend (is) to simplify private space as a means of instilling a sense of balance of mind and body," Spears said, "creating sanctuary in our fast-paced world."