Outdoor grilling turns up the heat
August 18, 2018 - 8:05 am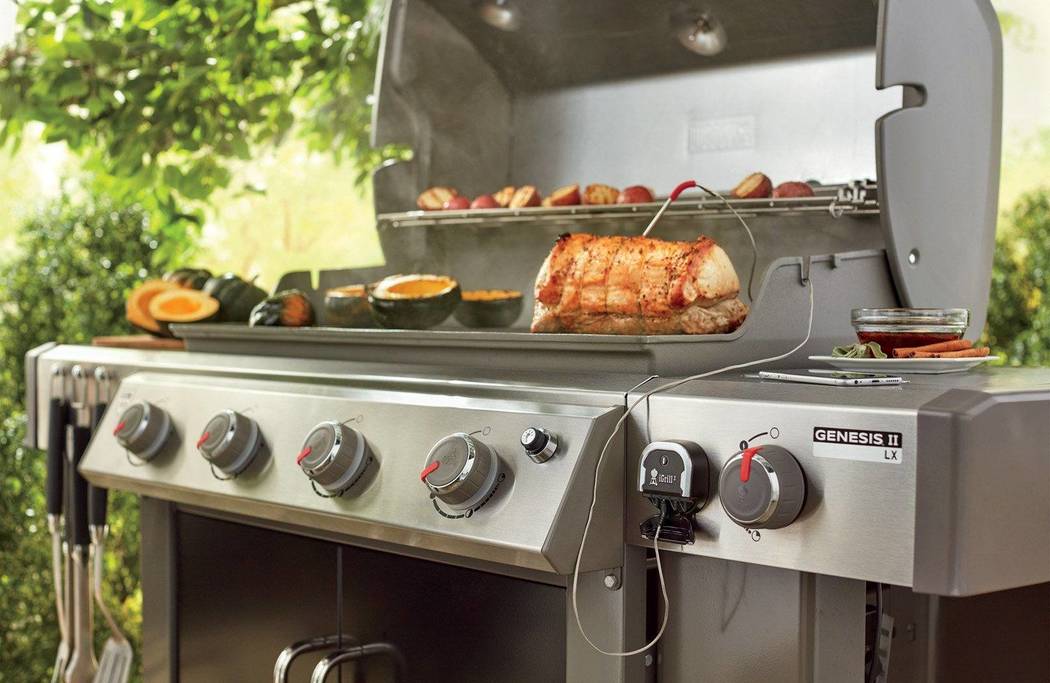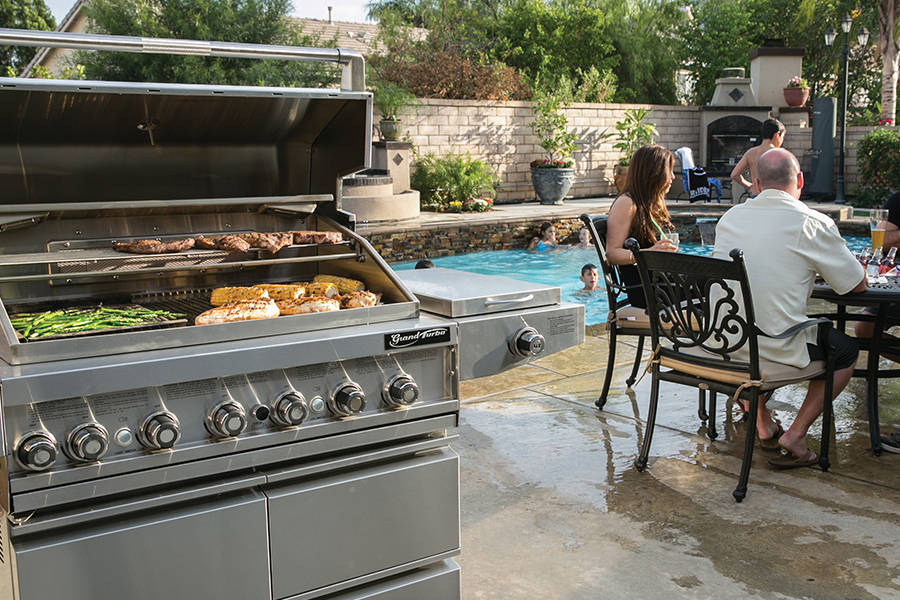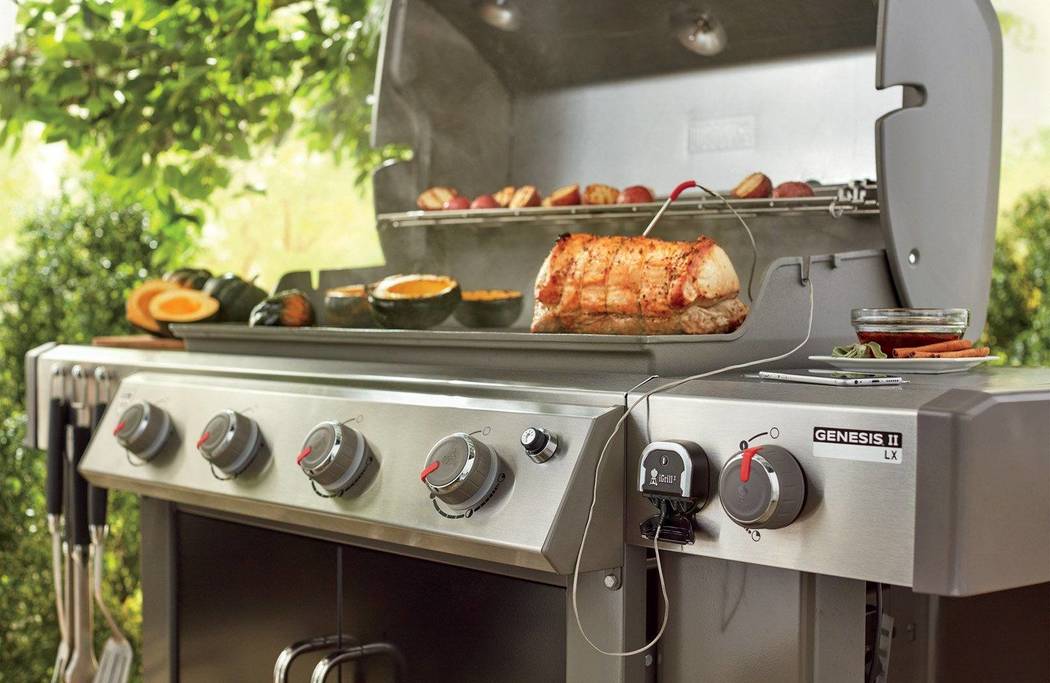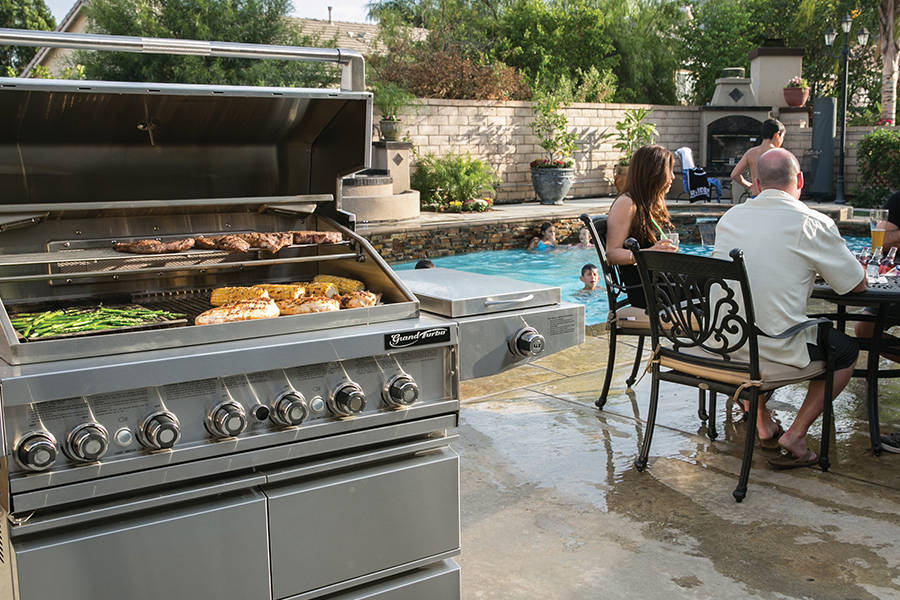 For people who love outdoor cooking, the variety of gas and charcoal grills has never been better.
Mike Zamora, store director at Barbeques Galore in Henderson, said what it basically comes down to is what type of cooking a person wants to do and how much time he or she plans to spend preparing a meal.
A single guy would probably be happy with a traditional propane gas grill on a cart to flip his burgers, hot dogs and the occasional steak. But with the growing popularity of cooking shows dominating the airwaves and celebrity chefs opening their own restaurants, more and more people are becoming foodies. They want to emulate what they see on cooking networks and are demanding the professional tools to achieve what their taste buds are craving.
Gas grills today hold court on patios as if they were gleaming stainless steel national monuments, accented with adjoining stainless steel gas burners. Elongated granite serving stations feature plenty of shelving down under for a built-in refrigerator, trash bin, integrated wood smoker and herb infusion system and plenty of storage for pots and pans.
The newest models come with halogen interior lights under the hood for evening grilling. Oversized silver control knobs, back-lit by soothing cool blue light, make dialing in precise temperatures a breeze. An illuminated (in similar cool blue light) digital thermometer comes equipped with a meat probe, a timer and an alarm setting.
The stainless steel cooking grids on gas grills are becoming wider to accommodate more pronounced searing marks in steaks. And beneath these metal grills are high-tech ceramic briquettes, aligned neatly like eggs in a carton to capture heat and evenly distribute it across the surface of the grill.
Gas grills can sell anywhere from $999 to $6,000, Robert Brown, consumer sales representative at Barbeques Galore, said. "About 75 percent of brands use ceramic briquettes not only to distribute the heat but to protect the burners from drippings. You simply replace the briquettes between five and 10 years."
"There's just a lot more to choose from this year, even from long-established brands," Mark Allwood, a senior market analyst at Consumer Reports, said in the April issue of the magazine. He added that in addition to the LED lighting under the hood, many gas grills are using Bluetooth technology to monitor temperatures and alert cooks, via their cellphones, when to make adjustments.
Wood pellet gas grills have integrated smart control technology into grilling meats and fish, Brown said. The hopper boxes that feed wood pellets into the firebox can be controlled remotely to release just the right amount of pellets as needed.
"You just put the pellets in, set the temperature and a grill wire automatically feeds pellets as needed," Brown explained. "A meat probe will monitor the meat, and you can power the grill up or down as needed from your phone."
The nice feature about the technology, Brown said, is that once you achieve the desired cooking time and amount of pellets used for your meats, you can program this information into your phone to get a similar cook in the future. While you can't program the new pellet grills to shut off at desired times, Brown added, they will shut off automatically if a malfunction occurs during the cooking process.
A recent addition to the outdoor cooking experience has been ceramic grills resembling something one might have discovered at an archaeological dinosaur dig. Two of the most popular models are the Big Green Egg and the Kamado charcoal grill.
These are charcoal grills, but you don't use pressed charcoal briquettes and lighter fluid. Instead, you dump natural lump charcoal into the unit's cavity and use natural charcoal starters (compressed wood) or electric starters to ignite a fire. You never use lighter fluid in these ceramic grills.
For cooking aficionados, culinary pros or wannabe pros, this form of outdoor cooking offers more capabilities. Heat is evenly distributed for longer and slower cooking, steaks and hamburgers can be easily seared because temperatures rise higher in these ceramic cookers, smoking is made easier and you can even bake breads and pizza with brick oven quality.
"With the Big Green Egg, you cook low and slow," Brown said. "The ceramic keeps the moisture in foods."
When Consumer Reports tested the Big Green Egg, it concluded that the egg "performed extremely well" for maintaining low temperatures for long, slow cooking and also produced a roaring fire for searing steaks and grilling pizzas.
"For the low-and-slow test, our experts had no problem maintaining a temperature around 330 degrees F for six hours …," Paul Hope wrote in Consumer Reports. "When we tested the Big Green Egg for high-heat cooking, we recorded an average temperature of 850 degrees at the grates. That puts the Egg on par with commercial broilers used in some of the world's best steakhouses."
Hope concluded that the Big Green Egg heats evenly but won't do anything for hot dogs and hamburgers that a traditional kettle grill won't do. It does stand out, however, for smoking meats (slowly) and making coal-fired pizza.
Barbeques Galore, an authorized distributor of the Big Green Egg, sells the units for $500 to $2,800.
With all the latest technology wrapped into today's gas grills and the versatility of a ceramic cooking unit, Zamora said, most people still make their choice on what grill to purchase based on aesthetics, such as the lighted dials and shiny stainless steel. They also might have a nice backyard for entertaining and would like to have a custom island built to showcase their outdoor kitchen.
"Most customers go for looks first," Zamora explained. "About 60 percent buy gas grills and 40 percent charcoal, with 25 percent of these people wanting charcoal pellets."