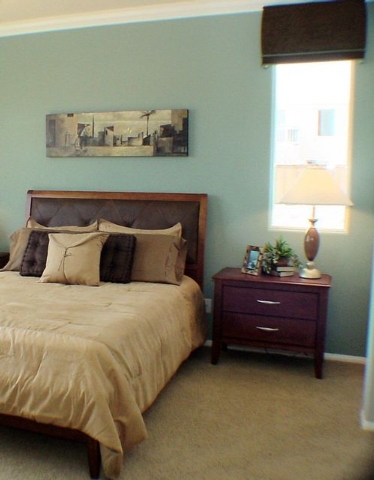 I'm frequently asked about some of my favorite items to use or things to do when remodeling, redecorating or just updating a few things in a home. So here are my personal top eight favorites.
1) I've said this many times: "Life's too short to have white walls." Adding color to a room with paint is my No. 1 decorating suggestion for the new year to make a dramatic difference without breaking the bank.
Now you don't have to paint a whole room red, so look for architectural features or small areas that can make an impact. My top seven areas for daring paint are: art niches, behind an open back bookcase or built-in, the area between your kitchen counter and cabinets, headboard walls in a bedroom, back of a pot shelf, powder and laundry rooms.
I love painting a whole powder or laundry room a bold color. You're in and out of the rooms so don't be afraid to give it a pop.
2) Crown molding throughout a house is great but can get pricey. So if you have to pick just a few rooms, I like powder and guest baths and the master bedroom.
Or if you have any coffer ceilings, crown molding will make them stand out. It's amazing what a difference it makes, especially in the baths. The bigger the crown the better. Don't be afraid to use a 6-inch profile.
3) I love wall words for an unexpected and whimsical additional to a room. You can create any saying using multiple fonts, colors and size of letters.
The rub-on kind work fine if your wall texture is a knockdown, which is what most homes in Las Vegas have. Basically, it is a mottled texture which falls between flat and orange peel.
I put one up on my kitchen soffit that says, "Life's too short to drink bad wine," which in our definition is any wine you don't like. It is 9 feet long by 8 inches high and cost $140.
The words go on like the old rub-on letters we used in grade school, of course, now giving away my age. It took me about two hours to put up, not bad.
4) Stacked stone is one of my absolute favorite things to update a fireplace and use on the front of a breakfast bar. It adds great texture and I feel is a timeless product.
The one I use the most is Golden Gate Stacked Stone. It has nice neutral colors with a variety of stone sizes. If you use your breakfast bar a lot, especially if you have little ones, it really takes abuse and can be a challenging area.
If stone is out of your budget, a darker paint will help hide the scuff marks.
5) If you want to give your kitchen a little update, I'd suggest a full tile backsplash. If you already have a 4 inch to 6 inch splash now, you can just tile above it to underneath your cabinets.
You won't have as much room to do an intricate design, but you can do something beautiful with a listelle tile, which is a decorative liner normally 3 inches to 6 inches high by 12 inches long. Many times when you look to see how much room you actually have it doesn't cost as much as you may think.
Glass and tumbled stone are my favorites. Glass comes in any color you can imagine and a variety of shapes and sizes. Tumbled stones are nice neutrals that you can dress up with a fun listelle or accent tile, like glass.
6) Want to dress up your hall bath? Mount a fabric shower treatment from the ceiling. If you can't afford to have the whole treatment custom made, use store panels.
We rarely have guests, so I keep the plastic liner in a drawer until I need to use it. If you use it on a regular basis, look for a water-proof fabric liner.
7) I've mentioned this one many times, but it's worth repeating. Frame your plate glass mirror in your bathroom. Mirror Mate is my go to source. You can frame a 48-inch-by-36-inch mirror for under $ 150. They're easy to install; I've put up many myself.
8) If you're going to buy new furniture look for something that can be multifunctional. My favorites are nesting tables, storage ottomans and table beds.
The table bed is an investment but an amazing piece. It was created by Inova in New York for people in one-room apartments. I put one in an open room off an entry. It's a sophisticated home office and then transforms into an additional sleeping area when my client has guests.
If you have any other favorites, drop me an email and I'll share them next time. Have a very happy holiday and new year.
Gail Mayhugh, owner of GMJ Interiors, is a professional interior designer and author of a book on the subject. Questions may be sent by email to: GMJinteriors@gmail.com. Or, mail to: 7380 S. Eastern Ave., No. 124-272, Las Vegas, NV 89123. Her Web address is: www.GMJinteriors.com.