Photographic murals spice up boring outdoor walls
September 2, 2023 - 8:00 am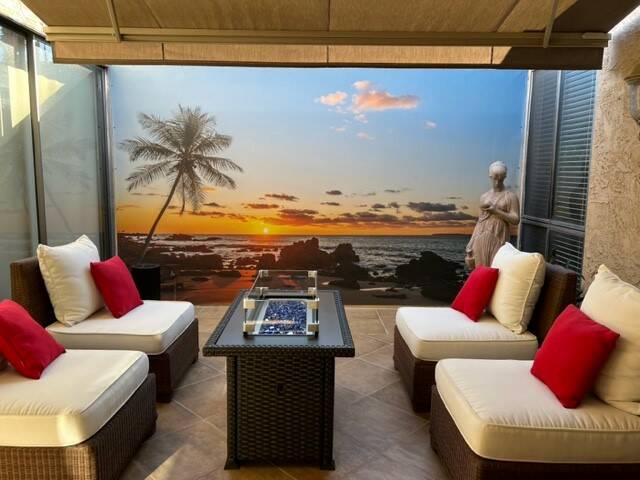 Sonny Garza and his wife moved into their Henderson dream home in 2016. While happy with their choice, one element of the home's design bothered them. It was the bare block wall as a backdrop to their backyard pool. In fact, Garza and his wife started to see it as an eyesore every time they glanced out their sliding glass door.
"My wife thought it was just a boring wall. We had a nice pool, the landscaping was mainly rock, plants and a few palm trees, and we kept wondering if there was something we could put on that plain-looking wall," he said.
To bring some life to the space, the couple decided on a photo mural depicting a Southwest desert lake scene from Arizona-based Wall Sensations, which also has a sales and installation team in Las Vegas. The photographic mural spans the wall's entire 6-by-70-foot length and has given the space the visual lift the couple craved.
"It goes perfectly with the landscape we have in our backyard," Garza added. "We're absolutely awed by it. It's really head-turning. … To us, it's like a vinyl canvas, and once we saw what kind of material it was made out of, too, we knew it would last."
If you're considering a photo mural for your backyard walls, here's a closer look at the process involved and costs associated with it.
Materials, sizes, costs
The exterior wall mural is Wall Sensations' "claim to fame," said its President and CEO, Alan Gellman. The company uses high-density vinyl and offers a five-year warranty. The product also uses UV digital ink that hardens with sunshine and brings a realistic look.
The cost for design and installation is $10 per square foot; it can be cleaned with a garden hose, and if you move, you can take the mural, which is held in place by screws, with you. Injecting nature and water elements into the backyard are common desires among customers, Gellman emphasized.
"We see a lot of beach scenes in Phoenix and in Las Vegas. A lot of people want to bring water into their backyards," he said.
Gardens and other greenery are other popular choices. Images range from tranquil gardens and sunsets to golf courses and much more. The company has also added a new "textures" category, with images of stacked stone and other landscaping elements.
"We really can make the wall look like anything you can imagine," Gellman said.
The size of the typical mural is the height of the common 6-foot-tall block wall by whatever length is desired. Garza's is 70 feet long, but there are plenty of homeowners who only need 30 to 50 feet or smaller sections.
Using a digital image allows Wall Sensations designers to fit the image precisely to the dimensions of the wall. The height of the image can increase to 16 feet as well. There is also a DIY option for projects that are 30 feet or less in length, Wellman noted.
The process
A homeowner can select an image from the Wall Sensations online library and schedule an appointment. Or if they're not sure of which image works best for their yard, they can select one when a salesperson visits their home.
There is also an option for a consult via text and email. Homeowners can send images to the company to get the process started. But a site visit is eventually needed. Photos of your yard are taken and mock-ups are sent before the purchase is finalized.
"It helps to get in there and get those initial photos to see the yard and understand what's going on back there," Wellman added. "We won't print unless we've measured that wall and you've seen samples of the material."
Deborah Brown, a Phoenix-based interior designer, opted for a green garden scene with tulips and other flowers. It is located on the side of her house where she sees it through a large picture window. Its size is 6 feet by 32 feet and spans the full length of her home.
"I'm originally from Oregon, so I wanted to add green and was looking for something that would look natural and real," she said. "I really do like it — it's realistic. That's the best part, it's not like looking at a fake painting."
Brown advises anyone who is considering a photo mural for their backyard walls to work with someone who offers mock-ups and thoroughly vets ideas with you during the sales process.
She chose the side of her house because she didn't like looking directly into a wall only 5 feet away from her home. But in her case, she's hesitant to put a mural in her backyard because she feels the yard isn't deep enough. For those walls, she's chosen to add plants and foliage.
"I could be wrong, but I'm just not sure a mural would look good back there," she added, "but I have to say they're really good at giving you options. They give a lot of input and allow for a lot of input and they're very good at explaining what looks good and why."
She also says that if one of her home design clients was considering a photo mural, she would likely have them view hers, first.
"Photos don't really do it justice. … This all comes down to personal preference. It's not cheap to do and the quality is definitely there, and I think if you want to invest in it and you love it, it's worth it," she said.