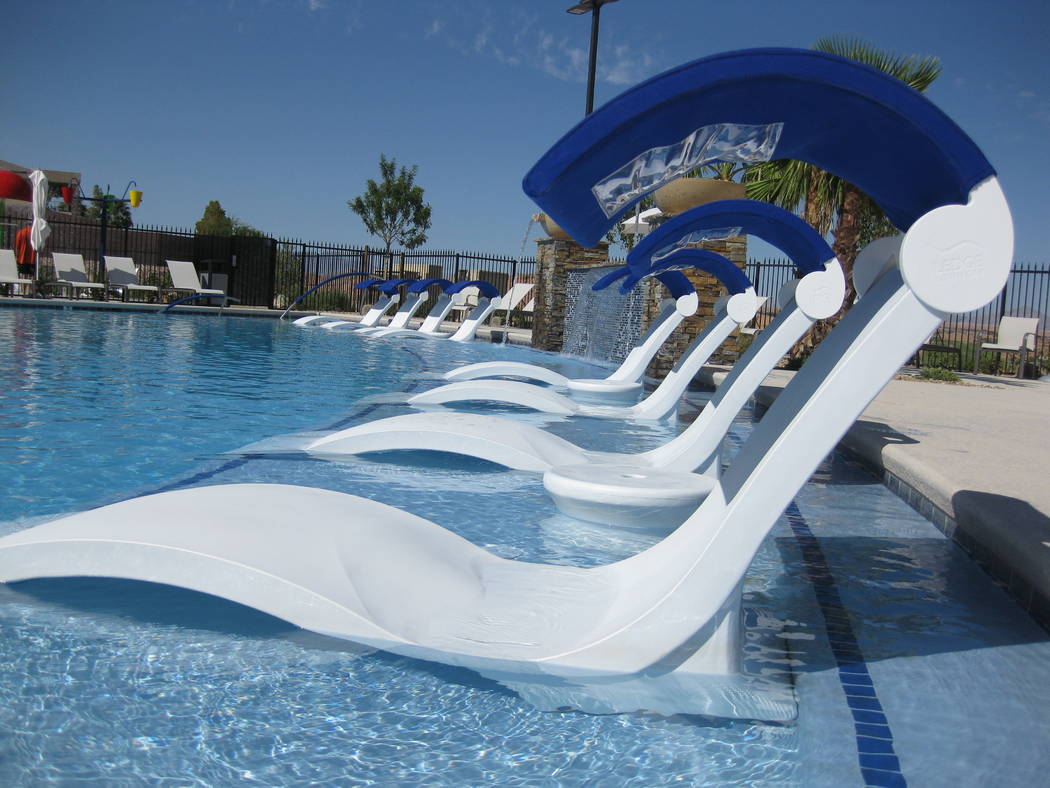 If you're a pool-goer, you've seen and possibly even used the iconic S-curved chaises partially submerged at your favorite resort pool.
You think, "Wow, what a great idea." So you go home and drag your outdoor furniture into your pool, only to discover the chaise doesn't actually submerge in the water like the one at the resort.
"The reality is traditional outdoor furniture is not designed to go in the pool," states Christopher Anderson, founder and president of Ledge Lounger, a company specializing in in-pool furniture and accessories made with durable material and designed to fit perfectly on a tanning ledge or Baja shelf.
Anderson is also an award-winning pool designer of the family-owned Custom Design Pools, a high-end residential pool construction company in Houston. His signature contoured chaise was initially designed to accommodate the needs of the company's pool clients.
"We were designing pools with large tanning shelves. When the pool was finished, homeowners would place their patio furniture on the ledge. Eventually, it began damaging the interior finish," notes Anderson. "Homeowners also noticed their pool furniture was deteriorating more rapidly."
Depending on the type of interior finish of the pool, repair costs can be substantial. He further explained that homeowners don't realize the safety hazard created when placing metal (or aluminum) objects into the pool.
"By code, any metal within 5 feet of water must be bonded to prevent possible electrical shock," he said.
Anderson and his team discourage all their clients from placing patio furniture, folding chairs or other metal objects into the pool.
In 2010, Anderson was challenged by a client to find a suitable lounger for his pool. After a lengthy search, Anderson identified two things: "There wasn't anything in the market designed precisely for in-pool use, and there wasn't anyone interested in developing a line, believing that it was a limited market."
Anderson knew there was a market. "Even if I only sold it to my own clients, it would be a worthwhile project. My goal was to fulfill a need, to provide a solution."
From his extensive pool background, Anderson established some basic criteria with regards to shape, materials, weight, dimensions and safety. He then took into account comfort and aesthetic appeal. The result is the patent-pending Ledge Lounger chaise, a signature in-pool sunbed designed to complement any outdoor space — traditional, contemporary, modern or rustic.
Made of commercial-grade, high-quality materials, the chaise can remain in the pool all year long without fading, mildew or mold.
"The sophisticated design, functionality, durability and safety elements of the chaise have made it popular in residential pools as well as with commercial pools worldwide," Anderson said. "Resorts, apartment complexes, water parks and even cruise ships utilize Ledge Lounger products in their pools."
The chaise hasn't changed in design since it was conceptualized. However, the product line has evolved since 2010.
Ledge Lounger offers its Chaise Deep for deeper ledges (10 to 15 inches of water), as well as a full Signature line of chairs, accessories, pillows, shades, side tables, umbrellas and multiple seating options for in-pool use.
Custom-made per order, cushions, covers and pillows are available in more 300 colors and patterns and are crafted of marine-grade Sunbrella with an EZ-dri core.
"Getting ahead of the idea that tanning ledges will continue to get bigger, our design team is constantly developing furnishings for in-pool use," Anderson said. "People enjoy being partially submerged. There are those who don't want to get physically into the pool, get their hair wet or even put on a swimsuit, but they want to participate in pool activities. With our in-pool sectionals and dining sets, they can enjoy the water from the tanning ledge."
In February, the company launched a patio furniture collection, and it is currently developing a full line of furnishings to complete the outdoor space with custom cabanas, day beds, planters as well as other items.
Ledge Lounger carries the "Made in the USA" label.
Offered in 11 different colors, the Signature Chaise starts at $659. Ledge Lounger products are available through local pool builders and at ledgeloungers.com.
Joseph M. Vassallo, CBP, APSP fellow, is an internationally acclaimed and award-winning pool designer. President of Paragon Pools, Vassallo has co-authored five pool design books and is currently a featured designer on HGTV.com. He can be reached at 702-400-0679.