Pool solution for elevated installations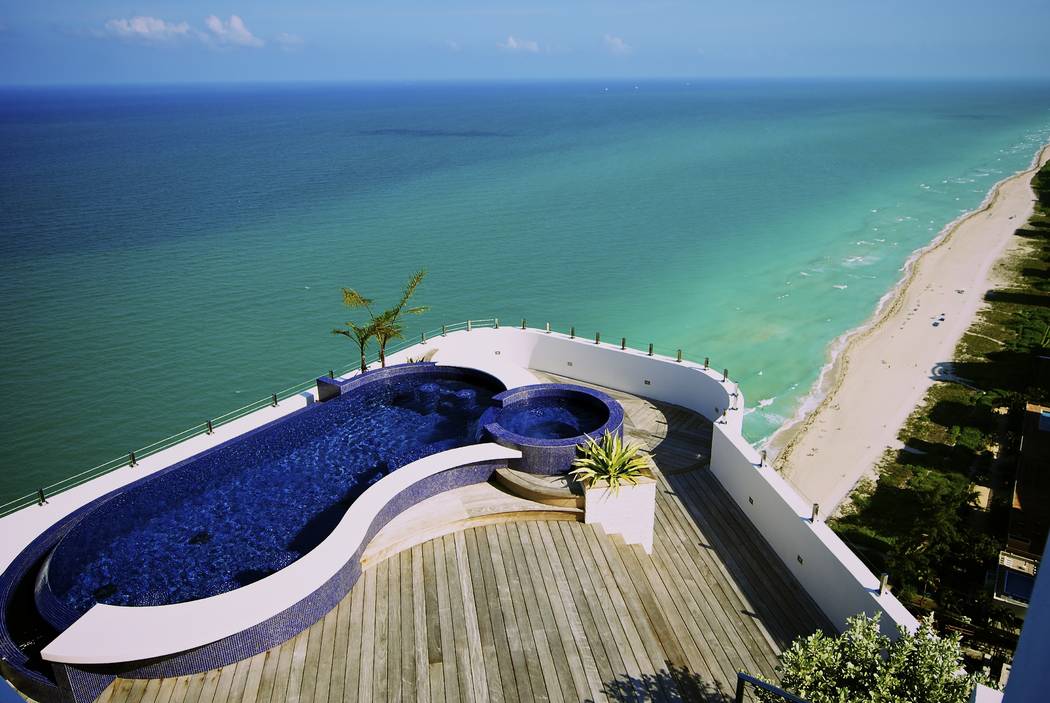 Stainless steel pools are deemed the premium luxury shell in pool and spa construction. However, after considering the benefits of installing a stainless steel pool, the price factor may become irrelevant.
Bradford Products is the oldest fabricator of stainless steel pools in the U.S. The family-owned business was founded by the patriarch, Dale Brodeur Sr., who was a stainless steel fabricator in the '60s and '70s. Brodeur started making hot tubs for the family's personal use; now there are three generations of metal fabricators working at the company.
The pools are conducive for most installations. The most common applications are in high-rise vertical living settings, on floating structures (such as yachts) or where there is a substructure below the pool level. Four key benefits that make stainless steel pools ideal for these applications is the leak-proof vessel, the shell's reduced weight, the flexibility of the metal and its ability to be customized.
"The stainless steel pool is an excellent choice for high-dense populations where vertical living and limited land space is a factor," said Paul Greenman, director of business development for Bradford Products.
But there are many other applications in which a stainless steel pool provides a viable solution, such as in developments where there is expansive soil conditions or in coastal communities.
Mill Bergen Pools in Manhattan is considered the expert in special installations for the New York tri-state area. Company president Robert Blanda has been working with stainless steel pools for 10 years.
The most common residential installations in New York are individual projects. However, Blanda sees a surge in architects and developers specifying stainless steel pools as a design requirement for the entire project.
He is currently installing seven stainless steel pools in Manhattan proper. A nine-story high-rise has four pools being installed on the rooftop of the penthouses. Each of the 8-foot-by-24-foot pools will be fully tiled.
Blanda notes that stainless steel pools are not just for elevated applications. The developer of a multifamily townhome complex specified three stainless steel pools for the basement of each residence. These pools will feature an acrylic window and a polished stainless steel finish.
Prevalent in commercial construction, stainless steel shells provided an alternative for condominium, townhome and casino developers who desired to place pools and spas on an upper deck or luxury suite, rather than traditional grade-level installations. The Cosmopolitan of Las Vegas, Encore, the Palms, Caesars Palace, Palazzo and Veer Towers are just a few examples of Bradford Products' applications in Las Vegas.
"One of the top reasons commercial developers and residential homeowners chose a Bradford product is the shell is warranted not to leak," Greenman said. "The company offers a 25-year warranty guarantee not to leak or fail."
That's a critical consideration when the pool or spa is located directly above a living space, priceless artwork or high-end cars.
Greenman further explains, "Stainless steel pools are at least three times lighter than a concrete shell. And the fully welded shell is a very flexible material that moves with a building or its surroundings and then returns back to its original state."
Typically, the completely assembled, self-supporting vessel is delivered as a one-piece unit on a flatbed and then craned into position. However, transportation restrictions limit a flatbed load size to 14 feet wide. Therefore, larger projects are delivered in sections and assembled on-site.
Blanda shares some advice when considering and installing a stainless steel pool.
"If possible, stick with a shell size that can be completely assembled at the factory and transported to the job site in a single piece," he said. "Depending on skilled labor fees in one's area, the cost of on-site assembly could be very steep."
However, on-site assembly might be required if the project has a tight access or where craning a unit is not an option.
The second recommendation relates to the finish.
"Have the tile installed at the factory," Blanda said. "The stainless steel shell requires a special application process to adhere tile. Untrained tile installers could scratch or damage the shell, leaving it vulnerable to staining, rust or leaks and possibly nullify the warranty."
And lastly, he said, "Always use a licensed and certified pool contractor when installing a pool or spa. This is even more crucial when one is working in elevated spaces."
Bradford Products offers three finish options direct from the factory: all stainless, partially tiled or fully tiled. Credited with developing the process of adhering tile to the stainless steel shell, Bradford employs a proprietary method using epoxy adhesive and grout.
In addition to the finish, each Bradford unit is customized at the factory and built to specifications with amenities such as water features, seating, lighting, acrylic or glass windows, Baja decks, automatic covers and hydrotherapy jets.
Another value of a stainless steel pool is its sustainability factor. Bradford's shells are made of 60 to 80 percent recycled stainless steel and is 100 percent recyclable after its lifespan.
Bradford Products has seen growth in the residential sales market, with an increase of 30 percent year-after-year over the past three years. Greenman credits the growth to the increase in multifamily dwellings due to the lack of real estate on the ground, particularly in vastly populated areas.
The company also sees a rise in upscale, single-family homeowners selecting a stainless steel pool when designing an aquatic amenity for an upper floor.
Joseph M. Vassallo is an internationally acclaimed and award-winning pool designer. President of Paragon Pools, Vassallo has co-authored five pool design books and is currently a featured designer on HGTV.com. He can be reached at 702-400-0679 and www.paragonpoolslv.com.