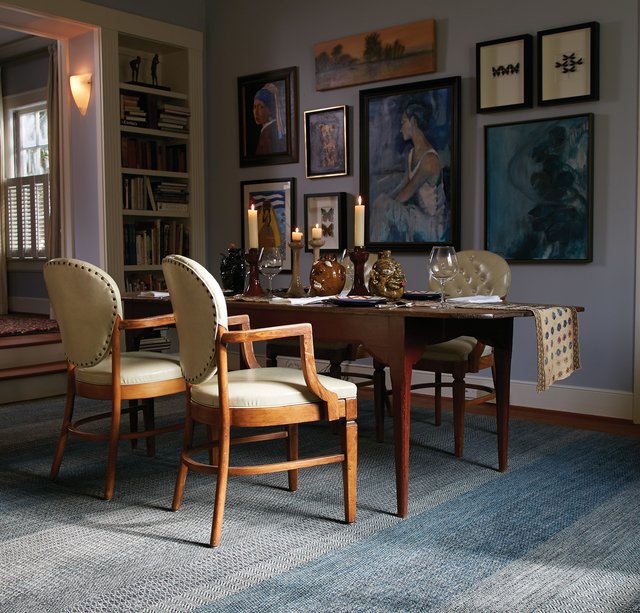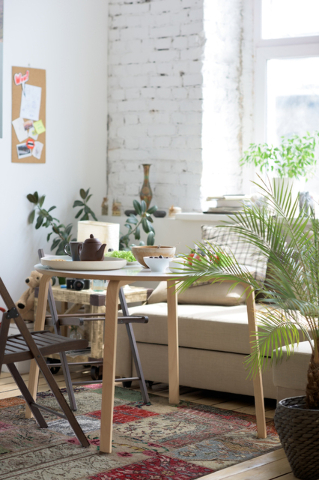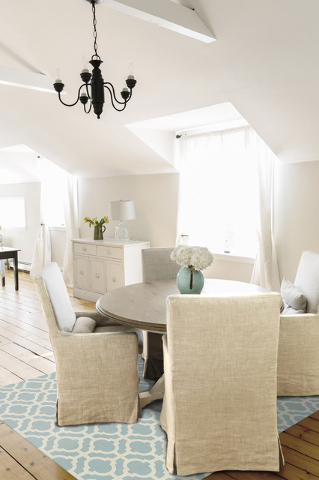 It may be one of the most memorable movie lines of the past 25 years, but a rug truly can tie a whole room together.
While The Dude's missing rug, which "really tied the room together" in the Coen brothers' 1998 "The Big Lebowski," was a classic Asian print, today's rugs run the gamut from traditional to modern and are more durable, design-friendly and less expensive than their predecessors.
"A rug definitely brings the room together; all the pieces, sofa, tables, chairs, other accessories are grounded by the rug," said Cameron Capel, vice president of national accounts at Capel Rugs. "(A rug) defines a space, be it a conversational area or a dining room."
As hard surface flooring continues to grow in popularity, more people are pulling out rugs to add warmth, texture, depth and beauty to their homes.
"Also (they) can protect the floor," said Capel, granddaughter of company founder Leon Capel. "Replacing a rug is a lot less expensive than replacing an entire wood or marble floor."
Carpet is being phased out by area rugs over stone, tile, concrete and hardwood for their quick-change versatility, color options and patterns, she said.
Rug trends are moving toward more transitional in design, with designs 'bleeding' off the edge.
"(There is) no real traditional border," said Capel, who joined Capel Rugs in 1990. "In color, trends are blues, and the new neutral, gray, are still really hot."
Texture continues to be at the top of the consumer's list when shopping for a rug to finish their living space.
"(There is) even more textural options now," Capel said. "The fibers used, from polypropylene to New Zealand wool, greatly enhance the feel of a rug. Texture is all the rage and rugs bring it."
Capel's Barrister, a higher-end hand-knotted rug with a smaller detailed pattern is one of the company's most popular rugs.
"It can either fade into the background, as a nonpattern, or can be the focal point of the room," she said. Capel Rugs, based in North Carolina, has recently moved to a year-round showroom on the first floor of Building A of the World Market Center Las Vegas.
When looking to purchase a rug, regardless of children or pet stain concerns, go for the best quality rug you can afford, Capel suggests.
"Even if they want to replace the rug in a couple of years, it is important to know who you are buying from," she said. "Get the best quality you can afford, be it in a hand-knotted, hand-tufted or a machine-made (rug). Start with the rug. Even though there are thousands of rugs to choose from, there are many more paints and fabric. Fall in love with a rug, and build your room around it."
Technology has brought more options to the market.
"The advances being made in machine-made rugs are amazing," Capel said. "Sometimes it is difficult to tell the difference between a machine-made and a hand-knotted rug. They have gotten so beautiful."
This also has brought the price of rugs — particularly large area rugs — down considerably.
"Design and construction have come a long way to give great design at a much lower cost," she said.
Technology and design brought Jeneva Bell to create a new type of rug that can be thrown into the washing machine at regular intervals.
While shopping for a rug that would hold up to her small dog's errant ways, Bell thought of the idea for Ruggable, a durable, design-friendly two-piece rug that is resilient enough to be washed and gorgeous enough to draw compliments.
"The whole idea came from wanting to offer a solution for people's high traffic areas that is affordable and as stylish as any rug you can find in stores," said Bell, Ruggable inventor. "Our philosophy is to live and enjoy your life and your rug and not have to stress over it. Just throw it in the laundry."
The top part of the Ruggable can be lifted from the nonslip cushioned rug pad base and thrown in the washing machine. Bell, born and raised in Las Vegas, created the patented Cling Effect technology, not unlike Velcro, using an odorless, recycled polyester fiber.
"You can remove the top and wash it if you spill something on it, or if your pets stain it, and it will wash up like new," Bell said. "And you can change out the top if you want to change your décor or make it seasonal."
The bottom piece is $49 and should last a lifetime since it doesn't use adhesive but rather a cling technology that can be easily washed with a hose outdoors when needed.
"It is kind of like a yoga mat material, and the top layer has a smooth, soft feel that is like chenille," she said. "There is no latex because we wanted it to be as environmentally friendly and allergy-free as possible."
The top part of the Ruggable runs from $49 to $99 and up. It is sold in sizes ranging from 3-by-5-foot rugs to 8-by-10-foot room rugs. The polyester material feels like a silken, short pile fabric, soft and pliable with a bit of texture.
Bell has recently created more shag rugs to extend her design line, which is sold at Home Depot, Sears and Jo-Ann Fabric &Craft stores among other national home decor chains.
"We want to be able to offer a Ruggable for anyone who wants one so we are offering custom designs at an affordable price, and every month we have new designs for people to choose from," Bell said. "You don't have to sacrifice design for allergy-free, stain-resistant rugs."
She has seen sales increase steadily since starting the business in the last decade.
"Everyone wants hardwood flooring now because it looks good and is easy to clean," Bell said. "People look to a rug to tie all of the room together and add comfort and warmth. We just wanted to give people a sense of comfort when it comes to that important piece we all walk all over — the rug — and not have to worry when friends come over."
And they can bring their little dogs, too.
"I love it because it doesn't hold any odor after you wash it like (natural) fibers do on typical rugs," Bell said. "It's affordable and stylish, something we all look for in a rug."