Preference for towel rack height, placement can differ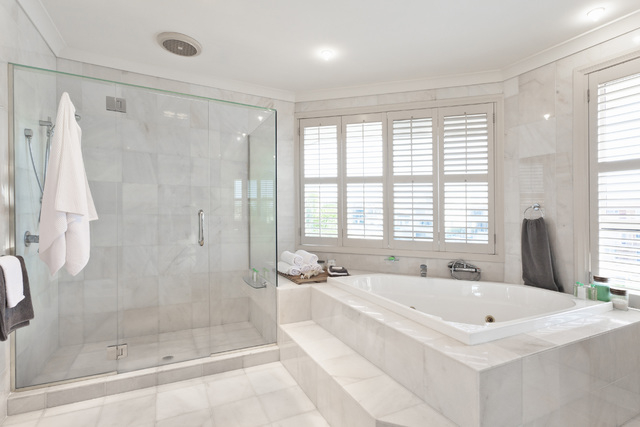 Dear Gail: I'm getting ready to remodel my bathroom and my contractor has so many questions for me I don't know the answers to. Mainly, he wants to know how high or exactly where to place items such as my towel rack, toilet paper holder and towel rings. Where I should place these? — Suzanne
Dear Suzanne: These are very common remodeling questions and it's great your contractor is asking versus assuming. I've found over the years everyone has preferences of height and placement, but I'll share with you the industry recommendations and the different options you have.
Towel bars are normally mounted between 36 inches and 42 inches from the floor. I feel 36 inches is too low since bath sheet towels are longer than standard bath towels.
If you use extra-large towels, you raise them to 48 inches or 52 inches. If you are tiling or wainscoting your walls, you may need to adjust the height so that it falls at a proper height in your design.
When installing multiple towel bars, place the highest and then fold a towel at that level. The second bar would be placed 2 inches below the bottom of the towel or you can have them overlap each other.
In this situation, you'd want the top bar to be at least 50 inches from the floor. This is not my preferred option, because the bottom towel is too close to the floor. The only time I have done this is when my client wanted to place handcloths and washcloths on the top towel bar.
A better option is to place the towel bars side by side if you have the room.
Here are other options to consider.
n Double or triple bars. These typically have one or more bars that step down.
n Towel warmers. Most people across the country would think towel warmers are crazy in Las Vegas. But, sorry, I'm cold when it's 60 degrees.
n Swing arm bars. These have multiple bars that swing out individually. They don't lie flat against the wall, so they are not for everyone. Because you can separate the arms, the towels will dry more quickly, although I'm not sure if that's a real concern here.
n Towel shelves. Think of what you see in hotels. They are available with and without towel racks below. Great option if you use a new towel each day.
n Towel rings.You'll find them in all shapes and can be used for bath, hand and washcloths. For hand towels and washcloths, the typical placement is on the wall next to your sink. If you're measuring from the vanity, mount it between 15 to 20 inches above the vanity. I prefer the towel not overlap the backsplash, so I place it with the bottom of the towel 2 to 4 inches above the backsplash. If you are using towel rings for your bath towels, follow the same placement as a standard towel bar.
n Towel hooks. Think of a robe hook except you can use just about anything you can drape your towel on.
n Towel valets, aka free-standing racks. Believe it or not I have been in homes where there is no place for a towel bar and none was ever installed. So a valet is sometimes the answer. I've also seen where the bar is over the toilet or inside the tub area. If you take baths. having the valet in the tub is great. But over the toilet? Makes no sense to me, except that it was the only place.
If you don't have a place for your towels on your walls or nothing is close to the shower, mounting it on the shower door is an option. This is not my preference as I like a clean look, especially with frameless doors. But this is where your preferences come in as far as functional or pretty.
The fun thing with towel fixtures is that you don't have to use ones specifically made for that purpose. Be creative and match it to your decor. I especially like to do this in powder and guest baths. Why not use a golf club, baseball, tree branch, palette, boat oar, antique chair or picture frame? And don't forget drapery hardware.
Let's turn to your toilet paper holder. The suggested position of a toilet paper roll is 8 to 12 inches from the front of the toilet seat to the center line of the holder. This is positioning the toilet paper roll in front of the toilet, which is standard.
Sometimes this is impossible if your toilet is between your cabinet and tub. In that situation, place the toilet paper holder on the side of the cabinet as far to the front of the cabinet as you can that is most comfortable for you. From the floor it would be 26 to 30 inches to the top of the holder.
Finally, last month I wrote about flooring options with pets and a reader brought up a good point. Make sure to check the content; some flooring may contain formaldehyde, which is unsafe for them and us. Most will not list it, so you'll need to do research with the manufacturer.
Gail Mayhugh, owner of GMJ Interiors, is a professional interior designer and author of a book on the subject. Questions may be sent by email to: GMJinteriors@gmail.com. Or, mail to: 7380 S. Eastern Ave., No. 124-272, Las Vegas, NV 89123. Her Web address is: www.GMJinteriors.com.