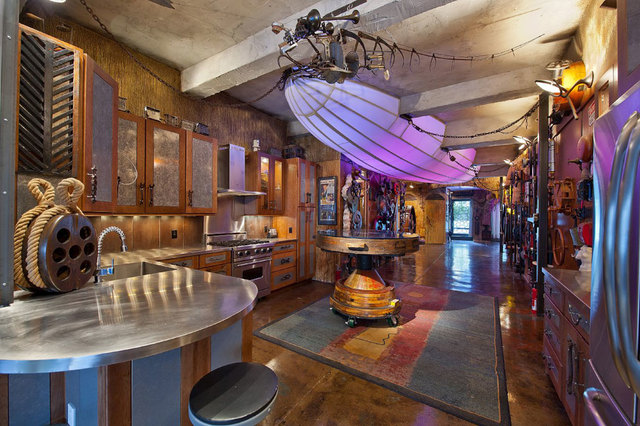 Longtime readers of this column no doubt are familiar with my penchant for juxtaposing the old and new and even sometimes mixing styles. However, in doing that, the basic tenets of design must always be followed, such as form following function coupled with a healthy respect for scale and proportion.
The rustic-industrial style is one that embodies all of these elements with its ability to achieve aesthetic balance through a blend of exposed steel and rustic wood. It mixes and matches contemporary style with older architectural details, as well as using of contrasting textures and industrial elements. This innovative marriage of the organic and the engineered , the bold and the refined, and the masculine and feminine is, in all likelihood, what may account for its growing appeal to designers like myself.
Industrial is a look that goes back to the turn of the century industrial era with its use of exposed steel along with distressed wooden elements, often complemented by exposed brick. The modern version often includes copper accents with a general feeling that is usually rustic.
Elements are taken from old warehouses, barns and industrial buildings and given new life and repurposed, bringing industrial style to home design with raw and unfinished interiors often seen in urban lofts. At the same time, in many cities across the world, warehouses, barns and manufacturing facilities are being converted into fancy condos and office buildings.
This movement has truly caused a rebirth in furniture fixtures and lighting as manufacturers have embraced the industrial design style with its minimal detailing and simple materials. Depending on your preference, industrial decor can either go contemporary chic or rugged steampunk, but, either way, it would appear that industrial details are here to stay.
Steampunk, by the way, is closely aligned with the rustic-industrial look, and though a bit more of an uncommon design style, it's beginning to infiltrate into interior design. It's defined as a combination of machinery and elegance. Or, if you like, the industrial revolution melding with Gothic fashion for an entirely new look.
The basic features used to create the rustic-industrial (and steampunk) look include the following:
n Lighting is the key elementthat sets the tone for everything and it's why I place it at the top of my list. There are two categories of lamps for this style: vintage and modern geometric design with brushed or grainy steel.
Ceiling lamps should not be overlooked as they're a critical component in industrial style decor as well. And pulley lighting, where the mechanics are actually exposed, exemplifies the appeal of the industrial details, as does pendant lighting that uses Edison-style bulbs to create an industrial look. And then there's retro lighting that's enhanced with rustic metals, which is a must, for this style.
n Industrial furniture relies heavily on raw, unfinished wood. Whatever table you choose for your design, at least one must be of wood to achieve a genuine industrial decor. It's even better if the wood table can also feature exposed steel or rusted metal legs.
Industrial sofas and chairs are often in leather, contemporary and with a low profile. If not, then linen-upholstered sofas and chairs are a good option. And, bookcases and cabinets that are metallic in tone are a great complement to this look as are steamer trunks (providing they're old) in lieu of the right coffee table.
Rustic color schemes are neutral and muted. Cream, brown, sepia, black, dark red, dark green and metallic colors are the way to go. Use one or a combination of as many as you want
Sofas, chairs and tables will likely be of leather and raw wood, so you will naturally have plenty of brown or burnt orange. This design gives ample opportunity to use accent colors for a rug and other decor. Remember that selecting the right color palette is essential to establishing the foundation of any interior design scheme.
n Rugs should appear somewhat faded or generally dark (gray, crimson, red, burnt orange or blue). Distressed Oriental rugs or even traditional/ethnic style rugs such as Southwestern, or maybe a textured solid rug or a woven jute rug are great choices. But try to avoid rugs that are overly vibrant or feature distinct geometric patterns.
n Pillows, throws and ottomans should feature leather or a woven texture, and colors should try to complement the rug. Tables, chairs and sofas should be neutrally toned so that these decorative accents can easily fit into your design scheme.
n Artwork and accessories can include old maps (and the older the better), which also can be used as lampshades. Also, old — and preferably antique — terrestrial globes are another excellent accessory for the look, along with gadgets and even sundry machine parts. Use sepia or antique photos on the wall.
n Concrete is another great finish and it can be polished to a high gloss or left matte or unfinished for a rustic appeal. It can be used on the floor, countertops, sinks, bathtubs, fireplaces and more. And reinforced concrete is a recent trend for tables with exciting results.
n Fireplaces and accents walls can be refaced with industrial exposed materials while the rest of the room looks modern and clean.
n Wrought iron is an industrial element that looks wonderful in a contemporary home. Also brushed nickel, copper and cast iron metals bring an organic and industrial appeal to this type of design.
If your home already includes brick walls (whether painted or unpainted), a cement floor, or even any wood, then you're already halfway there. With this type of design, going with anything old or refurbished is probably a plus.
Depending on your tastes, you can opt for a lighter, chic look or else a darker, antique design. But in any case, prepare yourself to become accustomed to design elements like mechanical fixtures and rusted metal to enhance your decor.
Stephen Leon is a licensed interior designer and president of Soleil Design (soleildezine.com); he has been designing and manufacturing custom furniture and cabinetry for more than 25 years. He is past president of the Central California/Nevada Chapter of the American Society of Interior Designers and is a certified professional in green residential design. Questions can be sent to soleildesign@cox.net.