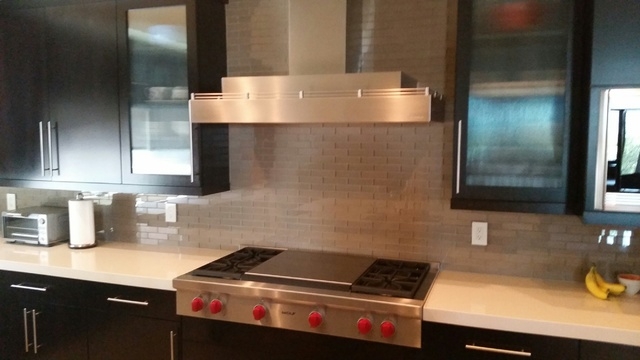 Stone is thought by many to be ageless, timeless and beautiful while always retaining a look of its own. It's considered a one-of-a-kind material and has long been preferred by architects and builders throughout history because of its strength and beauty.
With stone, no two projects will ever be identical, with each having its own character: uniquely different, exotic and wonderful because no two pieces of stone ever look exactly the same and that's the beauty of it. Stone will age gracefully and change with time.
Simply put, for status — stone has no equal. It seems to be the material used to judge all others and people often choose porcelain just because of how well it mimics natural stone.
It was with this mindset that I entered the Coverings show (see June 14 Your Home section) and came to improve my understanding of the performance characteristics for all different types of hard surfaces; realizing that in some ways stone, porcelain and ceramic may seem similar on the surface, (at least to the untrained eye), but they're in many ways miles apart once you look beyond their outward appearance.
To begin with, stone tiles are indeed made and cut from stone: travertine, slate, marble, granite, etc. Ceramic and porcelain tiles are manufactured, and fired products, and are clay-based with porcelain incorporating the harder minerals found in granite, making it the more durable of the two and consequently the most popular choice for high-traffic floors. But, all three are pure, hygienic, hypoallergenic, durable, low maintenance, energy efficient and plentiful, as well as salvageable, recyclable and easily disposable.
Most of us are used to discussing ceramic and porcelain interchangeably, as if they were one and the same and, in point of fact, that's not far from the truth. They are essentially the same, but with one slight difference. Both are part of a larger category of tiles called ceramic. Manufacturers take tiles that have certain qualities and then assign the ceramic or porcelain titles to them with porcelain having the higher price tag, and with good reason, I might add, once you learn of its inherent characteristics.
The primary ingredient in the composition of true porcelain tile is finely ground sand. The processing involves pressure and extremely high temperatures ranging from 1,200-1,400 degrees Celsius.The end result is a very dense, glass-like material with a water composition rate of less than 5 percent, making it virtually impervious to moisture.
Porcelain thus has the same excellent qualities of glazed ceramic, but since porcelain is denser, with hardly any pores at all, it's stronger. Ironically, it's porcelain's very hardness that ultimately makes it more challenging to install requiring special tools, cutting and shaping.
On the other hand, ceramic is made primarily of clay mixed with various minerals and water. This composition is then processed with heat to create the solidified product.
Since the material is porous, the top surface is generally sealed with a glaze. This glazed surface is usually referred to as the design layer since it determines the tile's finished color, design and texture.
While both are fired, porcelain is fired at a higher temperature for a longer time than ceramic and, along with its higher feldspar content, is in fact the strongest fired product that you can purchase in tile form with many actually commercially rated. All of these elements are what makes porcelain tile harder and more impervious to moisture than ceramic tile and the most preferred material for bathrooms.
Also, due to its through-body composition, it's considered more durable and better suited for heavy usage than ceramic tile. Chip the ceramic tile and you find a different color underneath the top glaze.
But, chip the top of porcelain with its "through-body" coloration and you won't ever see a different color underneath. The color keeps on going — the chip is nearly invisible. Depending on how bad the chip is, the tile may or may not have to be replaced.
A few key points about ceramic: To begin with, because it's less dense than porcelain, it's an easier installation and a less expensive one at that. Even for do-it-yourselfers. Stone, on the other hand is more expensive to install than any tile because each piece has a different thickness and so must be carefully installed by "floating" the material.
When purchasing a glazed ceramic, stay away from high-gloss finishes in high traffic areas. The shinier the glaze, the more brittle and easily scratched (not to mention slippery) the surface will be.
In a bathroom, definitely stay away from high-gloss ceramics on your floor. Counters and walls will be fine. Also, ceramic can't mimic stone very well and so it's best used for richer, solid man-made colors not trying to look like natural stone.
Finally, a stone floor can easily be reground in place, honed or polished again and look brand new. Most through-body porcelain can successfully undergo the same renewal process as stone.
But, with a ceramic, there's simply no option for refinishing. Still, all things considered, with tile there's never really a need to wax, polish or buff. A damp sponge or mop is all that's ever necessary.
There is a finite amount of varieties of stone from slate to marble to granite. But ceramic tiles come in many more varieties and provide the widest selection in terms of design, color and price.
Porcelain is considered the workhorse of tile with a large amount of variety mimicking brick, wood, leather and of course, stone. Ceramic, on the other hand, is pretty much limited to mimicking the popular colors of the color palette.
Expensive and inexpensive styles are available in both types and under normal circumstances there would be no noticeable difference in wear between the two.
Stephen Leon is a licensed interior designer and president of Soleil Design; he has been designing and manufacturing custom furniture and cabinetry for more than 25 years. He is president of the Central California/Nevada Chapter of the American Society of Interior Designers (World Market Center, Suite A3304) and is a certified professional in green residential design. Questions can be sent to soleildesign@cox.net.