Sense of adventure makes blah bedroom beautiful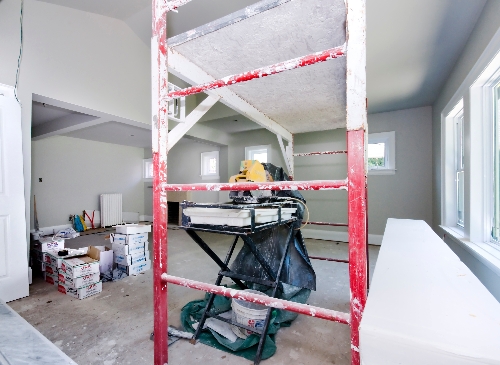 Newlyweds Nuala and David thrive on excitement. They've traveled the world participating in adventure races and fell in love in the wilderness. After the wedding, they tackled a complete renovation of their house built in 1926. They've been living with her parents while managing a construction process that has left them so exhausted they couldn't imagine what to do with their blank slate of a bedroom. While they may live for adventure, Nuala and David definitely play it safe when it comes to décor. So safe, it borders on blah.
But a neutral palette doesn't have to be boring. That's where I come in, with my trusty team to create a space that combines the couple's love of the outdoors with the easy, modern elegance they've longed for.
Freshly drywalled, the room was the perfect size for a master suite and already had a spacious walk-in closet – a key ingredient for a happy relationship. Vintage stained-glass windows, a nonworking fireplace and radiators add a sense of history. The high, vaulted ceiling gives an airy feeling, and a lovely wall of windows frames the gorgeous view.
The secret to decorating with neutrals is to use texture, depth, pattern and layers to add excitement, richness and elegance. With some beautiful fabrics and shades of neutral gray for inspiration, I chose a soft bluish-gray paint for the wall color, a crisp coat of creamy white for the baseboards and cabinetry and had dark hardwood installed on the floors.
The next task: Turn the nonworking fireplace from an eyesore into a focal point in the seating area. Because the couple love the outdoors, I decided to bring a taste of the outside inside by creating a cool feature above the mantel. We built a deep frame and filled it with small pieces of wood cut from split logs, then highlighted the rustic wood with crystal sconces. Above, we installed a crystal chandelier in a style in keeping with the vintage flavor of the house, but in polished chrome to add modern flair. I added a soft gray-blue love seat, perfect for lounging. And to complete the seating area, custom cabinetry provides storage and display space while discreetly concealing the old radiator.
I believe every bedroom deserves delicious finishes. So in the sleeping area, we painted the feature wall a deep silvery blue and created a headboard in rich charcoal-gray velvet with silver nail trim. We dressed the bed with luxurious fabrics in shades of gray, silver, white and cream. Flowing linen drapery panels with an elegant blue and brown stripe mesh with the blue of the walls and the chocolaty shades of the floor and woven wood blinds.
More excitement comes from eclectic and unexpected touches. An exotic fan worthy of the African Queen draws your eye up to the vaulted ceiling while keeping the room comfortable. And a chair, table and zebra-print rug tucked into the nook on the far side of the bed finish the room with panache.
Nuala and David's big white box of a bedroom had no sense of adventure, so we explored the elegant and exotic and turned it into a rustic, refined and romantic retreat. Now that's divine!
Interior decorator Candice Olson is host of HGTV's "Divine Design." For more ideas or information visit www.divinedesign.tv. Her column is syndicated by Scripps Howard News Service.