Set the table for a celebration
November 18, 2017 - 8:05 am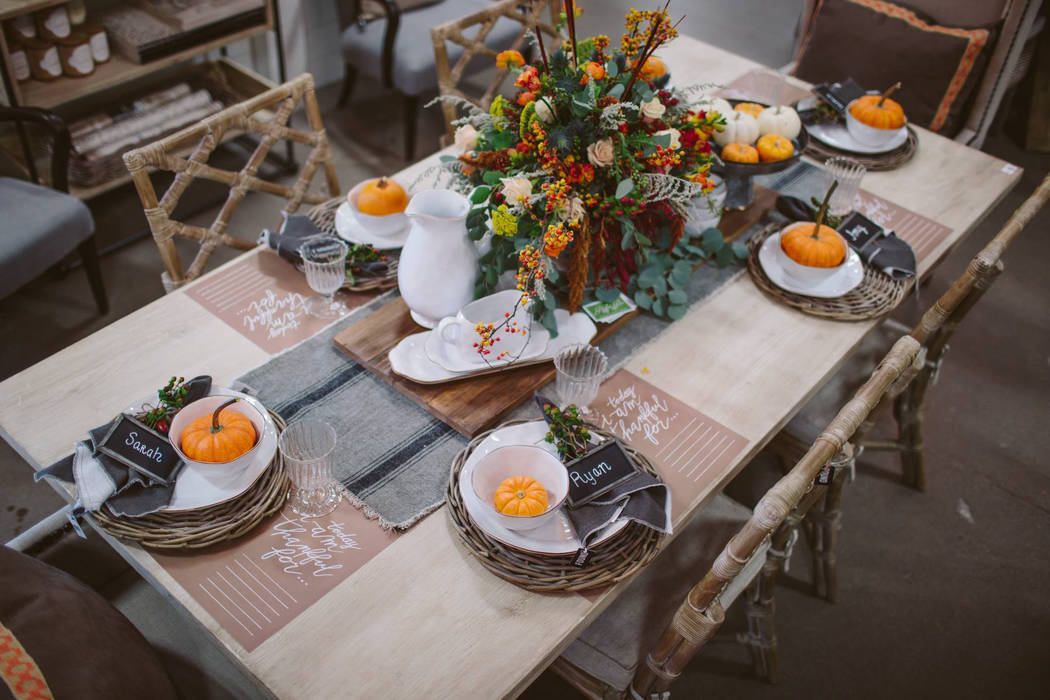 As the time nears to gather around the table with friends and family for holiday get-togethers, a well-set table can create a long-lasting memory.
A tablescape can be dramatic, making your table a stage, or simple enough to turn a weekday dinner into a memorable event, said Bogac Basip, founder and president of Bodrum Linens.
"When people say tablescape, they usually think of a big dinner party," he said. "However, you should always treat yourself and (your) family on an everyday basis at the table."
A dramatic tablescape sets the tone for your breakfast, lunch or dinner. It allows you to create a Japanese theme when you are entertaining guests for a sushi-inspired meal, play up a vibrant Mexican menu with a bold mix of textures and colors or build an African theme table around a dish of savory bobotie.
But don't save a well-set table for special occasions.
"A simple tablescape allows you to create a relaxing and elegant setting where you can let go of all the stress of a day," Basip said.
The dining room makes a perfect canvas to create a magical place to gather because of its layers of hard surfaces.
"Tables, chairs, cabinets, hutches and even tableware are all hard, solid pieces, so, layering in glassware, linens, flowers and candles adds much-needed softness, light, glimmer and color to the room," he said.
New Year's Eve calls for silver and blues for a festive table, but the colors are trending for 2018 too, so they can be used lavishly all year round. Grays, neutrals and navy table linens will have a prominent place at the table, and metallics that complement the neutrals will be prevalent on well-dressed tables next year.
"There are also classics that are here to stay, like spice colors for fall as well as green and red or blue and silver, for the holidays," Basip said.
Bodrum Linens' best-selling items are more for everyday luxury over holiday-themed one-offs, such as the no-iron stonewashed linen napkins and vinyl placemats that can be cleaned with a damp cloth. The designer favorite carries many different lines of linens and accessories that includes bold lines and neutral palates for any taste at any time of year.
The neutral and easy-care lines tend to be the most popular no matter the season.
"Those are great to use every day, and they make every dinner a special one," Basip said. "Sometimes the simplest tablescapes can be the most rewarding ones."
Bodrum Linens recently created a line that combines classic colors with trending modern shapes.
"We recently introduced a contemporary geometric design in spice colors and it has been extremely well received this fall," Basip said.
When approaching decorating the table, get creative and don't shy away from breaking the rules.
"One of my recent favorites was a tablescape featuring white and gray ceramic pumpkins mixed with neutral, white and gray dishes and linens," he said. "Every dish served that night added so much color to the table and became the focus."
For a holiday table, get inspired by magazines and blogs, but keep in mind that this is your space and your dinner party, so stay true to your style.
"Your tablescape and decor should reflect your personality," Basip said. "Adding seasonal fruits and flora to the tablescape make it season appropriate. For instance, pumpkins, grapes and leaves work well on a fall table, but it is up to you to make it feel casual and rustic or sophisticated and urban."
Pinterest is a playground for those who like to dress up their dining, end and occasional tables for the holidays, said Kathy Pitts, president of Skyros Designs.
"Look around and see what you like online and get encouraged," she said. "You can carry your decor to the dining table or around the house in so many ways."
It's not necessary to buy arrangements at the store or have them created by a florist.
"It's much more fun to make it yourself and collect things from outside or from around your home, like berries or twigs and interesting leaves," Pitts said.
Stubby succulents paired with long, textured branches or fall flowers gathered from outdoors can create a striking tablescape.
"Or add greenery from the yard to a white table with baskets of red apples, baskets of pine cones, scented candles for a really nice table," she said. "It makes everyone who comes into your home feel the true warmth of your home."
Her personal favorite for a festive touch is fairy lights in unexpected places. They can be strung in bookcases, bunched in large glass vases placed on tables or in groups by a door or weaved into a table centerpiece.
"They warm up a space and make it feel special," she said.
Neutrals have dominated decor throughout the year, from runners and linens to dinnerware. Step it up during the holidays by keeping those everyday neutrals front and center and wrapping them in inspiring holiday tones.
"For years we had done poppy reds and golden honey and all the brighter colors," she said. "Now we are mixing grays with sheer blue and ivory and white. At Christmas, add a pop of color that is more for the holiday: ribbons with bright red colors or toned-down sheer golds and silvers."
Piling ornaments in a bowl and winding ribbon in and out of the decoration is a simple and inexpensive way to bring a bit of the spirit of the season to your table.
"You can find a lot of holiday-themed things at the dollar store and put them together for a beautiful table," Pitts said. "Just try to think outside the box."
Plain vases filled with ornaments and silk flowers can be a bright addition to your entry or dining table. Festive runners and lots of low candlelight can add to the ambiance and make for a great place to sit and share for hours.
"At a nicely set table, we can encourage people to come, sit and have fun," she said. "That's what the holidays are all about."
For inexpensive and quick decorating, combine squat and tall glasses together to give the table depth or mix everyday pieces with cherished holiday pieces that may only get a place at the table once a year.
"The holidays are a great excuse to use anything that pleases you," the longtime designer said, "and, therefore, create an inviting table that draws people in."