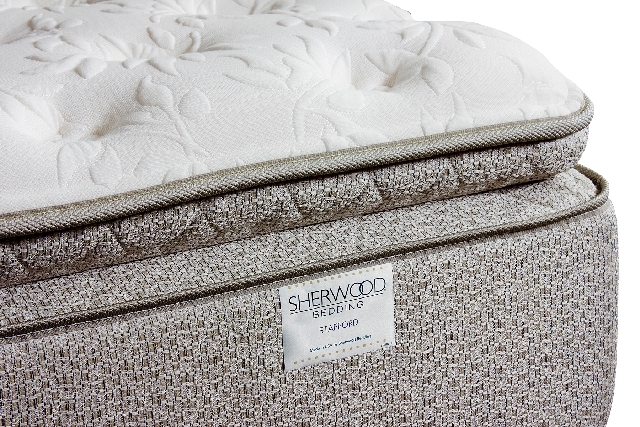 We spend about a third of our lives in bed. Since most of that is spent sleeping, selecting a mattress that is comfortable to lie on is important.
But what about other activities, especially intimate times with the significant person in your life? Often, a mattress that lets you sleep soundly inhibits intimacy.
That's what a new study by Leggett & Platt discovered recently.
The company, which manufactures bedding components, conducted the survey, titled SexySleep, that asked consumers to keep sleep and intimacy in mind when evaluating the performance of two identically priced and unidentified popular styles of mattress. One of the mattresses was made entirely of memory foam, and the other was a hybrid featuring a fabric-encased innerspring core paired with memory foam, latex or gel.
Intimacy on the memory foam bed was described as horrible, uncomfortable, difficult and like being in quicksand, said Mark Quinn, vice president of marketing for Leggett & Platt. The study also indicated that some memory foam mattress owners are intimate less often, and even resort to having sex on different surfaces in their homes.
According to Quinn, one couple said their experience with a memory foam mattress was so bad it ended up killing some of the spontaneity of the moment for them. A woman, who referred to herself as heavy, said she felt like she was being sucked into the bed.
"She blamed herself for that and for a bad sexual experience. But it wasn't her fault; she just didn't realize it.
"It was clear to us that is was not only a problem, but a significant problem," Quinn said. "A physical relationship is important."
Quinn said the survey was inspired by an article titled "Sex or Sleep" that he saw in Barron's. It focused on intimacy on memory foam mattresses, citing confessions and complaints.
"I watched it get 4,000 to 5,000 comments and thought there's something to that, especially as an innerspring guy," he said.
The survey was actually conducted in Las Vegas, at the CBS Television City Research Center at the MGM Grand. Quinn said the respondents were asked to lie down and bounce on the mattresses, rating them for sleep comfort and then what would be best for intimacy.
"The Ultimate Hybrid (mattresses made with Leggett & Platt's Comfort Core innerspring technology paired with elements of foam, gel, or latex) was by far the winner. It offered the best of both worlds," Quinn said.
"People today do not understand the physics involved to have a good product for intimacy and sleep. The Barron's article talked about the problem but no solution. People should be able to buy a bed good for both purposes," Quinn added.
He said it's an issue most people — about 85 percent — don't think of when shopping for a new mattress.
"The bottom line is, mattress shoppers are very confused about choosing the right mattress for their needs," said Michael Magnuson, founder and CEO of GoodBed.com, an independent mattress guide for consumers. "There are certainly a large percentage of people for whom a hybrid mattress would be a great match, but currently very few of these people know they should be looking for one."
Quinn said it is not Leggett & Platt's recommendation to encourage retailers or manufacturers to engage consumers in discussions about their sex lives. "That will not end well." Instead, he wants the bedding industry to realize it is an important issue for shoppers and there needs to be a way to encourage them to think about intimacy as well as comfort when purchasing a new mattress.
"In today's world, being authentic, real and transparent — giving your consumer the real information on how your product will impact their life — is what we are trying to do."
Eric Johnson, director of marketing and sales for mattress manufacturer Sherwood Bedding, said retailers need to be careful in broaching the subject with their customers.
So, the big question is how do you shop for a new mattress with comfort and intimacy in mind?
Aside from looking for a mattress with a fabric-encased innerspring core, which is key to getting some resistance and return of energy, selecting a new mattress is like the story of Goldilocks, Johnson said. Some mattresses will be too hard, some will be too soft and one will be just right.
He said patience is key — as is bringing your favorite pillow. You need to give yourself some time to experience a mattress.
"You need to relax and establish its feel. You need to recognize the position you prefer to sleep in and what position you normally wake up in," Johnson said.
He also said not to purchase a mattress without lying on it. Purchasing a mattress is like buying shoes.
"Not one person buys them without trying them on," he said.
Johnson and Quinn said it also is crucial to bring your spouse or significant other with you when making a purchase decision.
In addition to lying in the position you sleep in, Quinn said you should "crawl around on your hands and knees. You don't have to simulate anything, but try different positions. Roll around, stand up, sit down. See the return of energy. If the bed just absorbs energy, you have to work harder. It takes more effort and is less comfortable."
Additional information about the Ultimate Hybrid mattress and a guide to purchase one while considering intimacy is available at hybrid-mattresses.com.