Small powder room ideal place to live large
December 30, 2010 - 12:00 am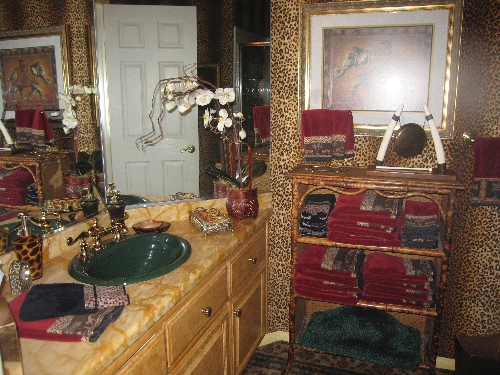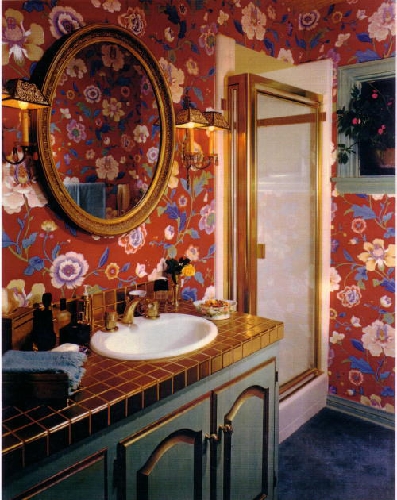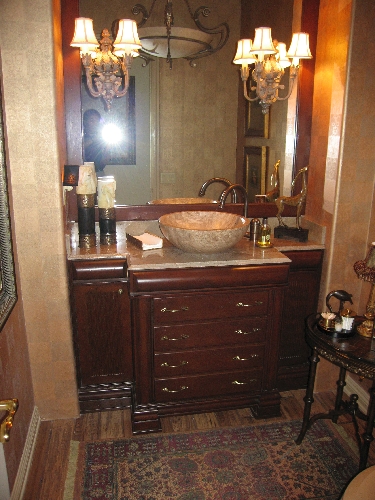 If you were asked to choose the most exciting and creative room in your home, which room would it be? The bedroom, the great room, the entry? I doubt it would be any of those because, if you're like most people, the room that best reflects your personal style and true feelings about your home, its décor and the kind of statement you want to make, is probably the smallest one of all – the powder room.
Yes, powder rooms are usually not of any great size to speak of. Sometimes they're actually tucked underneath a stairway and hardly ever do they even have a window. But what a powder room lacks in stature, it can more than make up in impact.
As a designer, I've long understood the importance of the powder room and have eagerly embraced such special design details as marble sinks with luxurious faucets in a special finish like antique gold, Venetian mirrors, crystal chandeliers and even Swarovski crystal handles. I've found clients willing to do whatever it takes to get their guests talking while at the same time having fun letting go and embracing such diverse design concepts from Old World luxury of the ancient Mediterranean to the cold perfection of today's granite and steel. They've understood that the powder room is simply the best place to let themselves go and make it happen.
You may be curious to know how such a small bathroom with just a sink and a toilet came to be known as a "powder room." Actually, this now ubiquitous term began back in the 1700s . Even at that time it referred to a very small, closetlike space where people actually went to have their wigs (which were very much the style of that era) repowdered.
In fact, it was called the "powder room" all the way up into the Victorian era, when it was adapted to also mean the general toilet room. But since reference to a toilet was a "no-no" at that time and any talk at all of a bodily function was certainly frowned upon by polite society, the ladies would simply say they had to "powder their noses" when they wished to be excused, an expression that has remained to this day.
In the course of my work, I've developed a sort of checklist for dos and don'ts that might serve as a basic guideline for those of you hoping to create the powder room of your dreams.
Lighting: Going wild is great. An unusual chandelier will generally look terrific in a small space. Just be sure that the ceiling height will be able to accommodate an oversized fixture. You don't want someone using the powder room and hitting their head. I prefer a ceiling fixture to one that is placed over the mirror for the simple fact that overhead lighting makes us look better.
Sconces are also a wonderful lighting choice (and again preferable to over-the-mirror lights) and should be placed 66-68 inches from the floor at the sides of the mirror, which will allow your face to be evenly lit.
Scale: Considering the small size of the room, try to purchase a regular or standard toilet bowl and not an elongated one. Very small sinks are also available and not a problem since they will only be used for washing your hands. Save the larger ones for places like the master bath.
Colors and patterns: Strange as it may sound, bold colors and big or wild prints are wonderful in a small powder room. Remember that drama and excitement are your goals here. (My own powder room features a fantastic leopard print wallpaper.) But, black, too, is an immensely popular color and is often used in traditional as well as contemporary design for its powerful dramatic effect.
The ceiling: Don't forget it's also an important element for the space. How about considering wallpaper or a bright or bold lacquered paint? In my powder room the ceiling is red. A mural on the walls and ceiling is another possibility to consider.
Storage: You'll need it somewhere for toilet paper, room spray or breath freshener. Over the toilet or under the sink are good places to utilize.
Fan: Hopefully you'll choose a loud one in order to muffle any potentially embarrassing sounds that might emanate during the course of one's "business."
Flooring: Rugs and carpeting may not be the ideal choice for this room, at least not directly around the toilet. Although I have to say, I've got an Oriental rug in my powder room and have never had a problem. Thinking out of the box, one of the most fabulous looking floors I've ever used in a powder room was an entire slab of granite – wow.
Creating a powder room: Some older homes don't have a powder room, but you can create one by converting a hall closet (or even a pantry, as I did in my Hollywood Hills home). Without a doubt it will increase the marketability of your home and is considered an excellent return on investment. Despite its small size, this little space exerts a great effect on the value of your property.
Whatever you do, don't let your powder room be one of those boring run-of-the-mill types. You'll find that jazzing up this space doesn't have to be an overwhelming project involving great sums of money. It really can be quite affordable and not very difficult because of its small size.
Remember, it's the perfect room in which to live large, even if the rest of your home isn't that way.
Stephen Leon is a licensed interior designer and president of Soleil Design International; he has been designing and manufacturing custom furniture and cabinetry for more than 25 years. He has served on the board of directors of the Central California/Nevada Chapter of the American Society of Interior Designers and is a certified professional in green residential design. Questions can be sent to stephen@soleildesigninter
national.com.