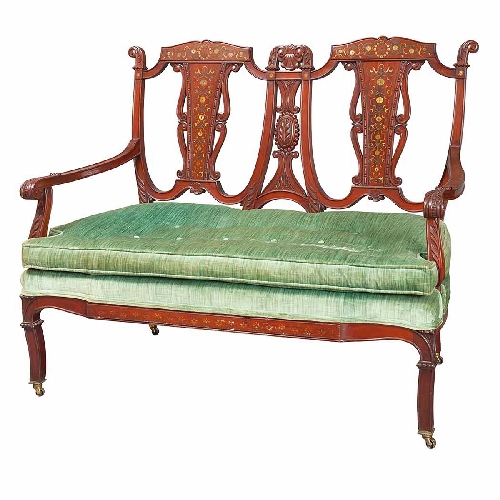 The Edwardian period of furniture design falls in the years between Victorian and art deco. It is named for King Edward VII of England, who reigned from 1901 to 1910.
Some experts say it is not just the years that the furniture was made but also the design that makes it Edwardian. Some claim influences from earlier periods and say that a combination of Georgian, Victorian and art nouveau created the new Edwardian style.
Collectors have to rely on appearance, since it is so difficult to know exactly when a chair was made. Designers working after 1901 created a chair that looked lighter in weight than a Victorian chair and used pastels rather than dark colors. Fabrics and wallpaper with flowers became popular. Chairs had scrolled backs and legs, similar to art nouveau designs but thinner and less "tangled." Bamboo and wicker were introduced, and many pieces were made of lightweight wood and mother-of-pearl inlay. Seats were made with thin padding and thin fitted cushions. It has not been a popular style with collectors, but it's enjoyed by decorators and homeowners.
Today, both period and reproduction pieces are a good buy. Most are made of solid wood, not plywood, and use upholstery fabrics of damask, silk or other natural materials, not modern synthetics. A 1910 Edwardian settee sold for $344 at a Doyle New York auction last year. Chairs sell for a few hundred dollars. Sofas go for less than $500 at auction.
Q: My friend who gave me her old upright piano also gave me the antique piano shawl she always draped over the piano. It's 52 inches square and appears to be black silk crepe. It's reversible and covered in embroidered pink roses. The fringe around the whole shawl is 15 inches long, with smocking around the edge of the fabric. Is the shawl valuable?
A: Many piano shawls like yours were made in Spain in the 1890s. They sell for $50 to $100 if they're in very good condition, with full fringe and without holes.
Q: My mother-in-law gave me one of her old alligator purses. It's in great shape and has a label inside that reads "Rosenfeld." Have you heard of that maker? How old is the purse?
A: Harry Rosenfeld was an American designer active from the 1930s into the '70s. His designs were made by several different manufacturers. The bags were sold at high-end department stores and at Harry Rosenfeld Handbags, a shop on Madison Avenue in New York City.
Rosenfeld designed bags in all sorts of styles, using all kinds of materials. But it is likely that your alligator purse dates from the 1930s, '40s or '50s when alligator bags were at the peak of their popularity. The value of your bag depends not only on designer and condition, but also on style. It could sell for less than $100 or more than $300.
Q: My dad owned a funeral home in Cincinnati and liked collecting antiques. He left me his collection of paperweights made by Crane & Breed, a Cincinnati coffin manufacturer. The paperweights include an Egyptian sarcophagus, Scottie dog, alligator, camel, frog, turtle, bear, sailboat and ghost. I don't want to sell them, but I'd like to know how old they are and what they're worth.
A: Crane & Breed took over a Cincinnati coffin-manufacturing business in 1854 and stayed in business until 1973. The company held several patents on coffins and coffin parts, and sold coffins to funeral homes in several states.
Today, collectors know about Crane & Breed mainly because of its collectible paperweights. From the late 1800s into the early 1900s, the company gave away promotional bronze novelty paperweights to funeral homes and their employees. Today, the sarcophagus paperweight sells for close to $400, but most of the others are going for less than $20.
Q: My vintage alligator handbag includes the taxidermied head of the alligator. The bag, made in Cuba, was originally purchased at a high-end New York City store. What is it worth?
A: We frequently see alligator-head bags like yours at antiques shows. They sell for about $150 to $200, depending on quality and condition.
Terry Kovel's column is syndicated by King Features. Write to: Kovels, (Las Vegas Review-Journal), King Features Syndicate, 300 W. 57th St., New York, NY 10019.