The slippery slope starts in Vegas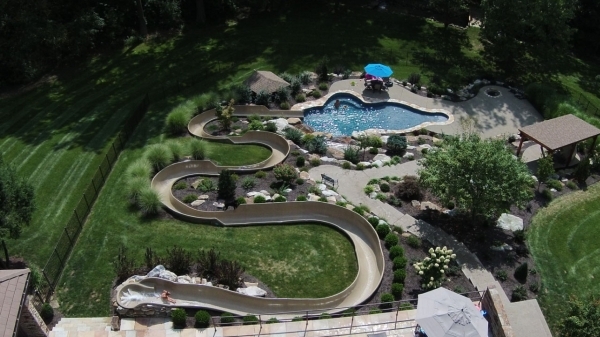 Jimmy James, the self-proclaimed man with two first names, loves bringing smiles to the "€œinsanely creative."
But, to John Meredith, it's the shrieks that really get him going.
"You can be anywhere and you can just hear the screams,"€ he said.
Meredith met up with James in April 2012 to bring to life his "crazy idea"€ that began as a vision for a permanent slip-n-slide. That grew to a 210-foot project when he stumbled on James'€™ Fix My Slide, a Las Vegas company that removes old commercial water slides, refurbishes them, then designs and installs new slides for residential use.
James, who began his career buffing cars, planes and boats on the West Coast while in college, said his long, twisting route all started with a simple plan.
While riding a rough-looking ski lift at Whistler with a friend, they grunted that they should really buff these things. Then he thought, "Hey, I could buff these things."
A few phone calls, a test sample and a paying gig later and he had a business plan: "€œI'€™m pretty sure we can go to resorts; we can get drunk; we can meet chicks; and we can leave with money."€
He did that for 27 years.
Things went downhill -€" about 68 feet -€" fast after that.
He built a personal custom water slide out of used parts at his lakefront Connecticut home after watching workers at a resort dig a hole, dump used water slide sections into it and bury the treasure. And his Las Vegas-based business was born. He said he headquartered the business in the valley because he rents water slides at special casino events.
Now, his jobs end with the inaugural ride on every slide he installs.
And, for an average of $15,000, you too, can rocket through your backyard into a pool, lake or other water feature.
With a quick call to the Las Vegas design center and an email with pictures of a backyard begging for a thrill ride, James works on a custom design to give the right tucks, turns, twists and thrills for a ride that either becomes a standout attraction or a camouflaged surprise in a backyard oasis.
After an approved 3-D-mock-up, the all important color choice and a decision on slide type (drop, open-body or tube slide), customers can choose one of three options: hire Fix My Slide to do the complete install; hire a small crew to assist with laborers or a contractor to install; or have a DIY project where the parts are shipped and the customer does the install '€" a cooler of beer and good buddies are a wise investment if going this route.
And, he touts, that often homeowners will see insurance rates drop as they remove risky diving boards for the safety of his water slides made of commercial-grade sections.
The clientele is diverse – from billionaires'€™ expansive homes to private lakes to backyard pools with 24-foot slides -€" but the result is the same: smiles.
"€œThe people laughing and smiling. That'€™s the best,"€ James said. "€œOne client described us as '€˜the ice cream man: every time you show up, it'€™s always fun.'"€
Of his clients, James says, "€œAll the people are so creative and so cool with everything, it'€™s amazing."€
Meredith, of Pittsburgh, Pa., wanted was something fun to do with his hillside. His open-body slide starts on the patio and travels down his hillside, through five turns, into his custom, concrete pool.
"€œI have a 4-year-old and a 6-year-old and they use it Every single day. That we are home, unless it'€™s raining or it'€™s too cold. They are on that thing all daylong,"€ Meredith said.
And, he says, you can customize your ride. Sit up to slow down the ride, even to a halt, or lay back, enjoy the ride and go what feels like 50 mph (it'€™s not).
Now, parks seek out and pay James to remove old slides. With the use of rental equipment and his four- to six-man travel crew, the dismantled slides are moved to Liberty, N.C., to be refurbished and stored until the Las Vegas-based design center customizes the pieces for the next wild ride.
And, while it might feel like an action-packed adventure for you, it'€™s a sort of retirement for the slide. A typical commercial water slide will see more action in a single busy day at the park than in a lifespan in a residential setting, according to Ed Hewett, head of marketing for Fix My Slide.
Fix My Slide can create a big splash for your home, but it wasn'€™t always smooth sailing for James on his inaugural test runs.
"€œEarly on, I had a few bruises."
To find out more about recycled commercial waterslides, or start the process of designing your own, visit fixmyslide.com or call 702-483-0258.