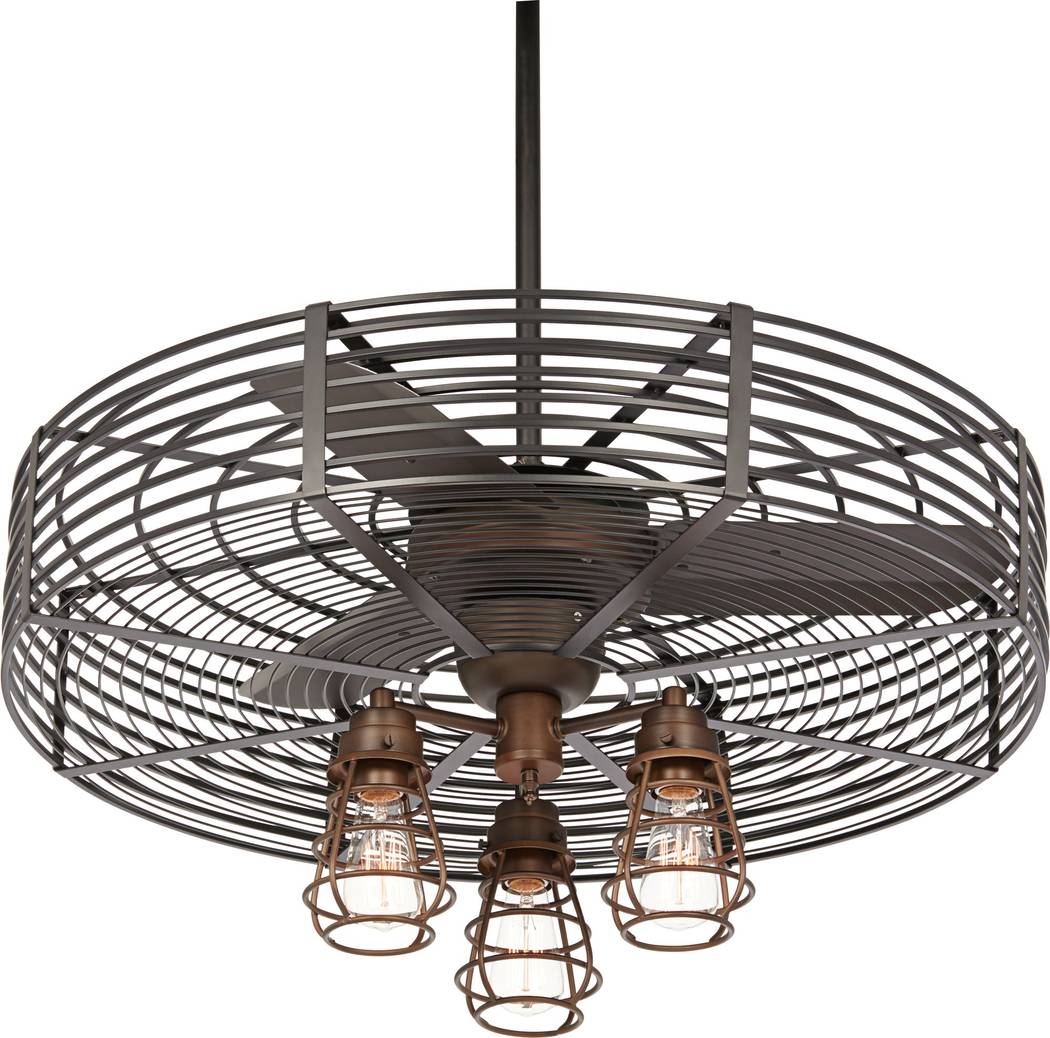 Years ago, about the only time you saw ceiling fans whirling away were in romantic movie flicks such as "Casablanca" or in exotic island hotel lobbies where guests would be seen lounging about on overstuffed couches reading newspapers and sipping espresso. Today, these little mechanical wonders are as common in homes as dishwashers and garbage disposals.
Theo Ware, a lighting consultant with Lamps Plus in Las Vegas, said the company website lists more than 1,100 different styles of ceiling fans to choose from, ranging in price from $350 to $1,000. The old gear-driven pancake motor fans sprouting a couple of frosted glass lights in the center are still available, but sleek contemporary models with expansive blades powered by energy-efficient magnet motors are the trend today. LED lighting has been incorporated in some models, as have ionizers to purify the air.
Pointing to what looks like elliptical silver sculptures suspended and hypnotically swirling from the ceiling, Ware said Lamps Plus' new Innovation models incorporate flat, artistic blades that move the air. Smaller, circular Fan D'Liers are another new concept that combines the comfort of a fan with the style of a chandelier. Some of these models also feature ionizers.
"Because so many people in Las Vegas have large homes with tall ceilings, they are asking for larger fans with 70-inch blades," Ware said. "Many of these sleek designs have LED lighting and hand-held remotes."
Ware explained that the size you need depends on the square footage of the room. A room 75 square feet or less can get by with a 44-inch fan. A room up to 350 square feet will need a fan 48 to 58 inches wide, and a room more than 350 square feet will require a ceiling fan 60 inches wide or larger.
How you mount a ceiling fan also needs to be taken into account depending on the height of the room. A Lamps Plus mounting guide suggests that if a room is 7.5 to 9 feet tall, a fan can be mounted flush against the ceiling with a hugger mount.
A ceiling 8 to 9 feet high will require what's called a downrod, an extension tube placing the fan away from the ceiling. And a ceiling more than 9 feet high will need an extended downrod to ensure efficient operation.
It's important to remember that some fans are designed for indoor use and others for outdoors. Damp-listed ceiling fans are designed for rooms exposed to moisture, such as bathrooms, laundry rooms and covered patios. Their motors have special sealants for protection.
Wet-listed ceiling fans are even more protected and designed for areas exposed to wet weather such as uncovered gazebos and patios and open-air patio decks.
These styles of fans also can be used indoors, but ceiling fans that are designed specifically for indoor use cannot be used in rooms exposed to moisture or outdoors.
"A lot of people don't know the difference, and that is why you will see drooping blades on some fans because people used indoor fans outside," Ware said. "This is a very bad mistake."
Ware said ceiling fan blades are constructed of metal, wood or composite materials. They all work the same, but what is important is the quality of the motor (the more expensive will operate and last longer) and the pitch of the blades. The higher the pitch, the more air the fan will move.
The U.S. Department of Energy says a ceiling fan helps reduce power bills. It allows homeowners to raise their thermostats 4 degrees with no noticeable reduction in comfort. Also, the agency says, a ceiling fan can be used in the winter to provide an updraft and force warm air down into a room.
"Air conditioning typically accounts for 60 to 70 percent of your summer electric bill," said Jennifer Schuricht, corporate communications manager for NV Energy. "As a matter of fact, in the summer, for every degree cooler you set your thermostat, your bill will increase about 2 percent.
Interior designer Cary Vogel said ceiling fans are especially useful for homeowners who have sliding glass walls that open up from their great rooms to patios. He usually places two fans in patio ceilings and a couple in the great room to keep the air flowing in conjunction with the air conditioning.
"Ceiling fans also add to the mood of a room when you keep them turned down low," Vogel said. "They also make you feel cooler."
Vogel prefers to incorporate ceiling fans in his interior designs that don't have light fixtures built in. He likes sleek, sculptured fans that stand alone, opting to add custom light fixtures in other areas of a room.
"People are going for large fans in response to their homes with high ceilings," Vogel said. "This is in response to the architecture and how we live in Las Vegas. Using fans just make sense in Las Vegas."
Another component to today's ceiling fans are the controls, Ware explained. The basic pull-chain models are still available, but more contemporary models now come with handheld remote controls to set speeds, turn on lights if they are built into the fan, reverse direction of the blades and set a timer for when a homeowner is away for extended periods during the day or night. Some higher-end ceiling fans are also programmable from a smartphone.
"The look and fashion of fans have definitely changed," Ware said. "Now you can get fans to blend into your spaces. … Our fan sales have increased 12 percent over the last three years. About 60 percent of people put fans in every room for aesthetics and to cool the home. You can easily reduce your energy usage by 10 percent with a fan."