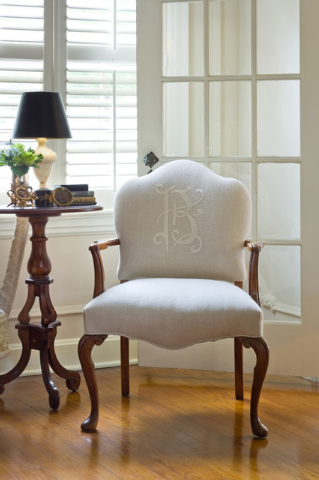 The world is full of important sidekicks (where would Batman be without Robin?). In the decorating world, one of the all-important but unsung heroes of a room is a great side table. When we are designing a living room, most of us have a blast selecting a sofa or chair, but then we forget about its buddy, the table that will snuggle up and complete the seating arrangement's look.
Picking the perfect side table isn't as easy as you'd think. The wrong table can throw off a room's look.
Here are three key questions to ask yourself, so you get just the right side table for your space:
1. What is the scale of the seat that will be next to the table?
It's essential that the table you pick matches the scale of the furniture it will stand by. Be sure to pick a table that isn't so large that it overwhelms the sofa or chair or so small it gets lost in the space. Your goal is to have balance in the grouping, and the table will play an important role in achieving that sweet spot.
I like tables to be about 5 inches above or below the arm of the chair or sofa so you can easily reach the tabletop when you're seated.
2. How will you use the table?
Every piece of furniture in your home plays a role in the overall function and form of the space. What job will your side table do? I like tables big enough to hold pretties, plus a few essentials, like a lamp.
Since I live in a home where storage is limited, I like furniture that offers me places to stash stuff. Don't overlook the help your side table can offer.
3. What style fits your space?
I'm not a fan of firm lines when it comes to decorating styles. While it's key to pick a side table that complements the seat it stands by, don't let yourself be hobbled by the notion that all the pieces in a room have to fall into a rigid decorating style category.
When I'm designing a room, I like to mix a variety of styles so the overall space is more reflective of the homeowner's personality.
My favorite rooms are those that appear to have evolved slowly over time, becoming more beautiful as the homeowner adds new treasures through the years. An interesting side table is a great way to add an unusual layer to your look.
This column was adapted from Mary Carol Garrity's blog at www.nellhills.com. She can be reached at marycarol@nellhills.com.