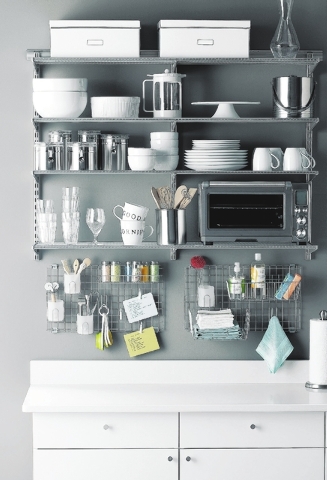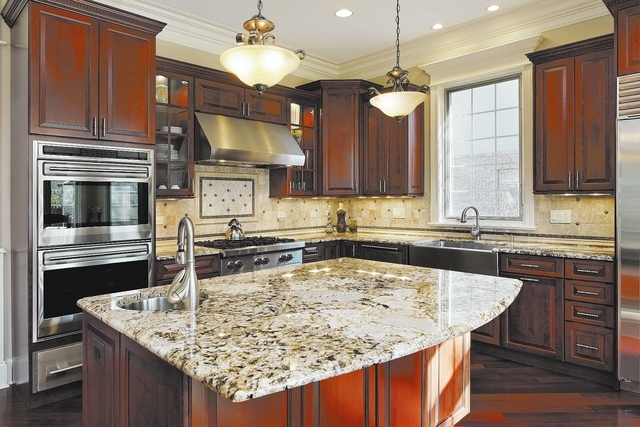 It's November and time to talk turkey. With Thanksgiving and the holiday season just around the corner, now is the perfect time to get your kitchen ready for the festivities.
The kitchen is the "hub of the home," said Nina Smith, organization expert from The Container Store. Because it is where people tend to gather for meals or to socialize, she said it is essential for the kitchen to be organized.
"It's even more important during the holidays to have your kitchen in tip-top shape, so you're not wasting time searching for or purchasing ingredients you might already have," she said.
When organizing your kitchen, Smith said to focus on the top five clutter areas: the countertops, cabinets, sink area, drawers and pantry.
HomeAdvisor, an online resource for finding home-improvement professionals, recommends grouping items such as dishware and glassware by function, as well as sorting those for everyday use and those used only on special occasions.
"For convenience, store the dishes most used on the bottom shelf and the dishes least used on the top shelf," the site's experts said.
"Grouping like items will also make it easier when you are preparing holiday meals and treats," agreed Smith. "This includes grouping everything from baking supplies to canned goods and spices. That way you aren't searching through your kitchen for that special utensil or seasoning.
"Being organized in your kitchen, especially before the holidays, will ultimately give you more time back in your day that you can spend with family, friends and guests," she said.
Aside from grouping like items, one of the easiest ways to keep kitchen cabinets and drawers organized is with creative storage solutions.
"Install racks underneath cabinets for items such as everyday cooking utensils or upside-down stemware. Lower cabinets can be wasted storage space when they are deep and difficult to reach into. To prevent them from being cluttered with forgotten items, install pullout drawers to make the space more functional and usable. This becomes a great place for storing small appliances such as toasters, food processors and blenders," HomeAdvisor said.
"Keep your most frequently used items up front," Smith added. "One key tip for kitchen organization is to store things where we use them."
An often overlooked place to get extra storage space is the inside of cabinet and pantry doors.
"A cabinet door interior can be the perfect spot for a small corkboard for recipes, dinner ideas, shopping lists and coupons. A pantry door can be used for extra food storage by hanging wire baskets on the inside of the door," HomeAdvisor experts said.
Smith recommended The Container Store's elfa Door &Wall Rack, which is designed to fit onto the back of a door.
"The rack will ease the overcrowding on the shelves and make it possible to have everything at your fingertips," she said.
Smith said drawers are especially problematic and easily get cluttered.
"Before determining what you're going to place in each drawer and how it will be organized, line the drawer for easy cleanup," she said. "Drawers in different areas of the home require different types of liners. In the kitchen, select a liner with some padding or texture that is also easy to wipe clean."
She also recommends using expandable or modular organizers to keep items contained and easier to find. As with cabinets and shelves, items placed inside drawers should be separated by occasion.
When considering countertops, Smith said it is essential to "keep functionality top of mind." She said space should be designated for food preparation.
"Commit to keeping a clear space on the counter for cooking at all times. Keep only the necessary items you use daily (coffee maker, can opener, utensil basket, etc.) out on your countertop. Anything not used frequently will only clutter your countertop," she said.
Also essential when organizing your kitchen is to take inventory of your spices and what is in your refrigerator.
"The first step in organizing your fridge and freezer is to take inventory and discard out-of-date items or items you will not likely use. Next, organize food items by size. Doing so will create a function for each shelf and make it much easier to locate your small, hard-to-see items," Smith said.
HomeAdvisor's experts recommend using organizational items such as clear baskets and a small turntable for condiments and salad dressings.
In the pantry, Smith said you can save a great deal of time and money if everything is easily accessible.
"A good idea is to group like items together in small bins and label the contents. Or choose bins that you can see through for quick identifications," she said.
"Also, canned goods can quickly get 'lost' on deep pantry shelves. Stacking cans one in front of the other is just not practical. You will forget what you've got stored in the back because you can't see it. Choose a tiered shelf organizer that provides you with a full view of your canned goods."
Tiered organizers also are good for spices, she said.